Ariana Grande's The Sweetener tour was magical
December 4, 2019
Electric. Absolutely incredible. I was a mere five feet from Ariana Grande when she was at the front of the stage. She even came and held my friend's hand, which I touched, for a solid seven seconds.
After waiting for over four hours for a front row spot in the pit, I ran through the Colonial Life Arena as the doors opened at 6:30 so that I could get that perfect, golden spot. The front corner right next to the aisle she runs through to get to stage B.
Ariana performed in Columbia on Dec. 3 with Social House as her opening act. The two members of Social House, Mikey and Scooty, set the bar high for her performance as they interacted with many people in the pit and put on quite the show.
I anxiously waited for her to begin singing raindrops over the speaker, which kicked off the concert at 9:20. She then rose through the stage to sing bad idea and break up with your girlfriend, i'm bored surrounded by her dancers who made her performance a complete package.
Because I got the spot that I was hoping for, I was able to touch Grande's hand during her special Christmas section of the show when she sang parts of her songs in her album Christmas and Chill. That moment is something I will never forget and was the highlight of my night.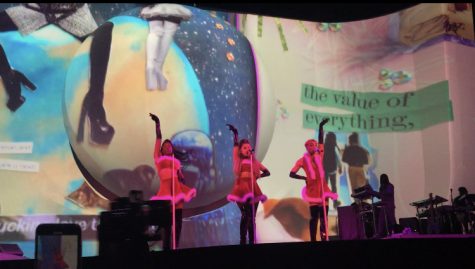 As another advantage of being in the pit, I was able to grab two 7 Rings-themed bills that she shot from the stage and tons of confetti that came down at the end of the show. She also winked at me and my friend during Be Alright because we did the dance she was performing.
The entire concert was very visually appealing as there was a different background and lighting for each song. Everything came together perfectly, and there was a humorous moment when Grande accidentally dropped her mic while dancing to Side to Side.
I highly suggest purchasing tickets to Ariana's tours in the future as the Sweetener World Tour is coming to a close. Being in the pit was unlike anything I have ever experienced at a concert before, and it was truly magical, while also coming with special things.