Ed Sheeran is Back with a Bang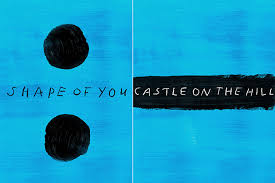 "Shape of You"
One Year. One full year. Actually over a full year.
That's the amount of time this world has had to survive without new music from Ed Sheeran's heart melting voice.
A whole darn year.
After releasing his debut album in "+" 2011 and following it with "X" in 2014, Sheeran announced in Dec. of 2015 that he would be taking an extended hiatus after his world tour.
A solemn year ticked by with no new Ed Sheeran as he relaxed and recovered from an action packed five years of stardom.
And then the sun rose on Jan. 6, 2017.
I woke up to find that the hiatus was over, and that Sheeran released two new singles, "Castle on a Hill" and "Shape of You" at midnight.
My excitement couldn't be contained. I had been deprived of new Ed Sheeran for so long that having not one, but two new singles in my life was almost overwhelming.
"Shape of You" definitely surprised me. It's so very Ed Sheeran, but at the same time completely different from anything he has ever done.
Rather than his signature slow, sensual sound Sheeran opted for a catchier, more upbeat tune. It features a catchy xylophone beat that gives the song an almost tribal feel. The story of a budding romance will get stuck in your head for days with it's funky chorus "Oh I, Oh I, Oh I, Oh I, I'm in love with your body."
The new sound was unexpected, but it fits him very well.
Sheeran definitely returned with a bang, with "Shape of You" claiming the number one spot on the iTunes chart within a week of his release.
After being graced with the blessing of the new singles, now all we can do is wait for the release of the new album "÷" that drops March 3, 2017. I'll curve my impatience and excitement with "Shape of You" until then.
–Kat
"Castle on a Hill"
Ed Sheeran's newly released masterpiece is a resonating echo of his new vocals.
"Castle on the Hill", one of his newest singles, impressively allows him to continue on his deserved legacy paired with his unique and distinctive voice.
His lyrics are, most simply put, nostalgic.
The lyrics make you wonder where the good times went, why your childhood vanished in a second. Throughout the song, lyrics like, "Tasted the sweet perfume of mountain grass as I rolled down" and "Running from the law through the backfields" really make you reconsider if you lived your life or not.
Although a lot of the four minutes and twenty seconds consists of an overdose of cliches, it's Ed Sheeran and it wouldn't be an Ed Sheeran song without the heart-wrenching cheesy lyrics.
Seriously: lyrically, he doesn't fail to amaze the audience with his composition and arrangement, the beautifully written lyrics a reminder of just how talented his songwriting is. The song is a great portrayal of his capabilities as an artist and raw talent — it is genuinely the epitome of Ed Sheeran.
The beat is catchy, nothing too ear-splitting but not enough to drown you with sleep. All-in-all a great song to stare outside the window and pose for a movie scene.
His resonating echoes are memorable, the sound is original and Sheeran has outdone himself once more.
–Einah