New school, new team
New student takes the reins for varsity football team as quarterback
October 6, 2019
The melodies of Tchaikovsky's "Waltz of the Flowers" pulses through junior Braden Pritchard's earbuds. Friday night, the floodlights open over the field, families and students trickle into the stands, the energy runs high.
But Pritchard — eyes closed — hones in on the music.
Pritchard gets into his zone, sitting alone in his locker, earbuds pressed in each ear — focused.
Not on the fact that he is new to the team. Not on the fact that he was chosen out of many other qualified candidates to be the starting quarterback. Not on the fact that he had a lot of pressure to lead the drive.
He changes the song to "No Cap" by Future and Young Thug. He walks to the first yard line, says his prayers.
He repeats to himself:
Keep everyone up. Be a leader. Take control of the game. Make plays.
He steps on the field, and the game begins.
This is Friday night.
Pritchard's father got a promotion and moved the family down here in January of 2019– after the football season ended– from Winston-Salem, N.C. coming from the quarterback position of the JV team. His parents also wanted him to be on this lacrosse team — he played on varsity in the Spring, Pritchard said.
Then just days before the first home game against Summerville Aug 30, the starting quarterback position was still up in the air.
The final decision went to Pritchard.
Quarterback Coach Drew Hummel told him that he was starting — an important position of leadership given to him his first year on the team.
"'You're starting Summerville. Take charge. Let's go,'" Coach Hummel said to Pritchard only days before the game.
"This is the first time that we've had five or six legitimate young men that could earn that starting job," Head Coach
Jimmy Noonan said. "But Braden — more than anything else — has a lot of poise. He doesn't let anything bother him Doesn't get over excited. Doesn't get overly down when things don't go his way. And that's one of the key intangibles that quarterback position is being able to move on to the next play."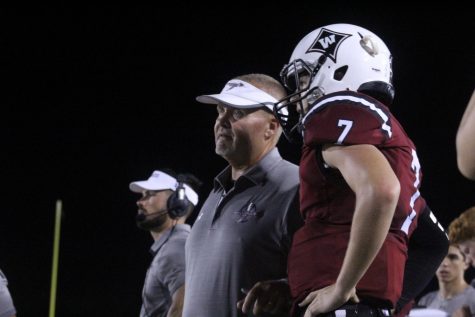 His first game with the team, his first game on a varsity football team, his first game starting — Wando won 32-20.
"Everyone's thinking 'you have no chance,'" Pritchard said. "So I came in and had a few good practices at the start, and that was really it… and after that first game, I think everybody is behind me now."
Pritchard scored a touchdown that game. Six touchdowns in three games (five passing, one rushing) — more than any other player on the team at this point.
"The huddle before I ran in the touchdown, Coach Hummel said [the ball] was just going to be right there, and of course, it was," Pritchard said. "I just pulled it and took it in… I just let all my emotions go. Just straight hype. I was so excited because everybody was talking about this for so long. Word around the school was 'Summerville's good. You have no chance' but I just wanted to prove them wrong."
In the first game, Noonan was impressed, "[Pritchard] couldn't have started off any better," he said. "He was in the battle from the get go… He was given nothing. He's earned everything."
The next Goliath to beat was Fort Dorchester on Sept. 13.
"I don't like to treat [Fort Dorchester] as different because if you change up the way you play, it messes up everybody," Pritchard said. "We all tried to treat it as just another game, prepare the same way and just try to play our game."
All he had to do was the same as the game against Summerville. Stay close in the pocket.
Do what you need to do for this team.
"After the first score, we're all like 'let's get them back, let's score.' Things were looking up," Pritchard said. "After our second first down, for some reason, things started to slow down."
But this game didn't end up pulling through like Summerville.
There was no touchdown throw to Jose. There was no 35 yard throw to Dylan McCarthy. There was no memorable huddle before he took in his first touchdown of the season.
Nearing halftime, he dropped back and "got sacked." His head was hit initially and then "plowed into the ground," he said.
"[Pritchard] was taking some hits," Noonan said. "He is quite resilient, he was fine. You know he was rattled a little bit, and our trainers felt that he had been taking to many hard shots. Andrew Bobby stepped in and scored a touchdown."
Wando lost 51-10, in this "one-sided ball game," Noonan said. "We know [Fort Dorchester players] are contenders, and that's where they want to be."
Another Friday. Another classical song. Another game.
Wando versus West Ashley — Pritchard pushed 233 yards, passed three touchdowns, made 19 out of 30 passes, bringing Wando to victory with a score of 30-17 on Sept. 20. He sprang back from the loss, helping to bring Wando's record to 2-1 so far this season.
"We expect productivity," Noonan said. "We expect flawless running of the offense, not everything is going to go perfectly obviously, but we expect him to have the leadership and the poise to run the offense… You lead the team down the field and put up the points."
There was more pressure at Wando compared to his previous team. It was a bigger stage, he said. You have to be smarter. The game is more mental than anything. You always have to be on your A-game, Pritchard said.
Barely anyone knew him in the Spring workouts, but he got to know his teammates over the course of the season. The team is why he loves football, he said.
Moving forward in the season, Pritchard expects to grow in this "brotherhood" and further gain the confidence of his coaches and senior teammates, he said.
"The position has a lot of pressure on it, but I take that and use it as fuel. Just to bring everyone up," Pritchard said. "I just want to bring a new atmosphere to Wando football."