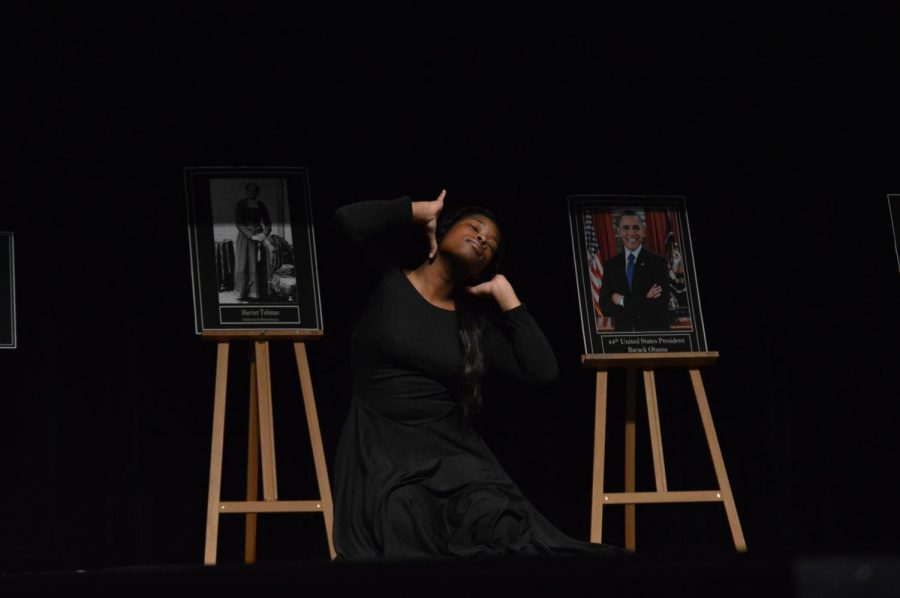 Max McCrary
"Dream."
"Determination."
Two powerful words that were given as the theme of Black History Month.
On Feb. 22 during second block, Wando hosted its Annual Black History Month Presentation Event.
The emcee for the special presentation by Sociology, CP Government and AP Government teacher Mark Hladek and led by Media Center clerk Shirley Verma with performances, speeches, slideshows and recitations by faculty, staff and students.
This event consisted of several talent performances with Julia LeVan as she sang "Look Up Child" by Lauren Daigle and Santana Craft as she sang "Rise Up" by Andra Day. Alison Asbey performing a dance routine to "For Only I Could Imagine" by Tamela Mann and a special performance from the Wando Elite Step Team.
Haven Manigault recited a poem called "I Am The Black Child," along with Jordan Simms as she recited the poem called "You Are Amazing" by Michelle Obama, along with several other performances.
Powerful speeches also were given, featuring exceptional education teachers Brittany Gaillard and Rodney Dewitt.
Gaillard gave her speech about what people think about when they think of Black History Month and how racial segregation was not that long ago. She encouraged people to learn to do their part in society and treat others with respect.
Dewitt's speech gave history about his background and his heritage. He discussed what determination meant to him and his family and what it should mean to students, encouraging others to learn to be a good person and treat each other equally.
Another part of this event were two slideshows titled "Motivated to Dream" and "Determined to Dream."
The "Motivated to Dream" slideshow consisted of pictures of Martin Luther King Jr. leading marches to help change terrible segregation practices.
The "Determined to Dream" slideshow showed pictures from several marches such as the Women's March, Black Lives Matter March, March for Our Lives and Dream Act.
There were also small speeches giving information on people that have been a part of Black History such as Martin Luther King Junior, Harriet Tubman and Barack Obama.These speeches were given by Michaela Brown, Christopher Warzynski and Savannah Brown.
This 90-minute event has left people in the audience inspired and moved by these powerful performances and presentations.
As Black History Month comes to a close, students must know to continue to dream, be determined and to lead the future.