Working on the new Netflix show "Outer Banks"
May 7, 2020
Tons of people may imagine what it would be like to be on an actual Netflix show. Junior Ethan Fralish and sophomore Luke Beasenburg are living that dream as Outer Banks, a new series that debuted in April, was filmed in the surrounding Charleston area last summer. 
So how did they go about getting on the show? For multiple reasons, Fralish was able to be an extra in the show — meaning he's a background actor.  
"My mom just told me about. I just had to send a picture of myself and I sent that through email. I got a response within an hour," Fralish said. "I had to send my height, weight, body style, a facial of my face. They wanted to kinda get to know you in your free time, which I just said fishing." 
Shortly after sending everything in, it was time to film around Charleston.  
"Filming started, I wanna say two weeks after I entered my application. We did that on James Island, the first time I filmed," Fralish said. "I filmed twice, once in James Island and once in Hunting Island which is right outside of Beaufort."  
Then came getting everything ready: the cameras, the set, the entire process of the production team trying to ensure the shot is perfect for each scene.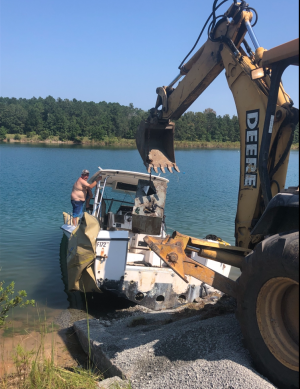 "We had to sign in and then they gave us what they wanted us to wear. When I came in, they wanted me to be a Pogue, and so they gave me Pogue-like things to wear. It was like some green shorts and a vest. Then we had to do some makeup and all that. Then we ate lunch and then there was a little bit of waiting time before we needed to go to the set." Fralish said. "Once the time was ready for us to go to the set, we just got onto the shuttle which was like a bus and we rode in. They took us to the Chateau, so John B's house, which was on James Island."
Filming a show isn't easy given so many times to have to be perfect for the shot and tons of time is spent going into it
"The one on James Island wasn't too long, it took about six or eight hours. The long one we were there for about 16 hours, which was the fight scene in episode 1 on the beach because … it just took a long time because there were so many things going on," he said
So what's it like seeing yourself on tv? 
"I saw it. I'm not gonna lie I didn't expect to see myself, there's so many things that have to go into it. They film so many different times and so many different angles that the probability of actually using that was pretty slim," Fralish said. "It was cool. I got to see myself a couple of times. I was with my family and I was like 'guys, look it's me.' It was kinda fun."
Not only did he get to film and see himself on tv, but Fralish also had an opportunity to talk to the cast of the show.  
"I met the cast, the dude who plays Pope (Jonathan Daviss) Me and him, after the filming was over on James Island, we just sat and talked about shoes. And he lives out in California so I was just talking about the difference between Charleston and California," Fralish said. "I also talked to the guy who played John B (Chase Stokes) for a bit. But that's all I really talked to."
Beasenburg had a totally different approach when it came to being on the show. 
"They called us to come out there and sink the boat," he laughed.
In the first episode of the show, after the hurricane hits, a boat is sunk in the marsh. Beasenburg helped sink the boat for the scene in the show. 
"Me and my dad I do this thing called boat salvages. Pretty much, say there is a hurricane coming and there's a sunken boat," he said. "We've had situations where they're in yards, in trees, or something like that."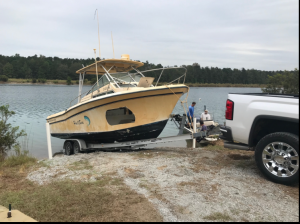 Netflix researched and found their company and reached out for their help. The whole process for working on sinking the boat took three days. 
"It was my Mom's birthday when I was out there, so I had to leave early. I was out there for eight hours, though, and when I left the water was about knee-deep, but my dad was out there for another two days," Beasenburg said. 
Just as, Fralish, he was able to see the hard work he and his father did when the scenes were in the show. 
"It was pretty cool because I was able to point out to my friends and say 'hey I sunk that' and tell them like how we did it and what specifically I did to it," Beasenburg said.