Country star and county teacher
April 14, 2020
His heart hammers in his chest with vigor. He feels his palms grow clammy with nervous sweat that only makes his heart beat faster. He grips his instrument as tight as possible as the surrounding cheers of the audience ring in his ears from backstage.
"This is it," he tells himself. "This is what you've been dreaming of since you were five," he said again, repeating it only making it more of a reality.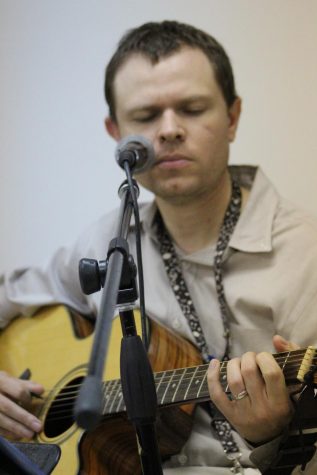 Derek Deakins is about to play the Grand Ole Opry, the music stage he's wanted to be on for as long as he could remember, and yet he still can't fathom that it's real. He's put in the work, dedication and talent, yet how does one guy with a small dream get to live it out so young?
But he shakes that thought out of his head, cracks his knuckles and walks onstage with his band, his eyes taking in the hundreds that have come to hear them play their bluegrass tunes, and sighs.
"I did it," he thinks. "I'm here."
Before Deakins taught AP music theory, he had another life — one of daily travelling on tour buses and weeks without seeing his bed. He was a full time country musician, living out what any boy from Tennessee with a love of music only fantasizes about — a life on the road spreading joy through song.
"I went to school at Belmont University studying music education, and on top of that I got a job working with a band that I would perform with occasionally, and that was what helped me get to the Opry," Deakins said.
But he didn't just come up with this love of music out of nowhere. It wasn't as if he picked up a guitar one day and simply decided that he was going to perform in front of thousands one day.
Deakins grew up with a role model — his grandmother — who showed him all that she knew, from instruments to songwriting.
A performer herself, she installed a passion within him that he made into his entire life and taught him everything he knows when it comes to playing from the heart.
"She just had a way with words and rhythms, and she was always there to support me with anything," Deakins said.
As he got older, his passion progressed, and his grandmother, well known in town, spread word everywhere that her grandson was a fantastic performer, and if she had anything to say about it, he would be booked as much as possible.
Every time he got a gig or wrote a song, she was the first to know, and soon enough, his first album was named in honor of a song they wrote together when he was in fifth grade — "If I Could Give the World."
And it was through this support that he began to believe in himself and got the courage to break away from playing other people's songs on their tours to making his own.
And so he did.
In 2011, a few years after he and his wife Lisa had picked up their things and moved to Charleston to become teachers, they had an idea — what if they, with a shared passion for music, made their own band?
And so they did.
They picked up the phone, called a mutual friend known for her vocal superiority, and created the band now known as Gravel Road Bluegrass, a testament to an old song he and Lisa had written.
It wasn't a hard decision for them. They had spent their careers playing other peoples music, and now they have a chance to create their own art and share their own stories, and they were taking it.
They teach together. They write together. They learn together.
"
I plan the gigs around school because that will always come first, and yes it can get overwhelming but I'm doing two things that I enjoy, so it never feels like too much."
— Derek Deakins
Making their music is easy for them. When one gets a lyric, the other helps with the melody, and at the end of the back and forth process, they have a song. A song that they made with the one they love, telling a story of whatever they want the world to hear, and this is their happiness.
"Ever since we moved here we got to spend more time together. When you work with somebody who's a good musician and has similar views and ideas it's really a lot of fun to go out together and play gigs and then come home and talk about the gigs and practice," Lisa said.
With a house full of teachers who also perform, it's not hard to assume the contents of their house — music sheets sprawled across the couches, various instruments hanging on the walls or tucked under the kitchen table and lots and lots of papers to be graded.
"I wouldn't say it's too hard to balance everything," Deakins said. "I plan the gigs around school because that will always come first, and yes it can get overwhelming but I'm doing two things that I enjoy, so it never feels like too much."
And so, as often as their schedules allow it, the Deakins put up their pens and pick up their guitars and go spread their little piece of home with Charleston through the one way they know how to best — through song
And yet, with all of his success and triumph, Deakins remains humble.
"I was never too focused on what couldn't happen for us. I always think that even if three bad things happen, at least one good thing has to come along with it, so I tend to let life run its plan," he said.
And when Lisa Deakins looks at her husband, she sees how he became who he is — through his grandmother.
"What sticks out to me is the fact that songs she taught him when he was 11 or 12, he still sings around the house today, and I see her soul in his," she said. "Without her, I know he'd be a different person, so for that I couldn't be more thankful."