Living life to the fullest
April 20, 2020
Her life was simple, until it wasn't. 
Fowler's life changed in a way she never imagined possible.
"And at the time I think you're so naive that you're just like, 'oh it'll be fine, they'll figure it out,' you know," Fowler said. "You don't think like, 'In 24 hours I'm gonna be paralyzed.' That's just not what you're thinking about, especially being a healthy, volleyball playing teenager." 
Fowler has worked hard to make it to where she is today. She may not be considered a "normal" teenage girl, but who's to say she isn't. She has goals, they're just different. She plays sports, they're just different. She lives her life, it's just different. She loves the color blue and dolphins and she hates spiders. Fowler is just like any freshmen in highschool, her routine is just a little different. 
"
She's just sort of tackling this with so much… hope."
— Christi Fowler
Wake up, go to school, leave at 2, go to therapy and then go to cross fit and then come home, and then homework, lots of homework.
"She's pretty amazing," Sydney's mom, Christi Fowler, said. "She's just sort of tackling this with so much… hope. She's just patient with her body and she's so hopeful and she's not discouraged by what happened, which is amazing. I think I have moments of sadness probably much more than she does. She's just like 'well, this is what happened and this is what God has for me and I can choose to be positive or I can choose to crawl up in a ball' and she said, 'what's that gonna get me? I curl up in a ball and that's not gonna get me recovery, it's not gonna get me a happy life.' She's really choosing joy throughout the process which is pretty amazing from a child who was 13 when this happened."
Despite every wrong diagnosis, every day of excruciating pain, and every bad thing being thrown her way, Fowler never lost her positivity, her will to push through, stay strong and fight against all odds. 
Maybe she'll walk again one day, but until then, Fowler intends to live every day to its fullest.
"There is a chance. But it's definitely gonna be hard," Fowler said. 
"My biggest hope is that she gains full recovery," Christi Fowler said. "I mean that's my selfish hope for her as a mom, is that she gets full function back and that I can see her again, playing volleyball and walking upright at prom and those things. I don't know if that's how her story is gonna end. I pray for a happy ending, but I don't know. But that would be amazing. If she could continue to work hard and…right now there is no cure, but maybe one day in her lifetime she can be a part of a clinical trial or some groundbreaking science that would help her walk again."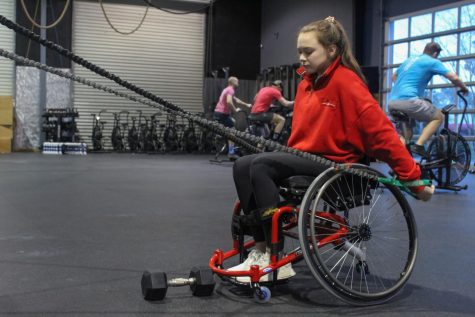 Having already made so much progress — learning to scuba dive, playing wheelchair rugby, swimming, completing in a small triathlon, all with just her upper body — Fowler also now waterskis and hopes to one day compete in the paralympics. In the meantime, Fowler and her family work together to fundraise and have even been able to provide an exoskeleton machine for Roper Saint Francis Hospital.
"I mean it was scary, but like, I just knew that everything was gonna be okay," Fowler said. "Like it in the moment it was obviously scary, but…again you just have to stay positive and just keep going and I feel like it happened to me for a reason and so might as well just live my life to the fullest."