The road to recovery
September 26, 2018
Once he gained enough strength, he was transported to the Shepherd Center in Atlanta that specializes in patients with brain injuries.
"At that point, I could barely move. I remember the ambulance driver hung up his phone so I could watch a movie on the way there," Goldberg said. "That was really nice of him."
Once he arrived at the center, he met people his age whose everyday life also were hospital beds and surgeries. That made things feel more normal.
"I was in a hospital bed for a few weeks. It's super foggy. If I could remember it, I wouldn't want to," Goldberg said.
After the surgeries, Goldberg had to relearn everything.
"For the first month, I couldn't think on my own," Goldberg said.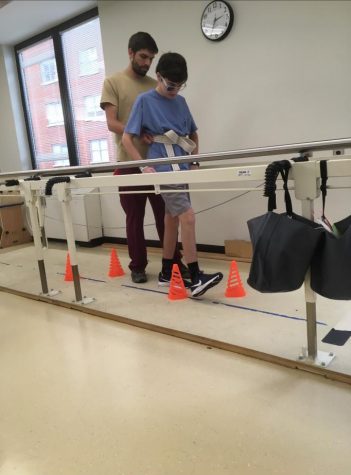 The first thing he learned to do was swallow. For the past month, he had been on a feeding tube. There was only one thing on his mind.
Chick-fil-a.
The first day he could eat, he woke up to the white bag set up on his table, ready for him to eat.
"The whole time I was (at the hospital),I was always talking about Chick-fil-A because that is my favorite food of all time. When I passed the swallow test, Dr. Emerson ran over to the Chick fil a near the hospital and ordered an eight-count combo with a Dr. Pepper," he said, "and by the time I got out of the room, she had it waiting for me on a table ready to go. That was so nice."
Then, he learned how to sit up. The doctors carefully lifted up his body while his mother would say things like "you're doing it baby, good job." Tears would fall from her eyes.
"I had to grow up again really quickly. I was in a wheelchair until I had enough strength to just lift my arms above my head and when I was able to lift up my arms, I was so proud of myself because before — where I came from — I
couldn't even move," Goldberg said.
His mom was by his side, holding his hand and recording every moment as if it was his first.
"He had to relearn to do everything… Walk, talk, eat, sleep. I just wanted to make sure I was there through him having to learn everything again," Huft said.
"Oct. 31st," Goldberg said, smiling.
That was the day he got his somewhat normal life back. While most kids were trick or treating, he was walking down the hallway in his house thinking about every step and how lucky he was to take them.
"I'll have a mental conversation with myself about where I came from and how far I've come," he said.
He uses his experience to remind himself and others about perseverance and recovery.
"Anyone can do anything — it doesn't matter how far down you go, you can always get back up," Goldberg said. "That's what I always think of."
Everyone in Goldberg's life learned something.
"It made me so humble. Things can happen in the blink of an eye. I take into consideration in my everyday life whether it be at my job or in a store if someone is being completely nasty," Huft said. "They might be going through something. It gives you a different outlook when you see someone going through a hard time. It gives you so much more
compassion."
Huft quit her job in order to help Jett. His siblings had to hold their family's world together while it seemed like it was falling apart. Goldberg had to fight against his own body in order to take his life back.
His mother saw a sense of bravery in him.
"Jett's super funny — he seems shy at first, but he's super funny. He loves chorus, he loves music… He even performed at the Windjammer this summer," Huft said. "He's one of the bravest kids I know. He seems shy but he's not."
Goldberg now is back in the chorus family as he performs in Show Choir. For the first few weeks of his sophomore year, he only attended chorus.
"We made sure to keep giving him support. When he came back, we would help in the room like simple things, making sure he had a music stand, giving him practice tracks, he came back to chorus before he came back to any class,"
Wilkinson said. "He would come to chorus and go home."
Wilkinson believes music was a big component of Goldberg's recovery.
"Music was such an important aspect of his life," he said. "I think it really helped him to let him come in and sing with a group of people and celebrate the week and celebrate our time together."
Goldberg still goes back to the Shepherd Center to visit friends and help with charity events. While he still is recovering every day, Goldberg keeps a positive outlook.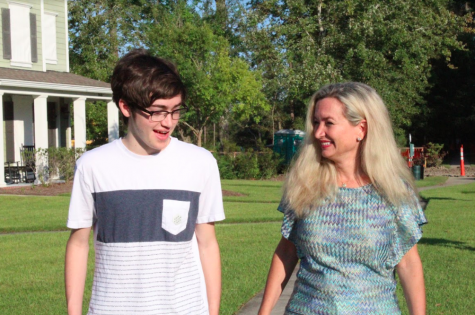 "Recovery is getting past something that once held you back," he said
June 5, 2016: he was sitting in a hospital bed.
June 7, 2017: he went to the Great Wall of China to celebrate his year of recovery.
"Physically, people are recovered after a few days, weeks or months," Goldberg said, "but mentally we all are always recovering from something."