Bands of Wando travel to Orlando for first competition of year
October 14, 2019
Bobby Lambert and the Bands of Wando began  preparation for this competition season eight months ago. 
 After winning regionals and placing sixth in the nation at the National Bands of American competition, they didn't stop. But, for Lambert, the band's goal isn't about winning.
"We're really trying to look at: can we be the best that we have the potential to  be?" he said. "And when we do that all the winning stuff kind of takes care of itself"
Wando Bands traveled to their first competition to Orlando on Oct. 12. The show this year is called " Absentia". Later in the season, they will be competing in the South Carolina State Championship to try to place first for a 12th time and become the "winningest" 5A band in South Carolina history. 
How is everything so successful?  The teamwork, Lambert said.
"We talk about whenever you come into the band room or go onto the marching field that the rest of the world stays out," Lambert said. "And what I mean by that is we all carry burdens, we all carry troubles and we all carry baggage with us at times, but when we get to do music together, that's a time to set that aside. It doesn't take that away, it's not something you can't see and makes it all better, but it does give us a few minutes where our brains can focus on creativity and imagination and positive as opposed to all the other stuff."  
Part of why the band is successful is because of leadership, Lambert said.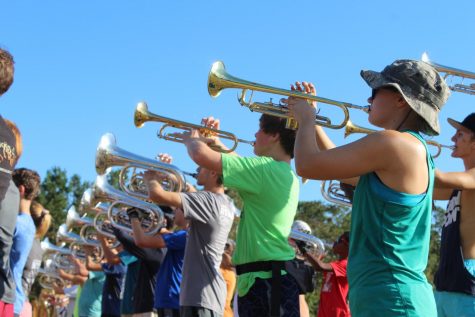 "We do have a leadership team, and those are some of our section leaders and each of the sections so Colorguard, percussion, flutes, clarinets. And those leadership folks do incredible amounts of work for us in addition to what we call performance leadership," he said. "That leadership team is about 50 members of the 250 people. We have that many people trying to make it all go that a lot of good stuff happens." 
Not only does leadership benefit adults, but it benefits the students' personal experiences and their lives. 
"Leadership is a great opportunity for me to get together with the really experienced people in the band and just help push the band forward into success and guide the younger kids in the right direction," says junior Camyrn Maxon. At the end of the day, the Bands of Wando program flows so well because of the way that it's set up. 
"I really encourage them to do is to empower other people because I've seen programs that are built around one coach, and when that one coach or director gets sick or whatever, things just really fall," Lambert said. " I've really tried to design our program here to not do that. So we kind of have a redundancy system."
This redundancy program sets everything into a place so that no matter the circumstance, the show will go on. With the work everyone it doesn't matter if one director isn't there. The leadership team, other staff members and students continue on with the same goal in mind, working hard.
"That moment that you feel all your hard work and everything you put into something finally pays off, you don't really know it pays off until you hear, until you perform in front of that many people," Camyrn Maxton adds 
The Wando Bands program travelling to Orlando this weekend are in hopes of another win as their hard work may pay off once again.