Behind the curtains of My Fatal Mystery
October 8, 2019
The curtain opens. The lights flare in her face.
Senior director Maddie Apostolis sits front row involved in every detail of the scene, fully absorbed directing one of her first plays. She did everything from working on costume sets, props, lights and sound, to acting in shows and now takes on the challenge of directing everything from backstage to centerstage.
Mystery lovers will gather Oct. 11 at 7 p.m. in the Wando Performing Arts Center to try and solve the interactive comical murder in My Fatal Mystery, written by Eileen Moushey. Directed by Apostolis, this play features honors theatre students mixing improvisation with scripted dialogue to reveal their characters' darkest secrets and motives.
"It's meant to be comedic, even though someone gets shot and killed," Apostolis said. "It is extremely suspenseful,"
At the beginning of the play, the audience gets to talk with the actors and ask questions about their character as well as at intermission. As the plot moves along and someone is killed, the audience then gets to vote on who they think did it, and the murderer is revealed.
"I have a full schedule including six AP classes," Apostolis said about her love of theatre. "It's the people I surround myself with and the people who are working on the show with me who really allow me to have a life outside of the busy task of directing a department wide production,"
"Katie McDaniel is my savior," Apostolis added.
McDaniel is the assistant director for the play, working with Apostolis to make everything happen.
The experience is "something you can't replicate," Apostolis said. Being hands on and "having complete creative control" is something new, but something she enjoys doing a lot.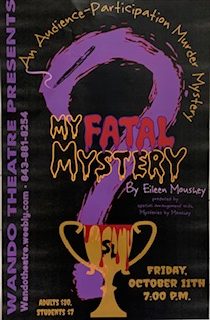 Apostolis said she adores comedies. The first play she ever officially directed was the end of last year called Action News, Now with 10 Percent More Action. For Apostolis, this show was a good beginner's build-up for the job she has now, which is a much higher intensity project.
Student tickets are $7 and adult tickets are $10.See Wandotheatre.weebly.com for more information.