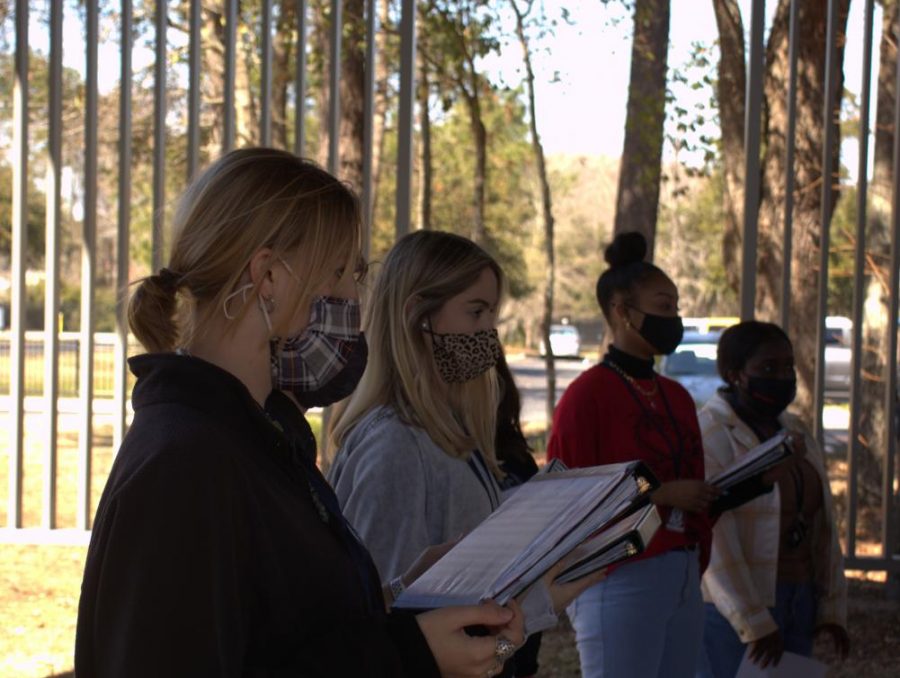 Bright lights, brighter dreams
Bright studio lights.
Long mixes.
Producing beats made to enhance the auditory sensations that we hear on the radio.
Cameron Cradock has a dream.
A dream that is becoming more and more of a reality.
Senior Cameron Cradock has had a passion for songwriting ever since elementary school, a passion that has led her to where she sees herself today.
She recalls one of her earliest favorite singers being Taylor Swift during Swift's country phase. "My interests have kind of varied. I remember when I really loved Taylor Swift, but then she transitioned into pop music, so I was like oh maybe this is what I need to be doing", reminisces Cradock. 
She has recently decided to shift her focus to more Indie style music, with one of her main influences being Phoebe Bridgers. Cradock enjoys playing both an acoustic guitar and piano. "I really enjoy both, but I would love to play most of my music on the acoustic", Cradock said.
Since it is something she truly loves doing, Cradock will be continuing her musical career throughout college and on into the future. In the coming fall, Cradock will be attending Belmont University in Nashville, Tennessee. " I plan on majoring in audio engineering and then I want to minor in music business and also take some songwriting electives", Cradock said. 
When it comes to her future with music and songwriting, Cradock is all in.
"I want to start a career in basically producing other people's music and not my own. That way when I am ready to make my own, I will be able to go into a studio and understand all of the bits and pieces and know what I want when I come to a studio", Cradock said. 
Her main passion is for songwriting, but she is definitely open to the possibility of falling in love with audio engineering and making a career out of that."I definitely see myself having a career in songwriting, but I could also see myself sticking with audio engineering as well", said Cradock.
Whatever Cradock chooses to follow, her talent seems promising to make it big.