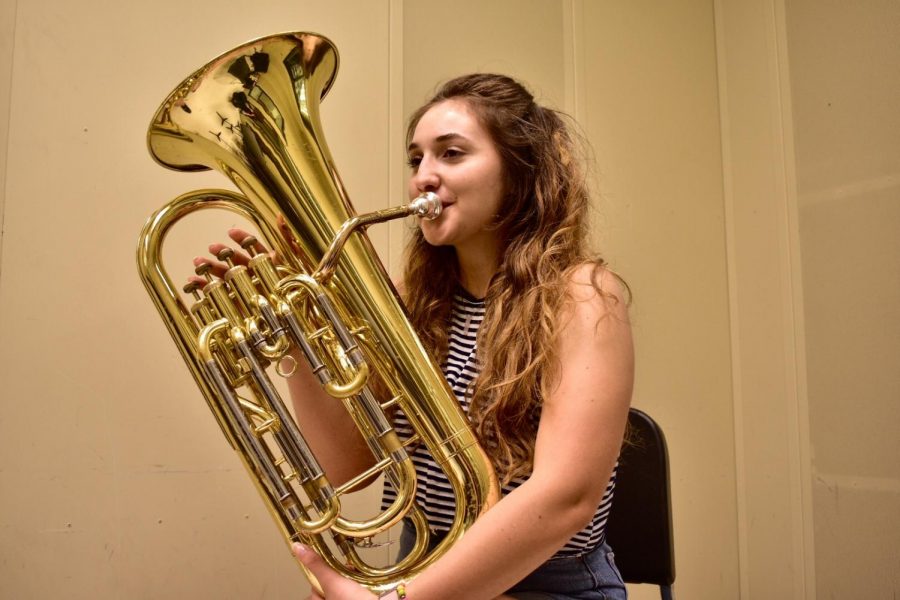 Camila Dorst
Senior Camila Dorst has let her love of music help her become a role model to those who follow her footsteps in the fine arts program.
"Being in band has taught me to have a grit," said Dorst, who joined band in her freshman year after playing in middle school. "You think about the final product and how good it will be and it pushes you to do better."
She chose to play the euphonium because it was the best fit — literally.
"We start testing for instruments in fifth grade. You have to try out all the instruments with the nature shape of your mouth to see what you're naturally better at," Dorst said. "I got the euphonium, it's like a tuba but smaller."
While moving into a bigger, more demanding band program in high school was "a big change," Dorst said, she feels she began to grow as an artist. She moved from Concert Band 2 to symphonic band by her junior year.
"Just trying as hard as I could throughout my four years really helped me get to where I am," she said.
She is also one out of four section leaders for the baritone, her instrument when marching, who helps out with the underclassmen.
She's taken her love of the baritone to more than just the band. She played the baritone in the the talent portion of the Miss Wando 2019 pageant. Her secret sister in the pageant awarded her "Miss Elegant," but performing in front of an audience was a thrill, Dorst said.
"One of the parts I enjoyed the most was speaking in front of people," she said.
Dorst is fluent in Spanish and English, as she comes from a Hispanic family with her mother from Argentina, and is currently learning German, Polish and Portuguese.
She will be attending the University of South Carolina in the fall majoring in international business and minoring in foreign language. She plans to study abroad and plans to play in a band on the euphonium or baritone outside of school.