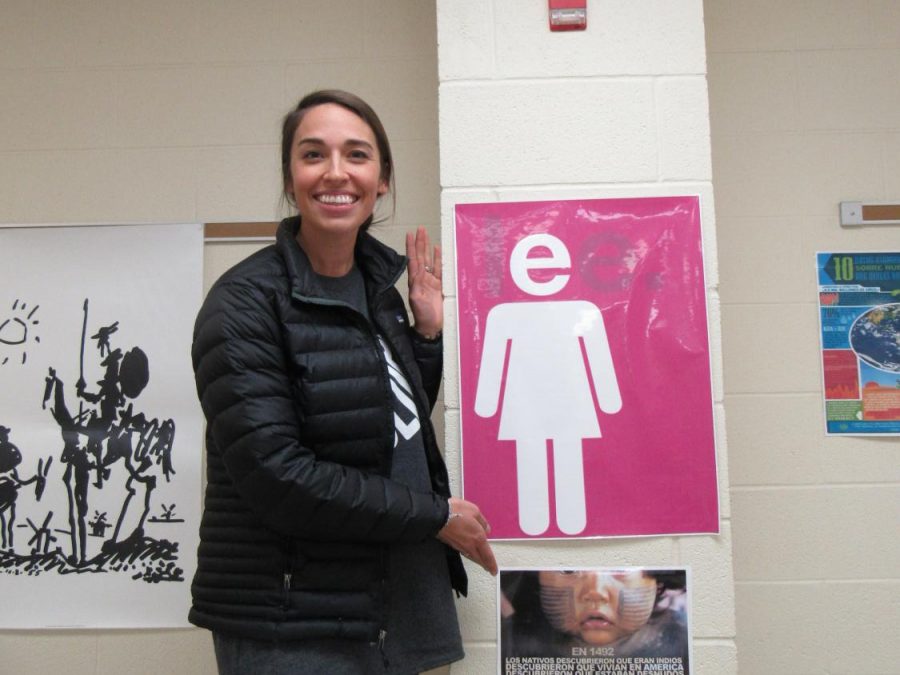 Caroline Campbell awarded Teacher of the Month for October 2019
December 10, 2019
As the administrators walked into the room ready to award Spanish teacher Caroline Campbell with October Teacher of the Month award, she was filled with shock.
"I got it last year as well, so I guess I didn't expect it at all anytime soon. I was super surprised," Campbell said. "I had no idea what they were all doing in my classroom."
Not only was she astonished, Campbell was appreciative for being acknowledged with the award.
"Super grateful, anytime, this job, you can go a really long time without being recognized because we all work really hard," Campbell said. "So anytime we get any recognition — even if it is an email saying, 'Oh hey, thanks for sharing this with me, or showing me this' — to get that is always a boost in the right direction."
One of her students sophomore Devon Nadelstumph was in Campbell's class when she was presented with the award.
"I felt happy for her when I saw her win the award," Nadelstumph said.
Campbell makes the classroom environment as friendly and comfortable as possible for the students to feel in a safe place during her class.
"She's a good teacher that I feel comfortable with going up and asking questions," Nadelstumph said. "It's a fun environment to be around with."
Campbell said the reason she is a teacher is the relationships she builds with students to make the environment the way that it is.
"No doubt, my relationships with my kids, knowing they can make me smile or I can somehow make their day better," she said. "Especially, when any of them come to me and talk to me about stuff that they have going on outside and them feeling comfortable."
Not only is her relationship with her students important, but her hobbies outside of teaching impact her positivity.
She likes to "hang out with my dogs or I also ride horses, so those are probably my two favorite things," Campbell said. "Don't want to leave out my cats, so hang out with my animals or riding horses 100%."
Campbell's favorite memory? Those are the ones she's able to make every day in the classroom.
"Honestly, it all runs together, day to day, every time we're in here, laughing and having fun while still being able to learn Spanish is just the best. I think there's too many happy and good things for me to just pick one," Campbell said.
Campbell has been teaching since 2013, and she has tried to incorporate different teaching methods to help individuals who may need the extra help.
"There's a ton of different variation in my classroom. A lot of times I'll get kids into groups so I can like go to certain kids differently and kinda check in instead of just trying to teach to the whole class because everyone does learn things differently," she said. "That's the best way if I can get them into groups or stations so I can go around to check individually." Campbell said.
So why did she decide to teach Spanish of all things?
"I always just wanted to teach. It seemed really fun to hang out with teenagers every day, they are hilarious," Campbell said. "To be honest, I had a really cool spanish teacher in high school, Ms Heckelthorne [in Georgia]. And I left her class everyday feeling happier and more excited about stuff than any other class, and I was like, 'this is ok, cool.'