Choosing the right college
January 21, 2020
ABIGAIL RANKIN – BRIDGE AT CLEMSON UNIVERSITY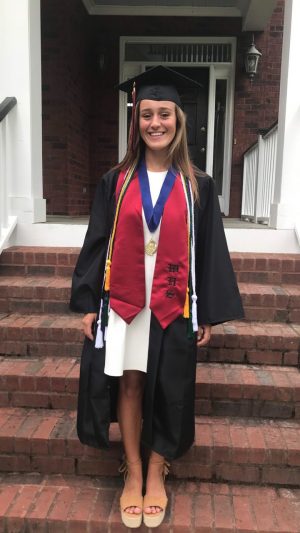 What many may have been seen as two steps back in the college decision process, Abigail Rankin saw as one giant leap forward. 
Now a freshman at Clemson University in the bridge program, Rankin had a difficult time when it came to deciding on where to spend the next four years of her life. 
"I've always planned to go to Clemson but I never fully understood the bridge program, but I am so thankful they have it," Rankin said. "It gives me the opportunity to go to my dream school just not in the way most people do." 
After dreaming about going to Clemson University for almost her entire life due to their outstanding reputation and top ranked sports and academic programs, Rankin was a little upset when she got accepted into the bridge program, but she decided to make the most of it.  
The bridge program meant that although she lived on Clemson's campus she would be taking classes from a program called Tri-County and wouldn't be able to join any sports teams or sororities until sophomore year. 
"College is how you make it. I chose and continuously choose to make the best of the bridge program and I love it. Even not 'fully in' to Clemson I can tell how much I love it," Rankin said.
Instead of choosing to only see the negative in her situation, Rankin decided on a decision she felt was best for her and it hasn't let her down yet.
"Don't let negative stigmas control your decision to maybe take an unconventional way to college. It may just lead you to your dream school while meeting best friends along the way," she said. 
Even though Rankin considered going to a different school, in the end she decided to take a chance on the bridge program and is now studying political science at Clemson University.
"If you apply to your dream school and don't get in, be sad, get that sad out of your system and then make the absolute best out of the decision you make on where to spend the next year/four years," Rankin said.
COURTNEY YOUNG – AUBURN UNIVERSITY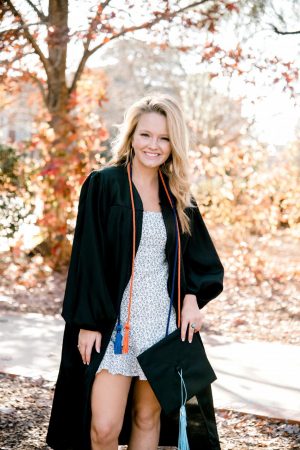 Courtney Young had known what she wanted to be since she was seven years old. 
And when she got to high school, a teacher she had her sophomore year and  idolized at Wando pushed her and believed in her and made Young want to pursue her dream career in apparel design and production management. 
And while her major was an easy decision, where she decided to study it was a little harder.
That was, until a family friend helped her find a flight to Atlanta and then drove with her to Alabama where she ended up visiting the Auburn University campus.
"I didn't even know Auburn had an apparel program, but after I found out, I took a visit and that was it. It was a home like no other," she said. 
Young was able to pursue her dream career at her newfound dream school and grow as both a student and a woman. 
"I have grown up a lot in a place that's pushed me to be a better woman with a better work ethic and drive. Being so far away from home can be kind of overwhelming at this age, but it was a very positive experience and I don't think I would have grown up without it," she said. 
Young recently graduated from Auburn University.
"I chose Auburn for my major, but because I had an artistic major going in I wanted to still have that four-year college experience," she said. "The football game, the college town, and all of those life experiences you can really only live during those young adult years."
JACK FRAIN (VANDERBILT EARLY DECISION)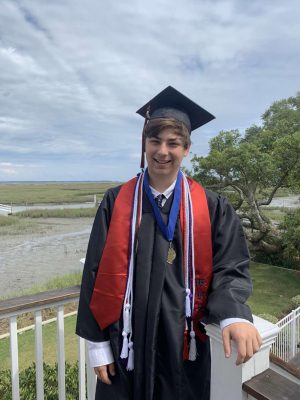 Jack Frain knew that Vanderbilt University was the place he wanted to be.
"I chose Vanderbilt because it was the perfect blend of everything I wanted. I really wanted to live in a big city and still push myself academically. I thought Vanderbilt was the perfect setting for me," he said. 
Frain was confident in his choice and decided to apply to Vanderbilt early decision.This meant that if he was accepted, he was obligated to go unless he had a very good reason not to.
"I applied to Vanderbilt early decision so I never had any doubt that was [where] I wanted to go. I knew that Vanderbilt was going to be the perfect school for me and I'm glad I made the choice I did." 
Now a freshman and mechanical engineering major, Frain has learned many important lessons about the shift from high school to college.
"In college time management is definitely more important. I was never really good at doing things on time when I was in high school, but now I really have to focus on getting all of my work done in a timely manner. It's still a work in progress," he said. 
Frain had to adapt to his new way of life and found that the most important part of finding the right college is not to find the perfect one, but finding your perfect one.