County thins part of Laurel Hill County Park forest
November 2, 2019
It was all nature. It was a break from the urban sprawl that Wando alumnus Michael Evans was used to in Mount Pleasant. Laurel Hill County Park was his escape.
But he went back one day. Running. He came across several cleared, barren stretches of land on the north side and stopped in his tracks. 
He was shocked.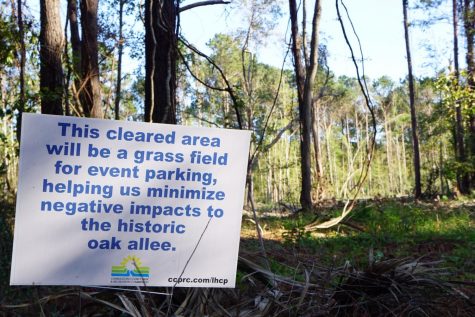 "When you're walking even on the normal trails of the park and you see like a huge patch of trees gone, immediately the feeling that you are in the middle of the woods is gone," Evans said.
Charleston, South Carolina's county parks form part of the city's identity that both residents and tourists value. 
"Historically, Charleston… was kind of a deteriorating area," Wando AP Environmental Science teacher Jessica Herbert said. "It wasn't this tourist mecca where people want to come and visit and live that it is now and I know part of that shift or turnaround was establishing the park system."
Laurel Hill County Park is located centrally in Park West, near highways 17 and 41. Preserved forest trails, beautiful allee of oaks, convenient location — it is an ideal place for Mount Pleasant residents to spend some time outdoors walking, running, or biking.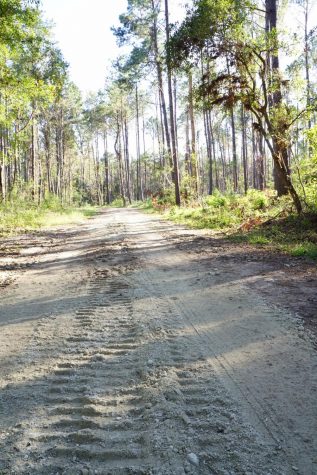 "Why it's so great is that in a relatively, like really urbanized area in Mt. Pleasant… it's like a haven right in the middle of it," Evans said. 
This "haven" of trees and wildlife was perceived by park goers to be threatened starting over the summer on June 24. When forest management activities began taking place in the park, it was closed for an extended period of time. The senior planner for the Charleston County Parks and Recreation Commission, Matt Moldenhauer, is determined to address the misconceptions surrounding the project's aims.
"There's a cost to making things look nice…in our case, we have gotten complaints from people. They understand the need for the thinning but they are concerned about the way it looks," said Moldenhauer.
In the case of Laurel Hill, the CCPRC is leasing the property to carry out timber harvesting as directed by Wells Fargo, the current landowner.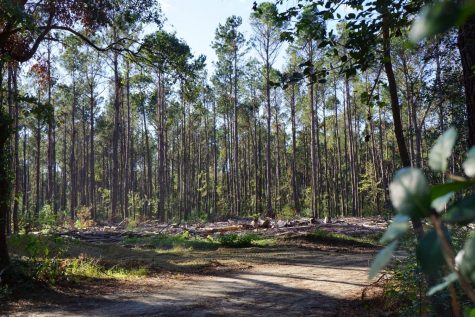 "What they [Wells Fargo] are doing is they're upholding the wishes of the former landowner, which is Mr. Muller," said Moldenhauer.
It is decided that land management should occur in a park in a defined way. A surveyor first inspects the land to determine the amount of wood on site.
"At Laurel Hill, there was enough woody biomass to justify… performing land management activities, which can involve removing trees," Moldenhauer said. 
Thinning over the summer starting on June 24 has progressed to about half of the 300 acres of pine forest within the park. It is still unknown whether or not it will extend to the rest of the park, but Moldenhauer supports doing all of the thinning in one round.
"We are trying to work with the trustee to get the other half thinned because the site's already been affected…These kinds of things can happen every seven to 10 or so years, and so if we can lump them together then that means we can consolidate the impacts on public use," said Moldenhauer.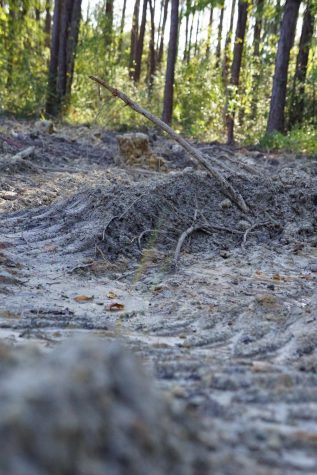 But the public still has questions regarding the park's current state and how the land management will proceed. The emphasis on maintaining the park's biodiversity is a main motive behind this project. 
"We are coordinating with the trustee to do things that we all think are right on behalf of the public," Moldenhauer said. "Nothing is gonna happen overnight, but people just need to understand that we are working every day on this property and others so that… the outcome of land management activities is something that will benefit the public for years to come."
Moldenhauer stresses that thinning the trees of the park will allow for more species to thrive together in the same environment, as sunlight will be able to reach the normally-shaded species on the forest floor.
"When you have sunlight hitting the forest floor, suddenly those resources are available to different types of plants and often what happens is… you get grasses coming up, you get a lot of shrubs coming up and so when you have more diverse plant communities you have more diverse wildlife and so the benefits are really important to understand as part of this," he said. 
This motive is all part of the bigger problem of what Moldenhauer describes as "stem exclusion," or the close proximity of trees leading them to outcompete each other for resources.
The possibility of forest fires is also a main motive for the thinning in Laurel Hill. With all of the pine needles and vines remaining at the tops of the trees, this adds fuel to a potential for a forest fire that could spread from the ground to the tops of the trees, causing catastrophic damage. 
"The whole objective is to try to keep the fire at ground level. Now we may not ever be able to burn Laurel Hill, but that doesn't mean we shouldn't try to manage it in case a fire happens," Moldenhauer said. 
These fires along with other natural processes would normally be limiting the number of trees in a specific area of the park. 
 "Now we have to selectively remove trees when fires would normally be doing that," said Mrs. Herbert.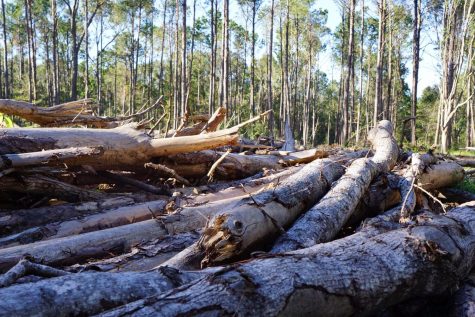 Even with the Parks and Recreation Commission's reasons for active land management in the park, residents in the area still have to witness the stripping of trees. Moldenhauer hopes people understand the long-term benefits of this process and how important forestry is to South Carolina's economy. 
"These things, although they might look ugly, they can interrupt peoples schedules, and so forth, they do create jobs and the jobs are cumulative" Moldenhauer said.
Another goal of Moldenhauer is to passively educate the public about the importance of active land management, and make parts of the process easily understood by the public.
"What we are trying to do is hopefully with the next phase of thinning we're gonna create a way for people to interact with land management," Moldenhauer said. "It will involve some new trails, it will involve some planting and replanting, and it will involve converting some blocks… of pine forest to different plant communities."
Although the sight of the tree thinning can be jarring at first to civilians, the efforts of the CCPRC to address concerns aim to help general understanding of the process.
"I think that if it's being managed correctly and being put to good use… then it could potentially be turned into a good thing, but I'd like to see now that that land is gone, what other land are they going to try and preserve," said Evans.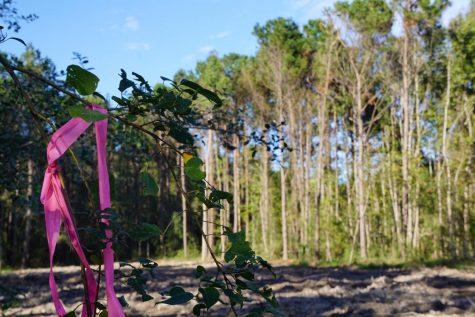 Hana Donnelly
Land management is not the same thing as construction, and this is something that Moldenhauer truly wants the public to understand about the activities in Laurel Hill Park.
"Look at what you're not getting," said Moldenhauer, "You're not getting another neighborhood. You still have a park, we just need people to understand why it can be a good thing."