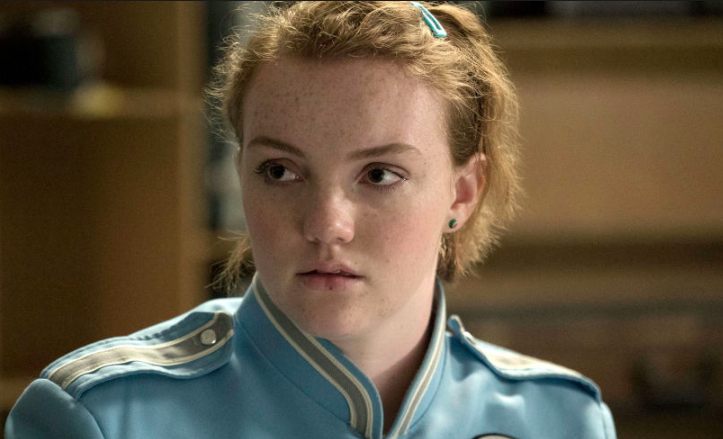 Differing perspective analyze 'Sierra Burgess is a loser'
September 27, 2018
Peyton Raybon and Abby Sinclair state their interpretations of Sierra Burgess is a Loser, a hit Netflix original film.
For more analysis of Sierra Burgess is a loser listen to The Spear- Episode 2:
Alexis Perry
'Sierra Burgess is a Loser' does not meet the hype of Netflix originals
Netflix has recently been doing phenomenal with their originals. From Orange Is the New Black to The Kissing Booth, Netflix has series and movies that everyone can enjoy. Therefore, when I heard the hype about their new upcoming movie, Sierra Burgess is a Loser, I was extremely excited about it. The film featured Shannon Purser, who had a supporting role in Stranger Things, along with Noah Centineo, who played one of the leading character in a recent Netflix hit To All the Boys I've Loved Before. Since these actors were in originals that I had fallen in love with, I expected this one to have the same impact.
I was dead wrong.
This film follows Sierra, a teenage girl in high school who was fairly unpopular in her school. She follows the typical concept of a high school band geek and is often bullied by the
school socialite, Veronica. The plot starts with Veronica purposely giving Sierra's number to a boy who wanted her number, Jamey. Not knowing how Jamey got her number, Sierra decides to keep texting him and their relationship starts to bloom. When she finds out that Jamey thinks she is Veronica, she teams up with her and works out a friendship that works for the both of them. Sierra helps Veronica seem smart so she can win back her college boyfriend, while Veronica helps Sierra further her online (and soon-to-be "real life") relationship with Jamey.
Sierra Burgess is a Loser definitely had potential. The acting was absolutely amazing which gave the illusion that the movie was good, but once I thought about it, I realized that it was horrible.
Right off the bat, I wondered why Netflix was still following the sucky stereotype that smart girls can't be pretty and pretty girls can't be smart. I mean, come on, it's 2018 and we should be way past that. I also wondered why Sierra continued to catfish Jamey and lead him on. Yes, Jamey was actually getting to know Sierra by talking to her on over the phone and texting her, but she should've known that he eventually would want to meet in real life. This drove Sierra and Veronica to go to extreme measures to keep reeling Jamey in, like having Veronica mouth what Sierra says on FaceTime and blame it on poor connection, go on a date together with Jamey, even having Sierra kiss Jamey thinking it was Veronica, which was completely non-consensual.  This movie glorifies the heck out of catfishing and I don't think that's acceptable.
All in all, this movie is nowhere near as good as the hype it got, and I definitely don't recommend it. If it were up to me, I'd say save your time and just watch To All the Boys I've Loved Before.
Leave a Comment
'Sierra Burgess Is a Loser' accurately depicts the struggles of high school
Sierra Burgess Is a Loser depicts the romantic struggle story between high schoolers Sierra Burgess, played by Shannon Purser, and Jamey, played by Noah Centineo. This Netflix original movie, directed by Ian Samuels, kept my attention from start to finish, beginning with Centineo receiving Purser's number thinking that it was cheerleader Veronica's (Kristine Froseth).
From this point on, the film involves many laughs, cries and a whole lot of cat-fishing.
This movie portrays the roller coaster that is high school. It highlights the various struggles many kids face throughout their adolescent years. Name calling consumes the daily life of Purser's character. However, she is distracted by her secret love for Centineo.
Despite the unrealistic cat-fishing, I find the plot to have a valuable message overall. It shows that beauty is not just skin deep. It is what's on the inside that matters most. On top of that, it demonstrates that anyone could be friends with whoever, no matter their social rank or appearance. I feel that each actor and actress played his and her part extremely well, allowing me to truly empathize with the characters.
I would highly recommend Sierra Burgess is a loser. In the end, I had tears streaming down my face as well as a new outlook on life and my fellow classmates.
Leave a Comment