"Euphoria" pushes the bounds of social structure and explicit content
February 11, 2022
"I don't know if your brain is scrambled from like, all the molly you take but I never said that. If you spread a lie like that I will f***ing come for you, we good?" 
Many may recognize this line from the critically acclaimed HBO TV show Euphoria. When cheerleader Maddie says this to her friend and teammate Cassie, it seems pretty explicit.  But, despite being something networks would never put out for people to watch 20 years ago, dialogue like this is the norm in the series.   
Euphoria includes many different factors such as extremely illegal and dangerous drugs,  a spectrum of sexualities, sexually explicit scenes and lots of use of harsh language that TV shows and movies during the 90s  would never even think of showing.  Beverly Hills 90210, which aired on Fox from 1990-2000, was considered an "inappropriate" show but now does not even compare to the graphic nature in Euphoria. The most explicit scenes in 90210 are consuming alcohol, but would always show the bad outcome that comes out of doing illegal things, and lessons would be learned.  
However, in Euphoria, they romanticize some of the bad things that go on. I'm not saying Euphoria is bad to watch, because honestly, it is one of my favorite shows. But what I am saying is the difference from shows back then such as 90210 is incredibly different from shows now.  Drug use for example.  In 90210, one of the main characters, Dylan McKay (Riverdale actor, the late Luke Perry) was a recovering addict.  It was a small part of his character, and only played a part of the plot ONE time.  This creates the idea that addiction and recovery are always the same, and linear.  No one ever struggles with it, and no one ever relapses.  This is not the case in real life unfortunately, and not in Euphoria either. Euphoria shows the struggle of relapse and pain and suffering all because of drugs. Addiction isn't linear.  It is not a simple and easy issue  to recover from and Euphoria shows that. The scenes of Rue (who is a drug addict) doing drugs, going to therapy, relapsing, hurting who she loves, and more show the hardship in addiction and make people more aware of terrible drugs and how addiction really is. 
"
However, in Euphoria, they romanticize some of the bad things that go on. I'm not saying Euphoria is bad to watch, because honestly, it is one of my favorite shows."
— Merritt Rast
Since we are in the 21st century, most people are very open and supportive about different sexualities. As I mentioned before, there are many different sexualities in Euphoria. This includes the main character, Jules, who is transgender. Jules is played by an actor named Hunter Schafer who is also transgender in real life. It is fairly new to be so "open" about characters, actors, and "role models"of all identities. Even in the early 2000's you would never see anyone of different sexualities on TV, it was considered taboo. 
We have come a long way from that, and now on many shows and movies, they introduce people of different identities. In Euphoria, they show scenes of Jules using hormone therapy. This scene shows how open television is to people being transgender.
 In Euphoria, they show characters using highly illegal and dangerous drugs. In Season Two, there was a scene where a girl named Faye was abusing heroin, injecting it into her leg. This is one of the harshest drugs used in the show. This drug and a lot of other drugs they use in the show such as oxycodone, cocaine, and MDMA would never be used in the show mainly for teens because these drugs are highly illegal. Producers wouldn't want teens to think they're okay or considered "cool."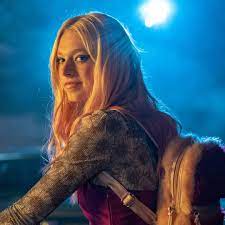 Drugs used a long time ago aren't the same as they are today and I'm sure you have all heard that before because I have too, but it's true. In the late 1970's the use of marijuana peaked. More than one-third of high school seniors used this drug. Even when that was going on, the directors didn't put drugs in shows that much, and definitely not used how the drugs in Euphoria are. The idea of illegal substances were strictly censored. 
Another red flag for Euphoria is its explicit situations and nudity. Euphoria is probably one of the most sexually explicit shows I have ever watched. A few years ago, shows would have some nudity, maybe a scene or two only showing a little. But now in shows like Euphoria, they show everything and it's every few scenes. Shows like Euphoria really show how much things have changed throughout the years in television. Things are a lot more open, gritty, and mature. Not everything is kid-friendly. I love Euphoria and even with all the crazy stuff in it, I believe it is an interesting show. I would highly recommend it with viewer discretion advised!