Exploring local food- 'Mama Kim's'
November 21, 2020
When walking through the doors of Mama Kim's it is obvious that it is much more than just a restaurant. It is a home. Despite recent riots and protests downtown, the walls of Kim onam brown's restaurant are still filled with memories and pictures of those who visit.
Despite having been in South Carolina and running her own restaurants for decades, Brown did not always start out here.
Having grown up a farmer in South Korea and moving here in the 1970's, Mama has always believed in having a strong work ethic.
From a young age she understood the value of time and money.
"We would play by making our own toys and our own kites ourselves instead of buying from a store," Brown said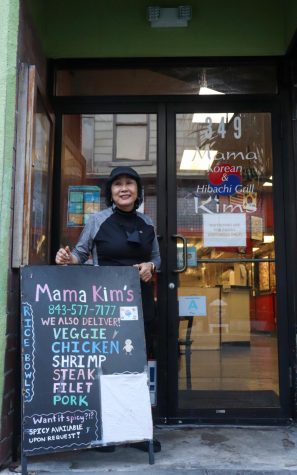 She believes that it is part of what has led her to having her very own successful business today.
But she makes sure that everyone knows how important those involved are, s
he treats her staff and customers like her own family.
She prides herself on building a relationship with everyone that walks through her doors.
"I think I am very strict, I treat them like my own kids and teach them that education comes first," Brown said.
"I have all the kids' graduation pictures. I love to see them grow up. I'm like a grandmama not just a mama anymore."
"
I have all the kids' graduation pictures. I love to see them grow up. I'm like a grandmama not just a mama anymore"
— Mama Kim
She instills it in  her servers and cooks to always do their best.
"I tell those that prepare the food that I don't want them to be sloppy… Don't just do whatever, do your best."
But dealing with the recent events of riots following the death of George Floyd, was not something that Mama thought she would ever have to endure.
"At three o'clock it was quiet and nothing was a big deal but then at nine o'clock the first riot happened. All I heard was bang! I didn't know it was a riot," Brown said
Caught off guard, Mama was still unsure of the events that were unfolding in front of her  beloved business.
"'A man was taking pictures and put it on Channel 5 news' I said to myself, 'What did I do wrong?'" Brown said.
And following that experience, Mama found herself watching somebody smash her window and again wondered to herself what she possibly did wrong.
Soon following the damage, Mama found herself overwhelmed in support.
"Kids came in afterwards saying, ' Mama I'm so sorry. We told them not to do your place. They didn't  know,' " she said.
With flowers displayed around her counters and chairs from those who love her, Mama decided to set up a go fund me where they set a goal of $5,000 dollars. 
They exceeded this by raising a total of $17,445.
"I gave some of the money and the food to the church, The Citadel, neighbors, and during Christmas time I'm going to give some to the McDonald's House," Brown said.
But the support didn't stop there.
"A lot of people from The Citadel came to help me out and people drew hearts and love on the boards in the front and people from Walgreens came up to me and said ' Mama Kim, look how many people love you'."
She explains that she looked around and said, "You're right, I guess so."
Mama is grateful for everything that people offered and gave her during that hard time.
 She revisits the moments following those riots not with remorse or regret but with happiness and fulfillment. 
"They love me and I think that's why I'm still here."
And Mama wants the people to know that she is here to stay.
Through the whole process Mama's eyes were opened to how strong the community she created is.
Although she has spent almost 50 years catering to the needs of her restaurant, Mama took this as a sign and she did not take it lightly.
This was a sign that what she has created and everything that she is doing, is paying off. And she admits that she could never give it up anytime soon.
"Even with all that has gone on I can not retire. My friends say, 'I know you can not retire. I know you have to work. You love the people.' And I do. I love society."
And Mama will continue to help the community and remain a part of it no matter what.
Not only is she glad to know that she is surrounded by love and generosity but she is glad to give back to them as well and let them know that she would not be where she is today without all that they do for her.
Mama encourages everyone to do their best because she would not have discovered her community if she didn't work as hard as she did.
"I pride myself on work and good health. Those are my goals. I try to live the best way and I try to do right."
Coming from another country, Mama explains that she understands it can be hard but with her experience she offers some advice to those who need it
"We are human beings. You were born in a God given life so try your best at it. Grow up and try to succeed."