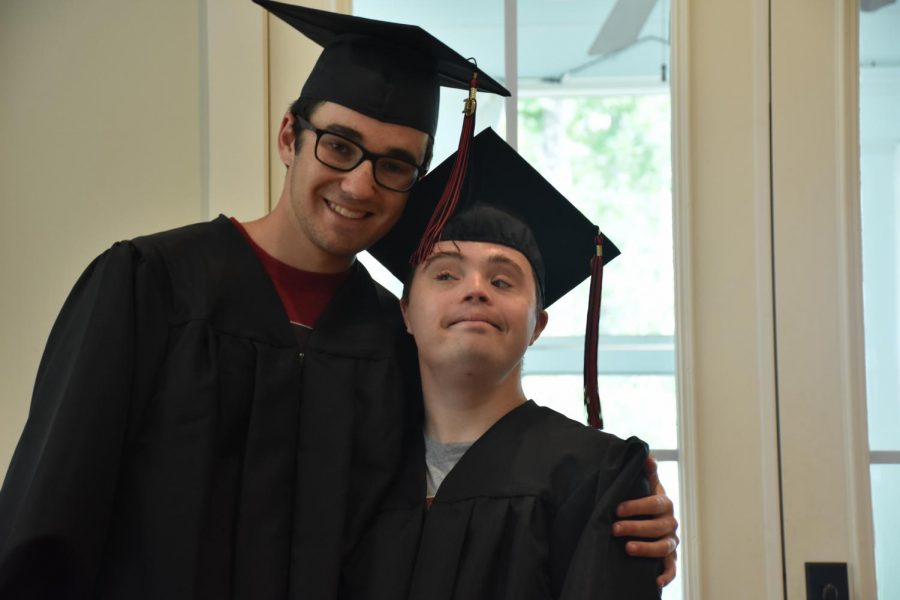 Finn Carlin
When senior Finn Carlin thinks about his older brother, he can't pick out just one favorite memory. Instead, he thinks of his brother's kind heart and the bond they share.
Finn's older brother, Ryan, has Down Syndrome and is four years older than Finn. And the Carlin brothers are about to make a new one, as they both prepare for the biggest milestone yet — graduation.
Finn is a 17-year-old senior, and Ryan is 21 in the Exceptional Education program.
The relationship between the Carlin brothers has grown through their time at Wando, but they always loved to spend time with each other as they grew up, according to mom Renken Carlin.
"They are very close brothers," she said. "We used to always say when Ryan was little that his best therapists were Finn and Noah [the oldest brother] because they would never do something that Ryan wouldn't try. If they're going to climb a tree, then Ryan was going to climb the tree."
Finn and his brother have maintained this close relationship. In their free time, they play video games (Ryan's favorite: Legos 3), watch movies, walk the dog and just hang out together. The Carlin family helped organize the Exceptional Warriors Club, where students inside and outside of Exceptional Education classes can meet up, bond and form friendships with one another.
"We do team building activities, bonding activities," Finn said. "We've been able to achieve the goal of bridging the gap…just to form better relationships with them."
The Exceptional Warriors Club has not only helped the brothers become closer, but it has also helped many Exceptional Education students — including Ryan — form vital social connections.
"I really have seen a growth in communication between those with special needs and the typical kids at Wando," Renken said. "It shows that Ryan and his friends at Wando have impacted the typical student body by just letting them know, 'Hey, we're just like you are! We may not talk as fast, move as fast or things like that, but we are unique and moving at our own pace, just like everybody else is.'"
The Exceptional Warriors Club has had an impact on every member, whether they are in the Exceptional Education program or not. The consequences of these connections has shown to be positive throughout every student that attends.
"To see other people get to step out of their comfort zone and just have fun with people they normally wouldn't choose to interact with…I love seeing it because it completely changes them, and it makes you a better person," Finn said. "Ryan, on the other hand, is a master at kickball."
As graduation approaches, Renken looks forward to the bond the brothers will share at this point in their lives. To the Carlin family, this is the beginning of a new lifetime of memories–memories that will stick out in their minds.
"This will be a milestone those two will be able to do together, and it'll never be forgotten," Renken said. "I certainly think that, for Ryan, graduating with Finn makes his graduation more special, and I'm sure it does on Finn's side of the coin as well."
Finn has always appreciated having his brother around and valued the lessons Ryan has taught him and his family.
"It is a lot of patience that goes into it…but I wouldn't change it. I love him to death and he's made my family better for it," Finn said. "I think everyone should learn how to interact with everyone, treat everyone equally, and not take people for what they are on the surface."
One of the most important things that Ryan has taught his family is acceptance, and they have given him the same thing in return.
"He's just one of the boys," Renken said. "I truly believe Finn and Noah have made Ryan a better person, just as Ryan has made both Finn and Noah…they've impacted him by giving him a sense of normalcy…he doesn't view us as any different than we should view him."
As they grew up, Ryan and Finn have learned a lot from each other. Ryan has taught his family not to take people at face value, and they have taught Ryan the true meaning of unconditional love and the strength of family bonds.
"It's not just Ryan, it's everyone with intellectual or physical disabilities, they just want to be treated like normal kids. I mean, they are. They're just like the rest of us," Finn said. "They're so wholesome and whole hearted and they're just such a joy to be around, and it really helps you to just treat everyone equal."
Ryan and Finn share a strong relationship that goes beyond a lot of other sibling connections, and their time at Wando has only strengthened this bond.
"Even today…every time Ryan will start laughing out loud, and I'll say, 'Ryan, what's so funny?', he'll always say, 'My brother Finn. He makes me laugh,'" Renken said. "Both Noah and Finn have been great sources of, not only friendship, but empowerment for Ryan."
Ryan's brothers have always gone out of their way to make sure he felt like one of the boys. From school events to just hanging out, they have always allowed him to simply be himself.
"Ryan has always pushed himself to do everything his brothers were doing," Renken said. "Even today, he still tries to waterski. He might fall, but he'll still try it when he sees his brothers doing it."
That being said, it hasn't always been an easy journey for Ryan, even with such a supportive and loving family around him.
"We're a military family, so we moved around a lot throughout my lifetime, and one of our first moves was actually from here…to Illinois, and I just remember then, Ryan was just a chatterbox," Finn said. "And the education there was really good for him, so he excelled as far as his reading and speaking."
But with more moves come more challenges, as Ryan and his family learned over time.
"We moved to Florida a few years after we left there, and he just digressed a lot, because the…exceptional education teachers would more babysit those students rather than actually teach them and help them," Finn said. "So ever since then…we've just been trying to get him out of that, I guess, hole that he fell into with moving to Florida."
Since moving back to South Carolina, though, Ryan has made new connections through the Exceptional Warriors Club, and improved in his education. He looks forward to graduating with his brother at the end of the year and celebrating all their accomplishments.
While graduation is a celebratory occasion for the brothers, it also marks the end of an important era for the family.
"It's bittersweet. It is sad that this chapter in all our lives is coming to an end, but I'm super excited to see what the next chapters have for both Finn and Ryan," Renken said. "They've been trending on the same path for so long with school …and now they're both getting ready to embark on journeys of their own, so it'll be fun to watch each one of them."