Girls head to Lowerstate
February 28, 2020
It was a game of pushing and shoving.
It wasn't much for scoring.
With Wando down 14-11 going into the second half and missing Dylan Silber and  Maddie Davidson — who combined average 29 points a game — a comeback seemed unlikely. But 24 minutes later, the girls had pushed to score almost twice as many points on their region rivals Berkeley High School and advanced through the state quarterfinals, beating the Stags, 31-27, Feb. 24.
This team has achieved what no other team has accomplished since 1980, a chance to play for the Lowerstate title. Under senior leadership, the girls' team won three decisive playoff games against Socastee, 67-40, on Feb. 18, before beating Summerville, 55-52, on Feb. 21.
The team will face region rival Goose Creek on Feb. 29 at the Florence Civic Center.
This playoff push did not come without significant injuries to their second leading scorer Silber, who suffered an elbow injury against Summerville, and Davidson, who picked up an ankle injury against Berkeley.
Girls' varsity basketball coach Jeffery Emory said he believes this is one of the best teams he has ever coached due to the senior leadership.
"Two years ago, we were a younger team and all of the girls that are seniors now were sophomores playing behind the seniors we had now. So that experience of getting to know the playbook and getting to know the expectations of what we want to do on a day-in and day-out basis, have led them to become more comfortable with their new roles," Emory said.
Going into the season, Emory said he had high expectations and was confident in how the season would pan out — and a second place finish in Region 7-AAAAA play has proven him right.
"I think it's played out pretty well and we are 16-5 now…," Emory said. "We had a couple hiccups in games but that's going to come every year. I think we've played up to the level we wanted to."
Emory believes one advantage his team possesses is a good all-around team. With seven seniors, four juniors, three sophomores and one freshman, this is arguably one of the best teams Wando's girls basketball program has seen.
Going into the post-season competition, they were seeded second in the playoffs and are now into the Lowerstate championship, in which they will face Goose Creek, the defending state champions.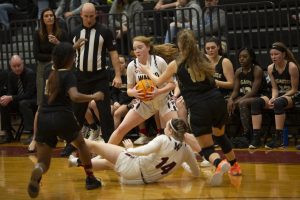 "We are very deep, we have a lot of good players… players that are not playing every game but could possibly play at other schools," he said.
Emory believed certain challenges pushed the girls and gave them fuel towards their outstanding record and playoff push.
"I think the biggest issue was overcoming the individualistic views of being an athlete and buying more into a team aspect of we are doing this together," he said, "and we all have our roles and our roles are to be called upon when we are to be ready to produce."
Senior Maddie Davidson plays the guard position and believes this year is unlike others.
"I think this year we are closer as a team and we have gotten a lot farther this year than any other year, so it's a lot more fun," she said.
After the first two playoff wins, Davidson believes it was a certain feeling that others couldn't comprehend off the court that overwhelmed her and her teammates.
"It was like the best feeling ever, I can't even describe it actually," she said. "Everyone is like whatever you just won, but when you're playing and you win and it's a close game… it's awesome."
Senior Deveney Curry, who put up 13 of the Warriors' 31 points on Feb. 24, believes the support from others and teammates has been a main reason why this team is where they are.
"We all push each other one way or another, and my parents or my other teammates' parents as far as encouragement and support, they have been awesome," she said.
Curry is mainly a guard, like many on the team, who can be asked to play a certain position and be expected to do well.
"We could pretty much all play the one, two or three so we switch it up a lot, which is an advantage we have over other teams," she said.
This season has been very impactful in her life because the team has accomplished so much and made it farther than any other before.
"It's been really cool, I'll never get this experience again," Curry said. "As a person it's really made me appreciate it a lot more because every game could be our last."