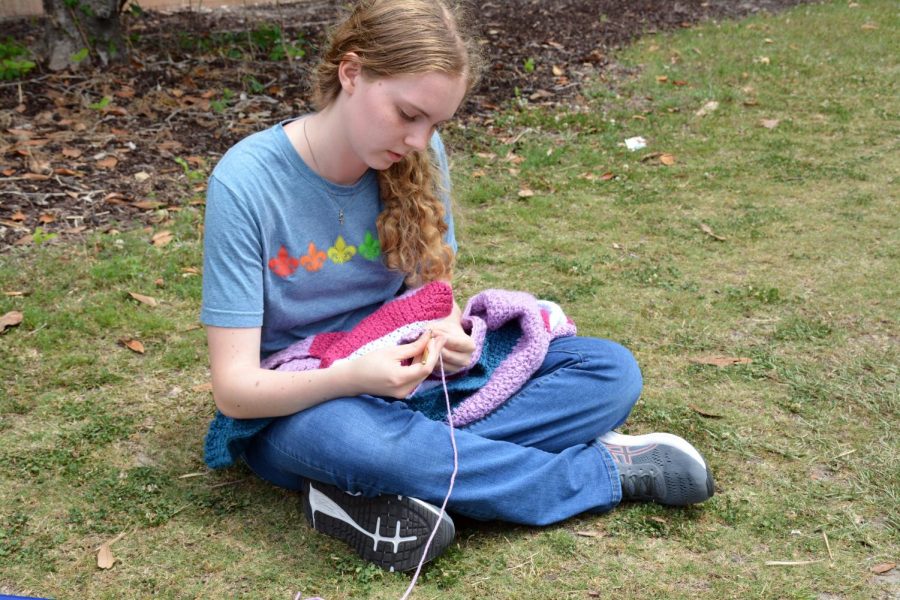 Kat Favre
Senior Kat Favre watched as her friend spent an hour weaving a new world into existence while waiting for standardized testing to end in the cafeteria.
Transfixed, she implored her friend to teach her this new craft, and is now co-president of the Crochet club, where she guides others in a hobby she only just learned in the last year.
"Crocheting isn't that complicated, I know that it looks weird but it's pretty much just the same motion over and over…," she said. "I went home and I convinced my parents to buy me some yarn and a needle from Walmart and I started training and I started my first blanket, which is still in progress."
Favre has since taken up smaller projects that she can turn around quickly.
"The stuffed animals I make and sell, they're called Amigurumi…I started making those because I'm really bad at staying on one large project because at some point I get bored," she said. "I'm better at doing granny squares and then sewing them all together to make a blanket or doing the little stuffed animals, I like things that change a lot."
Crocheting has provided Favre with life skills she hadn't been able to get anywhere else.
"It's taught me a lot more about how to learn than anything else. I've done a lot of self studies over the years..but crochet was the first time that I found something that didn't make sense and rather than giving up on it or finding somebody to explain it to me, I just kept digging around online…I had to teach it to myself," Favre said, "That's the biggest personal growth thing I've figured out. Crochet has its own language and its own terminology, and there wasn't a helpful 'learn this language' program I could install on my phone."
Favre hopes that those in crochet club are granted a moment of reprieve from their daily stress.
"There's a lot of studies that show crochet is like a therapeutic activity — the same way that arts and crafts are now being incorporated into therapy. Because it's a repetitive motion, and there's not much to it, it's really easy to pick up and learn…There are a lot of people who use this as their time to unwind, to destress, to just take deep breaths and focus on one thing and sort of let the world fall away for a couple of minutes," she said.
In the fall, Favre will be attending the University of South Carolina.