Molding a new world
December 18, 2019
A dog yapping. Video games clicking. Little boys screaming.
If someone passes by the Shy home, he may not notice any differences, other than a small area of the house where all of the windows have been sheathed in tinfoil.
The Shy family's home seems just the same as any other: the dog runs about, and the kids follow suit. The kitchen is stocked with Pillsbury brownies and Spindrift.
But take a closer look and you'll find a table outside of the living room littered with clay, plastic eyeballs and a menagerie of other miscellaneous art tools. Walk a couple more feet, and you're immersed in a sophisticated studio, equipped with lights, cameras, a Macbook and a sea of clay heads, limbs and creatures.
Trent Shy, 2005 Wando graduate, said he first fell in love with claymation when he "saw people animating and thought, 'That would be the coolest freaking job in the world.'"
And so he decided to try to make that job his.
He began creating in 2013, and following brief hiatus from claymation after the birth of his son from 2015-2018, he "started again and everything just blew up from there. The past year and a half has just been crazy," Shy said.
The majority of his videos play with horror, riffing off of classic movies like The Exorcist or creatures like werewolves. A four-minute video can take weeks to create, built upon the foundation of meticulous work and minuscule changes each frame.
While Shy is the primary creator — putting an idea that just pops into his head into clay — his wife, Liz, also helps create, predominantly the faces of his characters. Most videos are short, and built to be viewed on Instagram.
Twenty-five million views for one video in one week, another 38 million. Viral. His channel currently has 198 thousand subscribers consuming his half-a-minute content.
Once a full-time chef, Shy's now able to profit off of his videos. In two months, he'd made about $15,000 off Youtube, he said. This was a big step from his earlier works, where he'd get comments predominantly from friends, family and enthusiasts like him.
Now, he does commissions on mostly what he's passionate about. He said Barstool Sports had approached him about a commission, and while he'd normally reject more mainstream offers, he accepted because he was able to turn soccer star Lionel Messi into a goat.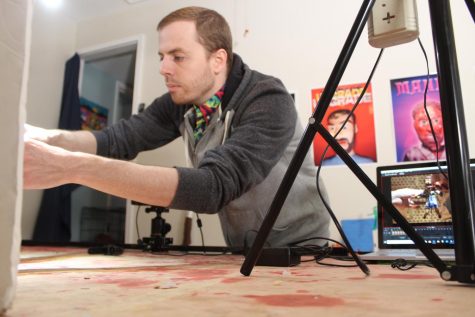 This transition "was a big difference from doing these things for free…some of the commission just weren't super well paying for the amount of work that goes into stop motion," Shy said. "The Youtube stuff has been crazy, and so that's what we're doing."
The work that goes into claymation is painstaking.
As he looked around his studio, "every single thing you see is just something that we created. The whole world from the ground up is what you're creating," Shy said.
And the world he and his wife are enveloped in is meticulous.
"I'm working on a hot set so what that means is for 15 hours straight nothing can move," he said. "The wind can't blow something, something can't tilt over, the lighting can't change…I work in basically a cave because…you would see the lighting change in the film."
He's even created a short film, The Animator, expressing his own challenges with his work.
"My puppets are falling over all the time…something is always going wrong and there are a lot of things that are out of control," he said.
The Animator is three different clips in which an animator takes his anger out on the source of his frustration.
Shy said "it's fun because it's about [his] job…but things are always falling over, puppets are getting squished…and they're just always annoying. So The Animator is about me getting my revenge on them."
His film has won awards at 13 festivals so far, including multiple "best animation" and "best short film" awards. It's played at over forty festivals over the past four months and is lined up to play in over forty more in 2020. The key to his success is "[his] actual hands and the puppet are interacting," Shy said.
He's "seen some interactions where the hand goes in. But never animations where they're actually interacting with each other, not just my hand in the film, but he's pushing my hand off of him," he said.
"I'm getting my frustration out on these stupid puppets," Shy said.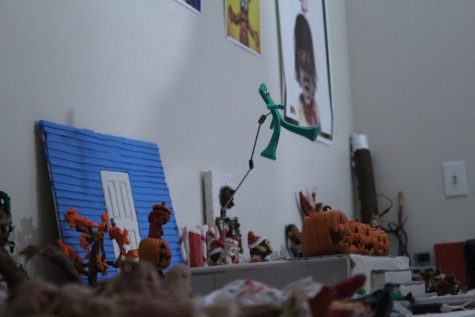 Squashed limbs and fallen puppets aside, claymation holds a special value for Shy. Not only fueling his passion to bring his stories to life, claymation, "for someone with ADD, [is] a dream come true," he said.
"You have a hundred different things going on in your mind at once: don't touch this, don't touch the camera, this person's arm needs to keep moving to the left, this person's leg needs to keep doing this," Shy said. "Just a million things going through your mind at once, and so it's almost like therapeutic for my ADD because I'm just so into it…all day too."
Claymation is a way to expand the boundaries of Shy's imagination and feed his artistic hunger. He'd always wanted to be a filmmaker, but his ideas "weren't anything [he] could do with…five hundred bucks and a couple people," he said.
"I wanted spaceships…and plants and monsters…you'd need a Hollywood budget to do that. I can do crazy stuff…literally anything is possible," he said.
Each day in his studio, Shy is "leaving the world behind and just being absorbed into this world [he's] created."