New year, new wando Covid-19 regulations
October 6, 2021
Another school year has begun. Despite the hopes of a normal year, COVID has put a wrench into the normal day-to-day routine for Wando students and faculty. 
Last year's option for online classes through Zoom is not available this school year. Students have the option of returning to school in-person or to take classes virtually through VirtualSC. However, virtual classes are through state instructors and not Wando staff.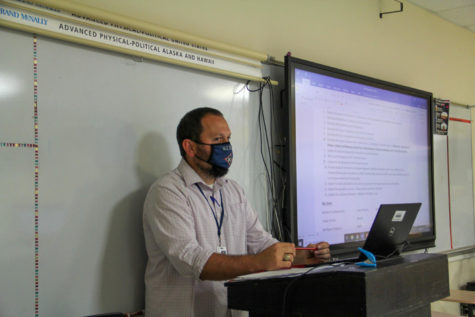 Last year's one-way hallways were also scrapped, all hallways are two-way once more, and plexiglass dividers no longer shield desks. 
However, the most impactful change in many students' and faculties' minds was the lack of a mask requirement. Last academic year, a mask requirement mandated all students and staff to wear a mask on school grounds. 
On August 16, 2021, the Charleston County School District required masks to be worn this year at all CCSD events and locations. However, mask-wearing could not be enforced due to the state's ban on mask mandates. Masks were still heavily recommended through mid-September.
Through the summer and into the new school year, however, COVID cases steadily rose toward the highest level the state has seen so far in the pandemic. The Delta variant, more transmissible than the original strain, has caused the upward tick in cases. The variant is also more effective at breakthrough cases, infecting the vaccinated more than the original strain did. Over 6,000 cases state-wide were reported on September 3. 
One root of the rise in cases is a low vaccination rate. South Carolina's rate sits just under 47 percent, at 46.9 percent fully vaccinated as of September 26.  According to the CDC, the Center for Disease Control, the COVID vaccines are highly effective against death, serious illness, and hospitalization from COVID,as well as being effective against contracting the virus in the first place. 
"
"Over 6,000 cases state-wide were reported on September 3.""
— George Bagwell
A few outbreaks of cases have sidelined Wando athletic teams. Wando JV football's first game was cancelled and players had to be quarantined. A case on the JV cheer squad also resulted in quarantine for members of that team. Wando's varsity football team also had their week two game at Summerville canceled after positive test results on the team.
However, if a student is deemed a close contact and is vaccinated, he/she will not be forced to quarantine. If a student is quarantined, they are not allowed on school grounds during the period and all work must be completed virtually. 
A September 13 meeting of the CCSD school board ended up with a 8-0 vote to enforce the mask mandate on county school grounds and events, effective Monday September 20. While a mandate was passed earlier this school year, mask wearing was not enforced on school grounds. With the new mandate, that is subject to change despite a state budget proviso disallowing enforcing such mandates.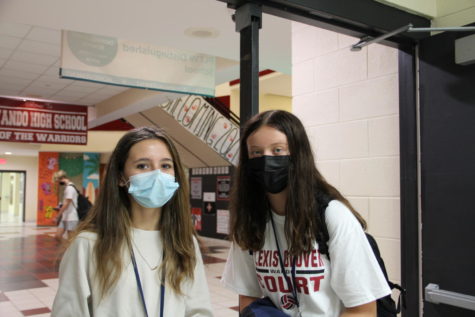 The school district is using federal funds to enforce the mask requirement beginning September 20. The budget proviso disallowing previous mandates restricted state funds from being used by the district to enforce mask mandates. Therefore, teachers are not allowed to enforce the policy since they are paid by the state. However, Wando will bring in outside resources to enforce the new mandate, staying within the limits of the proviso. As of now these regulations are concrete, however depending on the path of COVID-19 these concepts may change and adapt.