Out of the Blue Bus: Reading through the racks
October 22, 2020
It sat untouched for months. 
Cars drove by it every day, with some occasionally looking out their window, eyes caught off guard by the bright blue bus sitting next to the upscale gallery.
The owner of the gallery had a daughter. And that daughter had a best friend. And one night, they were hanging out like usual, when they got the idea.
"My dad actually came up with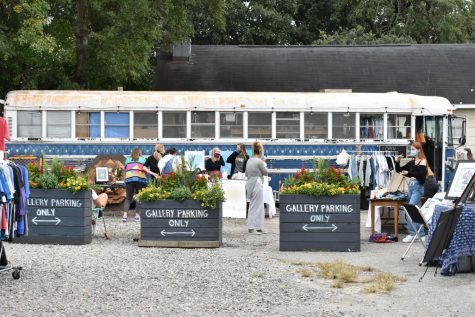 the idea for making it something," Boyer said.
And so they brainstormed — coffee shop, bus for travelling, a place to hold more art and other various ideas were spewed out.
Then they had it. A clothing store.
And as of that moment, seniors Clare Boyer and Kinsey Von Lehe were the leaders of a small business at age 17. 
"My parents trusted us to handle this on our own," Boyer said. "Kinsey has worked in my mom's gallery over the summer almost constantly so she has a lot of business experience, and we both love clothes, so we figured it was perfect."
With thrifting and altering clothes becoming a trend in recent months, the two of them saw this as an opportunity to expose people in Mount Pleasant to a place where they could always count on some sort of piece that others won't find.
But with the word "thrifting," there comes a stigma associated with that. 
"A lot of thrifting culture seems to be catered to thin girls. Places like Depop don't really show people that are plus sized, so we wanted to make sure that there is something for everyone here," Von Lehe said.
Pieces accumulated through estate sales, thrift stores and their own closets will be put in, with all sizes available. 
They refuse to let anyone come and feel discouraged because they didn't carry something larger than a size six.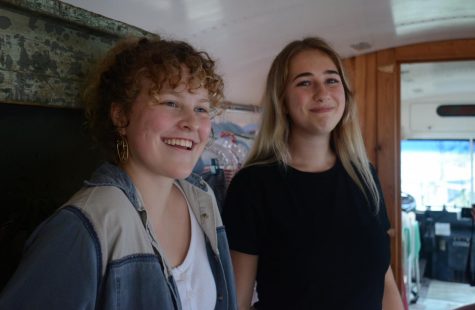 However, there were some misconceptions about exactly what kind of clothes they are going to put on display. Most people thought only vintage. Others thought it was a travelling Goodwill.
But that's the beauty of the bus — it's a mix of everything.
"We don't want to say it's strictly vintage clothing because we don't want people to come in and say 'oh this isn't vintage, we feel tricked," because that's not the case," Von Lehe said. We are a mix of upscale, vintage and trendy items."
Walking through the aisle, a customer would look to the right and see one of a kind silver earrings and Prada bags. A few more steps to the left and they'd see pants from Urban Outfitters and a shirt upscaled from a thrift store.
Having affordable pieces are key to Boyer and Von Lehe. They understand that not everyone can afford designer bags, and want everyone to get the chance to have at least one in their life.
"Obviously we need to make a profit, so things are going to be reasonable, but we are selling second hand items. Everyone can find something here and that's what we love," Von Lehe said.
The inventory was easy — they knew where to get it all.
The hard part was the preparation — the bus didn't run.
"It used to be lived in so there was a stove and sink that we needed to pull out in order to set up a flat space for items," Boyer said. "It also doesn't have AC so we need to get that put in before people start shopping."
They scrubbed for days, bought the equipment they needed and started making their presence known. 
Using Instagram, they made the account @outofthebluebus to start getting people excited. They did giveaways, posted almost daily and had a huge support system of friends who helped get the word out.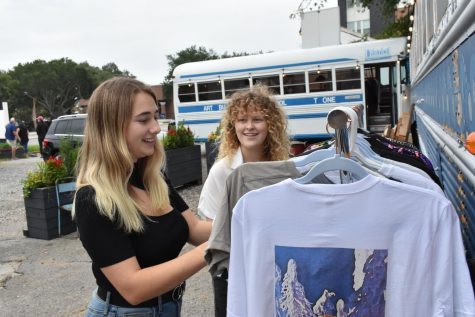 Over three weeks they've transformed a run down, half blue, not working bus, to a scenic, trendy, place for people of all ages to hangout.
"We want this to be a spot for people. There aren't a lot of places in Mount Pleasant that cater to younger people, especially with Corona happening and places being closed," Boyer said.
That sparked the idea of opening night; the image of  the gravel filled parking lot bursting with booths, food, and people getting together was created in their heads.
By reaching out to friends and small business owners, Boyer and Von Lehe had amassed about five different vendors to set up and sell their own original work on October 3, opening day for the bus.
"Supporting small businesses are really important and local artists have so much to offer. Especially with the gallery being next door, we love to expose more people to my parents work because my dad has art that he is putting on shirts we are selling," Boyer said.
With a food truck, art splayed over the courtyard and the bus filled with one of a kind pieces, the two girls' vision had finally become real.
One might think, "how can two teenage girls manage a business," but this was never a struggle for them. With Boyer's mother being a business owner, she handles all the taxes, finances and legal information until one of them turns eighteen, during which they will get their own license.
Until then, they will hand tag every item with care. They'll find the perfect place to put each thing. They'll treat all their customers with personal care, making sure each person leaves, confident in themselves without breaking their bank account.
"We don't know how big this will get. Maybe we will get it running again and make it into a travelling store, but until then we are just excited for what happens," Von Lehe said. 
Gallery: Out of the Blue Bus opening, October 3rd