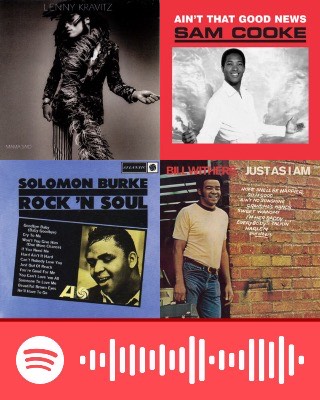 Playlist: Black History Month
"A Change is Going to Come" – Sam Cooke 
Sam Cooke, king of a soul ballad, was known for his love tributes in his songs, but later in his life, he turned his attention to activism, releasing this song that was quintessential and an anthem for the Civil Rights Movement. This song has been covered and repeated for generations because of its significance in black communities. 
"Can't Nobody Love You" – Solomon Burke
This is one of my all time favorite songs — I want to dance with my father at my — maybe — future wedding. The simple melody paired with tender, soulful vocals makes this lullaby so homey and wonderful. 
"It Ain't Over 'Til It's Over" – Lenny Kravitz
This song is bound to make a bad mood switch on its head. The jazzy beat and soulful falsetto of Kravitz's voice automatically puts me in a positive mood. Not to mention, the lyrics bring listeners up no matter what situations they're in. This song is an all time favorite to dance to with my coffee while making 
"Ain't No Sunshine" – Bill Withers
The bluesy background to this song will always make it a go to for me. This song can make you feel so many different feelings. I remember listening to this song growing up, feeling the stomping bass and knowing (without really knowing) what heartbreak felt like. 
"Didn't I" – Darondo
After hearing this song at the end of a dramatic episode of Breaking Bad, I fell in love with it. Darondo is an artist that is bluesy and soulful and endearing all at the same time, and this song epitomizes his style, ranging from constant falsetto to a very deep register which is incredibly comforting. 
"Love Don't Live Here Anymore" – Rose Royce
This pop ballad is one of the only songs that can pull off a synthesizer and still make me enjoy it. Royce's hearty vocals pull off both a tender style and a power house pop artist. This song is the best to listen to when you feel cheated or looked over. 
"Don't Wanna Fight" – Alabama Shakes
Alabama Shakes goes down as one of my favorite alternative bands purely for their uniqueness and style. This song showcases the lead pulling off a riff that sounds like a tea kettle heating up which just makes me want to get up and scream with her. 
"Do Right Woman, Do Right Man"- Aretha Franklin
There are too many great Aretha songs that the rest of the playlist displays, but for the purpose of this list, I'll go with one of my favorite ones in 2019. The soothing harmonies and lullaby-esque melody creates an empowering song for women in relationships, as said so by the Diva herself. 
"Don't Touch My Hair" – Solange
I had been waiting so long for the album "A Seat at the Table" by Solange for so long, so when I first heard this song, I was starstruck. The simple rhythm complements her stunning, smooth vocals that hit you right at your core and leave you completely content. 
"It's a Shame" – The Spinners
This song — I have been listening on repeat since the New Year started because this song can really make me move. While the lyrics of the funky tune carry some disappointment, the song itself is uplifting and empowering as well.