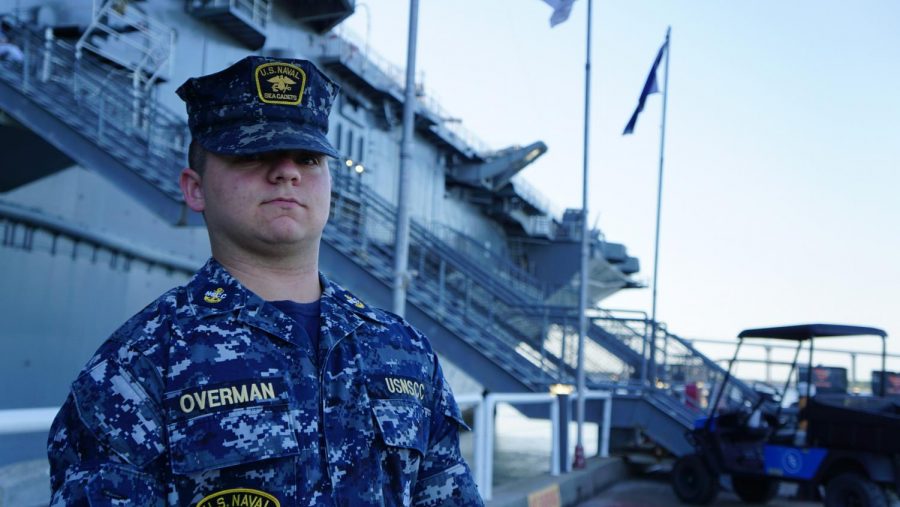 Sam Overman
Sam Overman is a proud American. From a military family, he's always known in his heart what he was meant to do.
Next year, Overman plans to serve his country by joining the marines.
"When you see a Marine…walking down the street, [you see] someone that carries themselves well, you gotta know itś a Marine. It's the way they carry themselves," Overman said. "My father was in the Coast Guard and my older sister is in the army, and I just like the Marine Corps…I've always loved hearing veteran's stories."
Overman has been a leader through his participation in ROTC.
"In ROTC I'm a flight commander, which is leading about 15 to 20 cadets, putting in grades and grading uniforms every Tuesday, things like that," Overman said, "and then what I was freshman, sophomore and junior year I was the morale officer, I would always plan the movie nights…we also had different ceremonies I had the memorials for the two soldiers I was the master of ceremonies there."
Although he has made many memories in ROTC, he says one has stuck out the most.
"In ROTC there's a lot since I've been in all four years. I´d have to say the first time I had to do a color guard competition at Berkeley High School and we messed up really bad mainly because my rifle sling came undone and it broke right there and we didn't place or anything," he said, "but we still worked as a team to try to accomplish the competition."
After four years of high school memories, he has advice and offers a helping hand to those continuing their years of high school.
"I just wanna leave an impact at Wando. I want someone to come to me if they have struggles in high school, to come to me and talk to them and help them with high school because high school is a tough time to go through…" he said. "I want them to know that they have someone to be with them."