Scanlonville: A place of culture and community
June 18, 2019
What was once a thriving freedmen's community is now quiet blocks of houses reflectful of life when it seemed grounded.
It takes them back to when they were children meeting old friends and neighbors on the boardwalk of Riverside Beach, never thinking to take every moment for granted but to live in it.
Before bandstands they would go to their uncle's drugstore, sit at the counter and watch as paper sacks were filled up with candy-goodies. They ate heartily as they felt teeth feel loosen from the sweetness. Walking there, the kids would pass White's Paradise– a place where there parents and elders would meet for a drink. They giggled contently at the thought of their parents acting as silly as they were.
To community member Barbara Collier, this was the sweetest part of her life — the beginning. And nearly 50 years later her childhood memories are replaced with a sign.
Scanlonville.
Evy Apostolou
Scanlonvilles roots — centered around Remley's Point — trace back nearly 150 years ago when freedman Robert Scanlon auctioned off 614 acres of land, creating a sanctuary for 100 other freedmen who pitched in $10 a share. Scanlon used Charleston Land Company, one of the only cooperative companies for freedman to secure the land.
"Robert Scanlon was able to pioneer establishing Scanlonville by creating a cooperative society so that other freedmen could combine their assets and buy the land together," said Bria Graham, Project Coordinator of Gullah Geechee Cultural Heritage Corridor Commission. " It was understood that land ownership would lead to true independence and equality."
The community not only provided a safe space for its inhabitants but guaranteed work in a familiar industry — farming.
"Scanlonville — a lot like other African American settlement communities — were totally self-sufficient," Graham said. "So the farming was done on their own property and they had other local institutions like schools and churches to act as a gathering space for the community."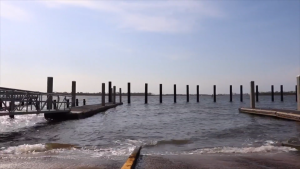 According to current resident and member of the East Cooper Civic Club Edward Lee, the community had to become self-sufficient because of the factors of Reconstruction. At that time, freedmen did not have the luxury to buy market goods and Jim Crow laws made it unsafe.
However, isolation from white society is attributed to the popularity of Scanlonville.
"As the communities were segregated, the culture, recreational venues and expressions thrived," Graham said. "… Over time the unique creole Gullah Geechee language was created along with specific art styles, religious practices and foodways that have retentions that could be traced back to Africa. The isolated geography of where the Gullah Geechee people lived allowed these practices to be preserved and exist today."
According to the pamphlet, Scanlonville, Charleston County, South Carolina: The Community and the Cemetery, the community became a hub for Black culture from the 1920s to the 1970s as famous musicians like Duke Ellington and Louis Armstrong performed a bandstand at Riverside Beach — the most popular out of five black beaches in Charleston.
With its popularity growing throughout the mid-20th century, Scanlonville accommodated visitors with a selection of "juke joints" (the most popular being White's paradise where renowned singer James Brown performed) and venues like a dance pavillion, parks, and a boardwalk for leisure.
The sale of Riverside Beach in the 1970s to become the public dock it is today marks the steady decline in Scanlonville social scene and the attraction of high-end development companies to that area.
"As additional 'upscale' developments close in on Scanlonville and taxes increase, what remains a unique historical community, will be increasingly threatened," author of the pamphlet Michael Trinkley said. "Not only will the streets and houses change, but so too will the way of life and the community itself."
The transformation of their beloved beach and other sites within their community was not even the beginning of a long and abruptive battle against impertinent developers and even their own trustees– to everyone else it was the noticeable beginning.
According to Collier, "the shenanigans" started years after the plat of land was created. In 1908 Scanlonville stockholders filed against the Charleston Land Company for selling plots without a shareholder vote. Through an investigation it was revealed that the original stockholders were not accounted for because their documentation was "destroyed in a fire."
While the court's decision had them re-documented as members of the community, they were no longer privileged with Shareholdership. Instead, new shareholders were granted their suffrage while the next 100 years they faced rechartering, land liquidation and an evolving community, Trinkley said.
"[Going Forward] The most pressing problems in the community are long standing income and employment disparity, existence of dual property Deeds, some impacts of gentrification, and difficulty in securing and maintaining affordable housing," Collier said.
In 2001 Scanlonville battled a four-year gentrification crisis to retain a focal point of their land– the burial grounds.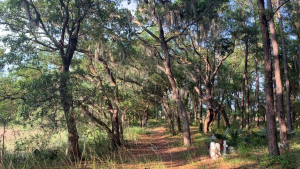 It is a place hidden among trees — live oaks with Spanish moss draping from its branches. On the ground surrounding the tombs are trinkets, whether it is old license plates or freshly picked flowers, provided by loved ones to remind the deceased that they are remembered. Footprints are stamped on fallen leaves demonstrating that this a frequent visit for residents– Residents who like Collier imagined that harbor boats passing the cemetery were floating on air– as her father would to tell her.
The cemetery crisis started off in 1999 as a sale from current owner and trustee Dorothy Rausch to a couple that believed the few properly marked graves were proof of its abandonment — but the truth, according to Collier, was Scanlonville loved ones could only afford lying old trinkets like old clocks and license plates to remember the deceased.
"They wanted to relocate the graves that were on the property so they could build their home," Graham said. "And Scanlonville residents sued to block that from happening."
In the courtroom, Collier was overwhelmed by the multi-generational support of the community.
"If you were there it was like Atticus Finch in To Kill a Mockingbird," Collier said. "… You had people of all ages, kids in there, older people and we won. Very rarely do we win these types of battles."
After a four-year trial, the community was able to preserve its ancestral focal point and have it protected by the national registry from future development. For Edward Lee and many other Scanlonville residents, the win renewed their appreciation and urge to fight for their historically-tied community.
As history has not been kind, Lee and Collier knew retiring at their win was not an option. Since the landmark court case, Lee is utilizing a platform as East Cooper Civic Club president to combat gentrification and heirs property in all Gullah Geechee communities while Collier is focused on informing those unknowing of her community, ancestral pride and history.