Senior spotlight: Ava Elliot
May 15, 2020
It started as nothing. Senior Ava Elliot didn't plan to gain attention or for it to mean much to anyone, outside of possibly some friends.
"I started it just for my own documentation," Elliot said. "To remember each thing that I made, and post little recipes and stuff."
Hundreds of followers later, the Instagram account had grown beyond Elliot's wildest expectations.
"I started gaining popularity from the school, and some of my teachers know about it, and then some companies reached out to me, which is pretty cool," Elliot said. "There was one company called Healthworks Company, and they sent me a gift of cocoa powder to make a chocolate bowl if I tagged them. And then a coconut bowls account, they asked me to do a sponsorship with them, though they never reached back out to me."
It all started during Elliot's freshman year, when she first started to pay attention to her diet because of health class.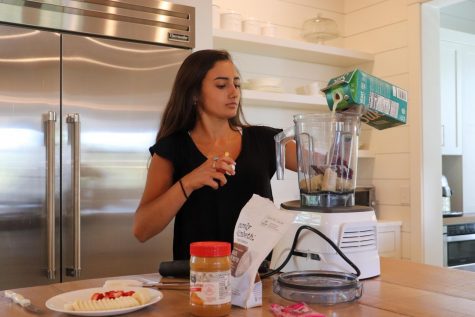 "Watching all the little gross videos they show you in classes to show you where your food comes from," Elliot said, "I just didn't wanna eat stuff like that anymore. And then I became interested in where food comes from and what's really in what you're eating. I started looking at ingredients and wanting to eat cleaner, and I just kind of adopted more of a vegan, clean diet, instead of processed and more meat-focused."
From there, she started paying attention to different health-focused Instagram influencers, and before too long, she became interested in people making acai smoothie bowls. Interested enough to give it a try herself.
"It's not like a clear-cut recipe," Elliot said. "I don't use measuring cups or know exactly how many pieces of fruit I put in; I normally just know what fruits I want to put in, and just kind of throw them together."
She tried different combinations often and got an idea of what she liked.
"My favorite one would definitely be frozen bananas with frozen pink dragonfruit. That one's very good," Elliot said.
It isn't just her flavor that's good, but her presentation. Her family was impressed, which was what encouraged her to start an Instagram account in the first place.
"I didn't have an account at this point," Elliot said. "But I'd do it, and my mom was like, 'Oh my gosh, Ava, these are so cool, you need to start taking pictures of them and showing them to people!'"
So she did, two summers ago.
It didn't take off immediately. But when it did, she noticed.
"[At the] beginning of junior year, I feel like a lot of people started noticing it," Elliot said. "And a lot of my friends have started giving me nicknames, like I'm called Bowls by some of my friends. And then sometimes for holidays or for my birthday, I started getting cool decorative bowls for my birthday. It started to become a major interest of mine."
Health in general has become a huge priority for Elliot — she loves to spend time outdoors and exercise. At the University of South Carolina, where she will attend in the fall, she plans to major in Exercise Science and Nutrition in order to ultimately become a registered dietician. And ideally, she'll be able to keep up her inspiring Instagram account even there.
"It depends on if I have a freezer in my room for fruit," Elliot said. "We'll see how my dorm lays out, but if it is allowed, then yes."