Spending a weekend at the Naval Academy
March 5, 2020
I remember the very day I signed up for spending a weekend at the U.S. Naval Academy.
I just opened the email, submitted a Google form and had to wait on a response confirming my date. It was surprisingly easy. 
But that same summer afternoon I laid back, floating on my back in the boiling waters of my Carolinian neighborhood pool thinking, "You are an idiot."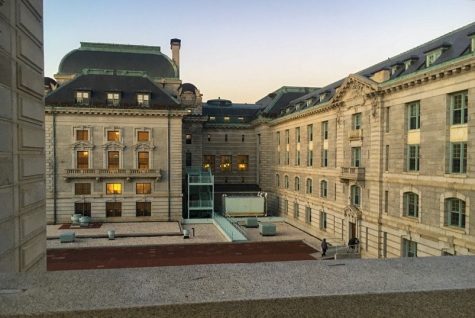 Every few months the Naval Academy offers its potentials — or candidates — an opportunity not only to visit, but to live among its current midshipmen for three days in Candidate Visit Weekend. 
This was the full extent of my knowledge upon signing up for CVW; I searched for hours on the USNA website for advice. The Academy's only advice was to "keep an open mind" — even though my mind was rapidly beginning to shut down from fear. 
I had, in my mind's eye, signed up for a weekend worth of Plebe Summer: constant running, pushups, swimming and memorization. And considering I wasn't in the greatest shape… Well, I was scared. 
I woke up at 1:33 a.m. the fated day in October after tossing and turning, unable to sleep from nerves. I couldn't even eat breakfast, my favorite meal of the day.  
I flew to Baltimore at 6:30 a.m. Eight hours later, 200 of us candidates sat through what felt like the shortest two-hour lecture in my life, the drags — as us attending CVW were affectionately named — were separated from the parents, and a midshipman first class — or senior — in sweatpants from the 8th Company Eight Ballers led our company to the third floor of Bancroft Hall. 
When we arrived, I was deposited at the dormitory door of my plebe.
"Hi! I'm Sammie," she said.
Sammie was wearing her dress blues. Her blonde hair was secured in a tight bun, and her shoes were impeccably shined for a Thursday night. The faraway world of the Naval Academy diminished. 
Other midshipmen bustled in and out of the wide open door of Sammy's dorm. I guess in a place where everyone owns the same government-issued things, that the risk of theft is low. One visitor was dumbfounded that Sammie was still wearing her SDBs — it had apparently already been 24 hours since she was told to wear them. 
"Why do you have to wear them anyways?" I asked. 
"Well, as you know, this room is freezing." It was.
"And I was wearing my cheer jacket because I was freezing. And I went to throw some trash out in the hallway and they told me I was out of regulation, so now I have to wear these for 24 hours." 
I expressed my sympathies, put on another layer of clothes, and sat down on a chair.
Before long, another visitor appeared at the door. This time because of me.
"I have a cot … This one looks like a good one," the visitor said, dropping the folded, army-green lump on the floor. 
I opened my cot. It lacked support bars and failed to pull tight to provide my exhausted spine relief from the cold.
I laid down. How could I be upset about a cot? I was now one of the few select people in the entire world to live in Bancroft Hall, even if temporarily. 
At exactly 6:30 a.m., chow calls began.
Every morning, each company's plebes jog in circles around the floor for 15 straight minutes in the day's uniform, shouting the next meal's menu. Breakfast — serving chicken and waffles. 
Watching the plebes run around shouting about chicken and waffles made me realize something: the level of suckiness the midshipmen put up with is insane. Most of us civilians would be complaining about having to actually go to school in the morning before we considered living without a heater, waking up at 5:30 a.m. and running around screaming about waffles daily. 
Their attitudes made me think twice about asking for cot support bars during the extent of my visit.
Immediately after breakfast, Sammie and I went to classes. I shadowed computer class instructed by a real life intel officer, government class taught by a Marine officer — who swears to give up his own life to defend the constitution — and chemistry class to learn about keeping submarines oxygenated. 
The difficulty of class was not necessarily hard — I felt adequately prepared from plenty of AP and honors classes. But the amount of information the midshipmen were expected to be proficient at was insane. Bancroft's plebes were doing calculus quizzes in the hallway, and immediately following them up with the seemingly mandatory deadly weapons and submarines Kahoot review.
I had heard horror stories about meals, the amount of food eaten by the midshipmen especially. A boy sitting next to me ate three chicken breasts in 20 minutes, and then proceeded to drink the liquid in the tray the chicken came from. Those stories were true. 
The only time I heard complaints from the midshipmen at my entire stay was during parade prep. 
In the 8th Company hall, midshipmen carrying wooden-furnitured M-14s headed towards the communal knife box for their parade accessories. 
With the amount of things that midshipmen give up, the one I think is the most nostalgia-inducing from a former civilian way of life is Friday afternoons. I heard the quiet complaints of boredom from midshipmen as they prepared to stand in the cold with over 20 pounds in equipment on display. 
The next morning I spent my final moments at the Naval Academy. I woke up at 7 a.m., before my roommates. Reveille sounded while I brushed my teeth. 
The echoes of the bugle echoed on the walls of Bancroft like the echoes of its past leaders, once kids like me, who chose to give up part of themselves for something greater.