Stitching their story
April 4, 2022
It was a childhood sewing lesson that got her to Paris Fashion Week, a dream she always felt was beyond her grasp. 
It was the weekends with her grandma, learning small tasks like spot cleaning and simple repairs that allowed her to tour Dior and Chanel Headquarters.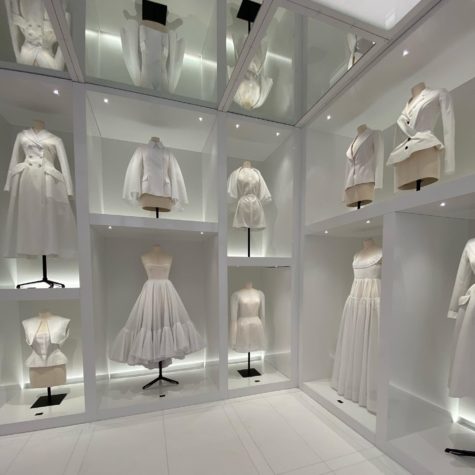 It was the strong female influences like Audrey Hepburn and Anna Wintour that gave her hope to persevere. 
Being a fashion designer is at some point, always on a little girl's career itinerary– bouncing back and forth from a singer to a teacher, a fashion designer, maybe a model. For 2021 Wando Graduate, Carissa Librizzi, it stuck, but not without a lot of trial and error. 
"I actually went through a lot of careers and different ideas of what I wanted to do with my life. I put art and design to the side my whole life because I was honestly very embarrassed by my gift," Librizzi said. "By senior year, I was able to get an internship with a local designer and I honestly fell in love with it. Since then, I became more and more enthralled with the industry and I just loved it so much." 
After graduating from Wando in 2021, she went on to study Fashion Design at Thomas Jefferson University in Philadelphia, PA., an opportunity that has opened a lot of doors for her, but also showed her the fashion industry's true colors. It is not for the faint of heart, a lesson Librizzi needed to learn fast. 
"It's a very difficult industry to be in no matter what you are; a student, designer, a merchandiser. I think it's a very cutthroat industry and I'm a very sensitive emotional person so going into it, it was definitely a lot to handle. Especially having different teachers that can encourage your gift or they can really be critical and be very hard on you," Librizzi said. "That's definitely an obstacle I've faced just because there is a lot of judgment in this industry and I definitely struggle with judgment."
To subdue that feeling of judgment, one of the biggest lessons she's learned is to stay true to herself and focus on her authenticity. 
"In high school I was focused more on the person I thought other people wanted me to be– and finally getting into the industry and being able to find myself as an artist and a person I think that's helped a lot, just trying to be true to myself because I think that's the only thing that gets people through this," Librizzi said. 
One of her biggest inspirations helped teach her that lesson, Ms. Audrey Hepburn herself. Since her childhood, even before her passion for fashion, Librizzi tried to take a page from Hepburn's book.
"Audrey Hepburn because … very authentic to herself. She started from a very rough beginning, she was just trying to make money and she was a dancer in the beginning. She was so inspiring to me since I was a kid because she got into the fashion industry by accident and she's one of the most successful actresses, one of the most known fashion icons, and she still was authentic- she still was true to herself which is the most important thing. You have to be true to yourself in this industry or you're gonna break," Librizzi said. 
Being in fashion itself has its struggles, but being a woman in fashion means having powerful and influential leaders to look up to. 
The industry is always evolving, never settling for the best. While in Paris, she studied under some of the icons: Chanel, Dior and Saint Laurent, learning how to keep up with the trends. 
"We arrived during the end of Fashion Week, we are going around and looking at different designers. We are going to look at the designing headquarters for Chanel and Saint Laurent and we'll be doing some more touring. We're partnering with the Paris American Academy and we're going through lectures with different designers and merchandisers here in Paris telling us about upcoming trends," Librizzi said. "We've reviewed Paris Fashion Week and all of the designers and the clothing and what to expect for the next season and what will be trending next year. We're doing a lot of different things and what is really important in Europe for the fashion industry."
The fashion industry is known to be grueling, making it difficult for those aspiring to be designers to make it to the finish line. A word Librizzi sticks by to deal with the ups and downs is patience. 
"It's very easy to get frustrated with the little things and be meticulous … a big part of being a designer and being in the industry is to be patient with yourself and to not get too frustrated because you have to make mistakes to get better," Librizzi said. "That was really hard for me to learn at first … I felt like I had to be perfect when I got here because it is very competitive, but I'm starting to accept that I'm allowed to make mistakes, I'm allowed to be human and not be perfect all the time."
For another, it wasn't the weekends with grandma or Audrey Hepburn.
It was the buried dream that flourished once she realized its full potential.
For Morgan MacAnanny, a senior at School of the Arts, that dream became reality once she moved on from being like everybody else.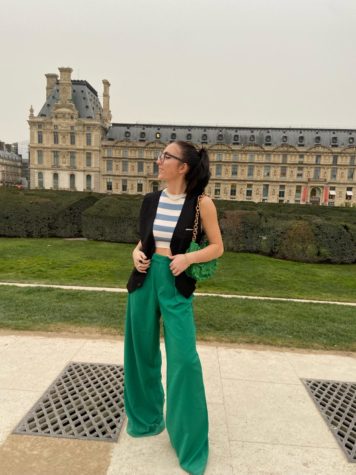 "When I was younger I was like 'I wanna be a teacher or a singer' just because everybody else did but I think once I understood like 'you can be a fashion designer and actually make a career in that' I was like 'yes, that's what I want to do'," MacAnanny said. 
That's exactly what she did. MacAnanny went from a middle school headband business to having her womenswear designs featured in a showroom in downtown Charleston, available for rent. 
Her career hasn't come without obstacles like many, the main challenge being people taking advantage of her age. Because she started her passion young, she had to work her way up. 
"With my age, people tend to take advantage which is a horrible thing, but it's definitely helped me become more independent and I think it's a good thing that I face that now because there's not a lot of people who can say they've been placed in a situation where they've had to advocate for themselves," MacAnanny said. "I think that's definitely helped me become more professional and hold my ground, so to say."
Though some haven't taken her seriously, she found a mentor along the way. She credits The Showroom owner, Kelly Durrette, with showing her the ropes.
"Last summer, all of my stuff became available to rent through there (The Showroom) which was really cool. It felt surreal but I also feel like it happened naturally and I'm just really excited about it. She's helped me a lot in fashion and also the industry," MacAnanny said. "It was nice to have somebody to talk to and ask questions about pricing and random things that not many people would answer if I just came up to them because I'm younger."
Through fashion and design, a common concept amongst most is to stay true to yourself, be humble and kind. MacAnanny couldn't agree more, claiming her biggest lesson to be humility and pride.
"I don't like calling what I do a business or a brand because I've always cringed, I don't like saying that. But there's one thing I've learned is that it's okay to say 'hey I've done this' because there's a lot of late nights and no one sees that. There's a lot of work that goes into it and it's not like it just pops up one day," MacAnanny said. "At first I wasn't giving myself enough credit for it and now when somebody asks 'did you make it?', you don't have to get all embarrassed, you can say 'yeah I did make that'. It doesn't have to be in an obnoxious way, you can still be humble about it. It's super important to have humility because some designers … can say one wrong thing and then everyone's like 'oh they're super narcissistic' and I don't want to give anybody anything to say that."
For MacAnanny working mainly in womenswear, she's quick to credit her female inspirations in all aspects. 
"Monique Lhuillier is a favorite of mine … Hayley Paige, she's a great designer and I know she works super hard … Stella McCartney for sustainability … she does a really good job with being eco friendly and recycling clothing … It's hard but you can do it, to have a really artsy persona but also focus on sustainability," MacAnanny said.
Starting in the industry so young has brought success alongside the challenges, but that doesn't deter MacAnanny from her dream. Being an SOA student has allowed her to really hone her skills.
"I just finished my thesis which was really amazing. I've been working on this collection for over a year and everyone does their thesis at SOA … I just ended my junior collection last year so that's probably my biggest accomplishment," MacAnanny said. 
No matter the industry, establishing quality connections is important. Having a mentor of sorts to guide the way can help one's dream come together. 
"When you find somebody who's willing to give you that advice and knowledge, it's really helpful. It's truly an amazing thing," MacAnanny said.