Teacher Cadet 2 gives students the chance to explore teaching
April 17, 2020
She walks into the classroom full of middle schoolers, this time more confidently. She introduces herself to the students and dives right into the lesson. She's answering questions, explaining the material and, most importantly, enjoying teaching. In just a year, she's already become more comfortable in the classroom.
"In Teacher Cadet 1, I was like 60 percent sure I wanted to be a teacher and now… I'm probably 99 percent certain I want to be a teacher. I don't have any doubts about it anymore," senior Emily Carbon said. "My first day in my classroom last year I was like sweating. I was so nervous… I feel like I was being judged the whole time because you're on display like as a teacher… and then I walked in this year and I was so much more calm when I went in and I felt more prepared."
This semester marks the start of the pilot program, Educational Psychology (Teacher Cadet 2). Educational Psychology gives students the opportunity to really explore the world of teaching. In addition to researching different learning styles and psychological theories, students would have had 10 weeks of classroom experience — but that's changed with Covid-19.
"They've [Educational Psychology students] just been so motivated and self directed. I think one thing is that they're excited that they get to spend a longer amount of time in the classrooms working with students because that's the ultimate goal, work with the students, see everything that we've talked about in class from Teacher Cadet 1 and Teacher Cadet 2… just to see that come to life and that's the thing I really love the most and just to see their excitement," Teacher Cadet teacher Angie Byrd said.
Because the class is only available to seniors, it gives students the chance to explore potential career options before heading off to college. By working with their preferred age group of kids, Educational Psychology students get a firsthand look at what their futures could be like. Classroom experience allows them to explore the best ways to engage and assist young students.
"In Teacher Cadet 1, they [the students] get their feet wet. I think they have a peek, more than a peek, at what life is like as a teacher, what life is like as a learner and the comparison of the two. They get a peek at how to run a classroom, what assessments are like, how to create a good assessment, how to plan a lesson, how to plan a unit," Byrd said. "But in Teacher Cadet 2, they are fully in. It's all in. They probably are making very solid decisions based on this particular experience whether they truly want to go into education."
Even though Teacher Cadet 1 is widely available throughout high schools in South Carolina, Wando is one of the first schools testing out this continuation of the program. Along with a new program, there are bound to be some hiccups and adjustments.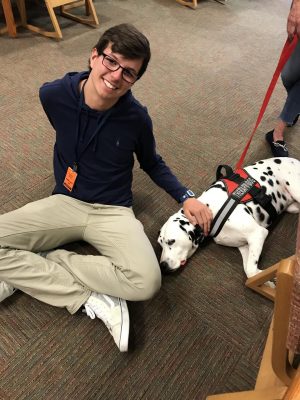 "We've had a lot of difficulties this year placing teacher cadets at this particular time frame. Our class starts at like 10:15… all the elementary schoolers, the early ages, they're at lunch. They go to lunch at 10," Byrd said. "We're going to have to make some revisions to scheduling next year."
"I think it's been more challenging so far just with like the workload that we're getting and not even work that we're taking home and doing. It's work that we're like learning in class… we're learning a lot about children and how they process and like all the different types of learners… and how to accommodate to every single one," Carbon added. "I think it's going to need to be more inclusive of all different types of learners, so I think that's going to be more challenging probably to have two or three lessons because that's a lot of lesson planning."
Regardless of the challenges, Byrd is excited and hopeful to see how the first year of the program turns out.
"I love going into watch them teach and work with the students. That's the thing I'm the most excited about especially since they're more of an advanced level of teacher cadets and then the research projects that they're going to be working on. In the past they've [the projects] been pretty good, but these I can't wait to see what their topics are going to be," Byrd said.
Whether students plan on being teachers or not, the Teacher Cadet programs teach them valuable life lessons that can be applied in any career field.
"The number one thing I want my kids to know is that whether they're teachers or not… I want them to be advocates for kids. As voters we can be advocates for educational policies that benefit our students and our teachers and our school systems," Byrd said. "As doctors and nurses and as lawyers and as businessmen and women and even people who want to stay home with their children, we need to be advocates no matter what we do."
"You're teaching in every job you're in if you think about it," Carbon added. "If you're working on finance, you still have to teach people how to like work in that field… teaching is used in every job whether you think it or not. It's weaved in there every time." .