That Mamba Mentality
January 31, 2020
When my mom told me that Kobe Bryant died, I thought she was lying.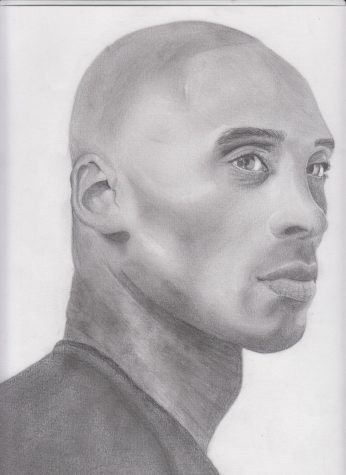 I wanted it to be a lie.
Bryant, an icon professional basketball player and father of four daughters, died Jan.26 along with his second oldest daughter, Gianna, and seven others in a catastrophic helicopter crash in California.
Through his death, the entire world of sports has come together to mourn with players — whether basketball or soccer or football. Kobe's mark was left and seen by others through the work he put in to be the best player he could be. 
Bryant started his illustrious 20 years in the NBA coming straight out of high school in Philadelphia at age 17. His determination and drive is so unique that basketball players have told stories of Kobe outworking everyone, whether through studying film or staying countless hours after a game.
Nicknamed the Black Mamba, Kobe won five championships with the Lakers and was an 18-time all star. His 20 seasons in the NBA were home to his pure drive and determination to outplay any and every opponent in his way. 
Bryant will forever be remembered in basketball as a person who pushed others to become a better form of themselves. He was the fiercest competitor the league had ever seen with tenacity in comparison to no one.  
When watching him play, you could tell he was a different breed of basketball player, almost superhuman. The second highest scoring game in basketball history was displayed in Kobe's 81-point performance in early 2006. On April 13, 2013 Kobe tore his Achilles while he was being fouled in a game with under a minute left, Kobe came back to the free throw line and drained both shots. His courage was seen in moments like his last game of his entire career where he dropped 60 points in front of what seemed like the entire city of LA. 
A legend, Kobe passed traits to all four of his daughters — Natalia, Gianna, Bianka and Capri — and dedicated the last years of his life to the progressiveness of women's sports. He helped found Mamba Academy outside of LA, where his oldest plays volleyball. 
His 13-year-old daughter, Gianna, was dedicated to basketball and had the drive similar to her father. Unfortunately, she was with her father on the way to one of her basketball games when the helicopter crashed, killing nine. 
Kobe referred to Gianna as Mambacita, and her goal was to play for the University of Connecticut women's basketball team. Connecticut honored Gianna — and her father's — memory by leaving an empty seat on the bench in their Monday game.
In retirement, Kobe wrote several novels and eventually conducted Dear Basketball, Kobe's short film on the meaning of basketball, which was broadcast to the nation in 2018, when he won an Oscar. Kobe's legacy will be remembered by the people he inspired and the next generation of athletes.
After my generation, no one will understand the meaning behind yelling "Kobe" when you shoot a basketball or even a paper ball into a trash can.
Kobe Bryant will never be able to accept his Hall of Fame induction.
His quote at the 2016 ESPYS fulfilled his entire life story.
"Rest at the end, not in the middle."
Mamba out.