The end of an era
February 27, 2020
He was almost born in the end zone at Williams Brice Stadium.
But this year, Coach Jimmy Noonan is hanging up his whistle in the Warriors locker room for good. 
After 12 years of coaching at Wando, Noonan feels it is time for a change of scenery for him. 
In 1969, Noonan's pregnant mother hurdled the wall at Williams Brice to celebrate her husband's victory in the state championship. She ended up being rushed to the hospital, where Noonan made a quick appearance.
"So I guess it was meant to be," he laughed. "What else could I be?"
Since then, Jimmy Noonan has coached 27 seasons, 20 as head coach, brought teams to 132 total AAAAA wins, nurtured six NFL players and 137 college football players, and led Wando to its only region championship in history. He knows football and feels that it provides something bigger than the players for them to focus on.  
"[Football] kind of forces the teamwork aspect of things, which is always going to benefit young men as they're going forward, that their role in this world might not just be about themselves," he said. "The dedication and the accountability to each other are all intangibles of any team sport, but of course it's really driven home from a year round perspective in football."
After his wife got a job in Charleston in 2008, the Noonans moved. Coach Noonan was offered an offensive coordinator position at Wando by Coach Bob Hayes and Principal Lucy Beckham. In 2009, Noonan was named head coach of the Warriors. By 2012, he had led the program to its first-ever home playoff game and a region championship.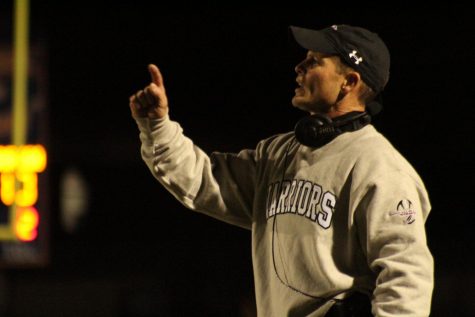 Noonan said he has always strived to push the football program as far as he can. 
"Our job as coaches is to stretch thresholds every single day that they're out there, to push, to push, because we know that that's what they're going to experience on any given Friday night," Noonan said.  
Along with being Wando's head coach, Noonan serves as an assistant principal as well as being the president of the South Carolina Football Coaches Association. With a lot of different things happening at Wando, Noonan wanted to give his all to producing a successful football team. 
"There's an awful lot that goes into [my resignation]. Sometimes you just need a change of scenery. Things here are pretty difficult with the hats I've been asked to wear to balance everything," he said. "I'm just seeking an opportunity where I can really have more time that's applicable to football… and sometimes I'm being pulled in different directions here. You know, I want to be able to really feel that that product out there is indicative of everything I can put into it." 
Noonan said he was proud that the athletes coming out of Wando gave him, his coaching staff, and the school their full effort: they left it all on the field.
"That experience here has been absolutely wonderful. We've got great, solid young men who come ready and eager to work hard, and to pour themselves out for this school and for this community, and they have for the entire 12 years I've been here," he said. "That's the hardest part of stepping away is for these young men, and of course our staff."  
Noonan has always had the football philosophy that as a year-round commitment, it is four quarters — three quarters of the year are preseason and the last quarter is the season. 
"The off-season is what they need to learn to love the most, because before you go into any season you've won or lost half your schedule by the work that you've done in the off-season," he said. "Our guys really have bought into that over the years"
Noonan said he loved his fellow coaches and working with them, and it was clear he would miss being part of the leadership for young athletes here at Wando.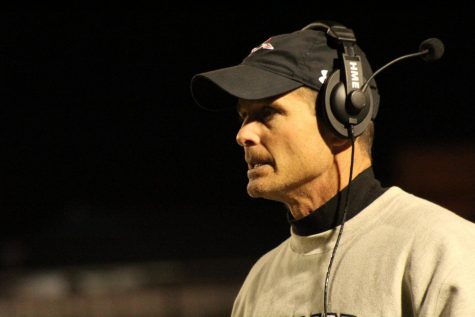 "Our football staff is absolutely second to none. I'm going to miss that camaraderie and the grind that it is, and the year long deal," Noonan said. "They are tremendous men too, and solid mentors for these kids in Mt. Pleasant."
Defensive Coordinator Jamel Smith has coached with Noonan for 8 years. In their tenure together, the two became friends. 
"He's really my mentor… really a huge impact because he's just so organized. You don't have to worry about the organization because he always takes care of it," Smith said. "He brings intensity each and every day and he's just a very caring, supportive person. We are really really gonna miss him."
He felt Noonan always looked out for his players and tried to teach them skills beyond football. "The impact is hard working, developing that great work ethic, developing being organized, and getting ready for life.Coach Noonan prepared our players and students for life after Wando High School," he said.
Senior defensive end Hampton Walker said Noonan could always make football fun — even if it was really hard work. 
"[He is] honest, fair. You get in what you get out. You put in the work, and he'll reward you for it… I enjoyed him, he was everything I wanted in a high school coach. He treated me fair…" he said. "I would say he left a pretty good legacy, like my older brothers had him, they all loved him, they still think of him fondly."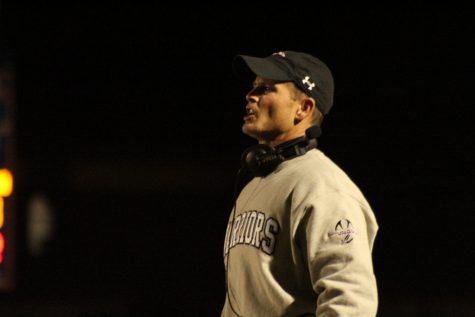 Fellow senior cornerback Will Bumgarner felt Coach Noonan's impact even outside of his sport. 
"He taught us that football is really a man's sport. You learn so much from the sport of football, whether it's teamwork, hard  work, dedication, commitment," he said, "and he did a really good job of putting a really big emphasis on that everyday."
Junior Earl Brown, who played center, agreed with his teammates on Noonan's impact. 
"I think Coach Noonan was a very good coach. I love the way that he inspired everybody inside the weight room to push, to get stronger. I just loved his coaching style. I'm really going to miss him."
Noonan was very proud of having the opportunity to coach Wando football and influence the young athletes at the school. 
"It has been a thorough pleasure," Noonan said. "I have valued the experience personally. My family has valued this experience. And Wando High School is absolutely awesome."