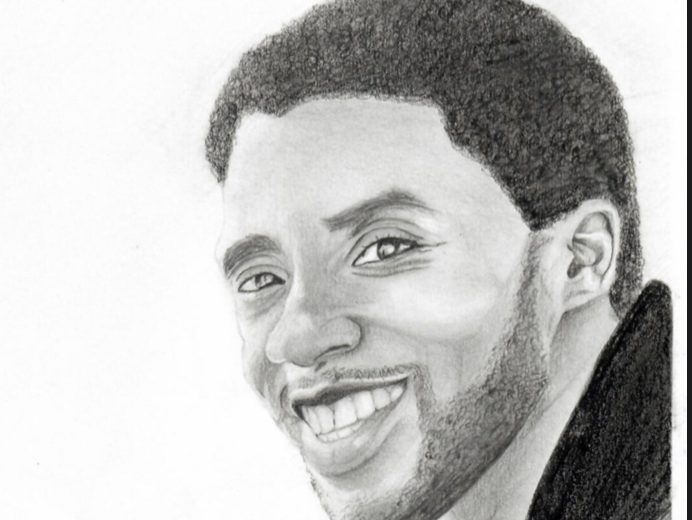 The hero in my heart
September 17, 2020
Heroes don't always wear capes; a very true cliché.
Chadwick Boseman never wore a cape. Instead, he held a gavel, baseball bat, and anything else to portray immense power through a screen. A screen which acted as a channel of connection between Boseman and millions all over the world. 
My first connection with Chadwick Boseman's work I vividly remember not because it was Boseman, it was how he portrayed the life of Jackie Robinson. I sat with my older sister in the activity room at our traditional African American church and watched a man who fought through difficult challenges and dealt with hateful people. I remember my parents picking us up that day and we couldn't stop talking about Jackie Robinson, someone's story who we never would've had the chance to experience if it wasn't for Chadwick Boseman's portrayal.
"
he held a gavel, baseball bat, and anything else to portray immense power through a screen"
In 2018 when Black Panther was coming out, the excitement and joy I felt from first seeing him on screen came back to see an all black cast lead by Chadwick Boseman himself. 
Joy to see him excel again like he did in the role of Thurgood Marshall and James Brown. 
Excitement because everyone knew that Boseman played characters who displayed the leadership, power, and grit that reflected his own. 
His role in cinema empowered so many young children of all ethnicities and races including myself. We could not only impersonate strength and pride, but carry it through our everyday lives. 
Boseman brought to life someone who little black boys could aspire to be. For me, Chadwick helped make my dream of going to Howard University seem so much closer. Knowing he was from Anderson, SC I felt a connection because he once was a young kid in South Carolina with huge dreams which he made happen through hard work and lots of dedication. 
Boseman never stopped fighting for others and himself, and in doing so he showed me that we fight as one in unity.