The Joy of the journey
June 24, 2019
Living in the underbelly of China in a small orphanage, she was, for 10 years, nobody's child.
Family was a foreign word to her.
Love was, too.
In this place, the looks of judgment were familiar and cruel, the silent recognition that she was two feet shorter oozed o of unfriendly faces and embedded themselves, like jagged glass, into her heart.
She was left here for 10 years, left to have her spirit extinguished and her pride stolen.
But that never happened. Her spirit was fueled, not taken away. She rejected the oppression and embraced confidence.
And out of that pain sprung Joy.
Junior Joy Parker is a little person, standing con dently at 3'10. She has a contagious smile, an undeniable wit.
She was adopted in 2013 from a small village in China. That is when she discovered an untapped reservoir of passion within herself. A deep appreciation for culinary arts, a fascination for the beautiful and boundless glory of Mother Nature.
Joy Parker has experienced more life in 16 years than most.
"
I like being social because everybody has a need to talk and have people talk to them. To me, people need that. I wanted to make people happy, I wanted to say, 'how's it going,' because sometimes people don't have friends"
— Joy Parker
And no matter the circumstance, she stays strong.
"I'm from China. Where I'm from is called Shandong and I lived in an orphanage. There, I breathed, lived like a normal person… but it can be bad growing up in China. When you go to school, the teachers are very strict," Joy said. "When you do a problem wrong they hit you. ey get something metal and they hit as hard as they can, it's terrible…especially for math, I'm terrible at math."
In this place, teachers chased you with rulers and hit your hands until they bled if you could not pick the answer out of your brain.
In this place, those who were supposed to care, her nannies, pulled her hair and yelled in her face.
In this place, they are told the only places that exist in the world are the U.S. and China.
In this place, even though she did not yet know God, she knew of hell.
She grew up in that place.
Even though growing up in China was filled with hurt for Joy, she said that something she can always thank China for is helping her and her first love. Food.
"The fun part in China is…growing up there, we're always playing and go outside and take an adventure. I go to this, like, farmer's market. All the foods in the street, that is my favorite part of all," she said.
Being Adopted
After 10 years of enduring life as a Chinese orphan, after 10 years of living in Shandong, the only place she'd ever known, then 10-year-old Joy found out she was going to be adopted.
"This woman, we called her Auntie…she came up to me and took a picture of me and I said, 'what is that for?' And she said 'oh, you're going to be adopted,' and I was shocked. Sad because I don't want to leave," Joy said. "That feeling, I was kind of sad since I'd grown up and I was gonna miss that place and then I just really don't wanna go. But since I did and came here, I just said 'wow, I'm not sad anymore. I'm kind of happy about it.'"
The woman who adopted Joy is Amy Parker. She'd always wanted to adopt a child. First, she and her husband adopted Marta from Guatemala. Then Amy discovered that a little boy in China, Joy's future brother, Jake, needed a home. It was when she was ling his paperwork that she felt a pull to not just adopt one child, but two—even though Marta was only 6. Their two birth children were 14 and 10 at the time.
"So when we were thinking about Jake and we were going through all the paperwork, at that specific time here in Mount Pleasant, a lot of adoptive families had decided that they were gonna bring two home at once. And I thought, 'are you crazy? Why would you ever want to bring two home at once? Have you lost your mind?'" Mrs. Parker asked. "As we kept going through the whole process with Jake I said, 'you know, we gotta be in this pool of people who are doing this.' So, as I was looking through their list of children that they post, one of the rst pictures was of her [Joy]. And I was like 'wow, there's just something jumping out at me about her.' And it wasn't really that she was a little person, it was just her."
In that picture of then 10-year-old Joy, she was wearing a cross necklace.
̈When we first brought her home, [Joy] was trying to figure out what adoption was and why did we pick her. I showed her the picture. I said, 'this is the picture that made me want to bring you home.' I said, 'do you see that little necklace that you have on that has a cross on it?' And she said, 'I don't have any idea about that necklace, I don't know anything about it,'" Mrs. Parker said. "She knew nothing about God, nothing about a higher power or church or anything. I think God puts different things—it could be a cross, it could be someone putting a picture in front of your face—I mean, there's different ways that He speaks to us so I think that was his way."
Joy was told a month before her adoption. She met her new mom and brother for the first time in a hotel room. She stared at their faces with a sort of bittersweet feeling, both reluctant and sad to leave all she'd ever known to follow strangers blindly into the unknown. But she went.
And she discovered that those strangers were family.
"The first time I come, I don't really know what love means, I just don't wanna be with people," Joy said. "But over time I developed and realized how much time I want to spend with people and my family."
Continued Hardships
Even after Joy was adopted and brought to the U.S., the challenges were far from over. One of the most difficult transitions to her new life was the language barrier.
After spending her whole life speaking Chinese, she was thrown into a world completely foreign to her. She could not communicate and was unable to express her frustration. Months ago, life was normal.
Now, it was anything but.
"It was very frustrating because it's so hard to communicate with them and I don't
know any English, and I just try to talk to them, but they don't understand what I'm saying…My parents want me to speak English. She [Amy Parker] said, 'don't speak Chinese, don't speak those because we want to know what you say,'" Joy said. "It's still on-going, my English is not as worse as when I rst came here, but I'm still trying to learn."
The Parkers hired a translator and Joy worked hard to learn English. But the world was not done with her yet. Joy's struggles continued.
She discovered that the bullies were not just in China, they are everywhere. It's not always in what they say, but in the way they look.
Joy knows this look all too well.
"I know it was really, really hard for her to talk about it because of the really big issues that she went through," Mrs. Parker said. "I know that she was significantly bullied by people at her school."
Despite the dirty looks and evil words, despite their attempts at quelling her spirit, she doesn't let it get to her. She doesn't let them break her spirit.
"I try to forget about it, I just don't think sometimes," Joy said. "I kind of feel sad, but at the same time I just don't care, because that's who I am that's just how I am. Nobody's perfect."
Because of her height, she so,times relies on the help of others to get through the day.
"In culinary, I can't reach certain things, like, I can't reach the table so I have to tell Chef about my problem so he can give me a stool and stuff like that. Just on an everyday basis I ask for help," Joy said. "It's hard to do certain things that you can do or reach but on the other side, it's good for me to be my own self. I don't care what other people think."
Embracing Life
Joy has experienced enough pain for a lifetime. But from her pain stems inspiration. She embraced her deep love of nature, she discovered a higher power and she picked up the camera that had mapped out her life ever since coming to the U.S.
"I like photography because I like taking pictures outdoors and I like nature. I just love the view and how God created things so di erent, so I just love it," Joy said. "I like outdoors. When I was in China, we went outdoors all the time but now, when I come to America, everything's so different…I realized nature is so pretty and in my mind, I just saw God created everything so beautiful. I don't want to waste my time staying in my room, I want to go outside to see what's new."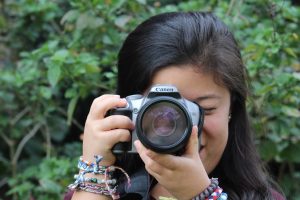 The beauty found in the world outside her window is a constant reminder of the God she loves and six years ago, knew nothing about.
"My parents…they gave me Bible before I came to America, and they give me this Chinese and English version, one side is Chinese and the other side is English," Joy said. "When I look at nature, I just think…of Heaven and I think how good God is that He created wonderful things that nobody can imagine. But they're just out there and I never thought about things like that. I just think about how good He is that He creates such wonderful things and it makes me think things a lot."
Creativity and life continued to spill out of every crevice of her brain. She yearned for the Asian food that she had as a child, so she learned how to cook.
"I learned because my dad started cooking and he said, 'help me out with chopping this.' That's when started loving cooking. I think cooking is very fun and it's a very good skill to learn…I like to cook also because I want to serve people what I cook and what I took my time for too…I love pork buns, I make those at home a lot…My mom is so happy because she hates cooking," Joy said. "Every time I cook…it makes me happy because when I cook I serve my talents to other people, but I don't like to show it off. I want to show them, this is what I can do. I want to show them not just my height is a problem that means I cannot do anything, I want to show them yes, I can do something."
She is more than a passionate person, she is a people person.
"When I came here, when I first came to America, I don't know what to say, I don't know English. When I came here and go to school, a lot of people want to talk to me and I just don't know what should I say," Joy said. "I like being social because everybody has a need to talk and have people talk to them.
"To me, people need that. I wanted to make people happy, I wanted to say, 'how's it going,' because sometimes people don't have friends… you can learn about other people, like being in other people's shoes and making new friends and have some quality time," she added.
After 16 years of hurdles, bumps and discoveries, Joy's journey is far from over.
"I've been in America for six years. I have four amazing siblings and two wonderful parents and I love them all, they're pretty nice," she said. "I like to cook, I like to take pictures, I like traveling and I love being outdoors. I like being social and quality times. I am very grateful and thankful that they chose me to be their daughter. I am very thankful for that because there are so many people in this world that need a family, so I think I'm blessed for that."