The latest: COVID-19 and DECA
March 30, 2022
Covid
Since the dawn of the COVID-19 pandemic in March of 2020, there has been widespread discontent regarding the mask mandates enforced by state and county legislatures around the country. Between school walk-outs, petitions, and protests, many different groups of people have expressed their aversion to the mask policies. However, as the COVID-19 hospitalization numbers have begun to diminish and the vaccination numbers rise, states and cities have reduced, or in some cases even relinquished the mask mandates altogether. 
On Monday, Feb. 28th, the Charleston County School District Board made the executive decision to completely lift the district wide mask mandate due to the decreasing number of positive COVID-19 cases in the areas in which the district encompasses. 
Originally decided upon earlier this year, the mask mandate was set to be lifted on March 14th. The policy required faculty, staff, students, and visitors to wear masks inside CCSD buildings despite vaccination status.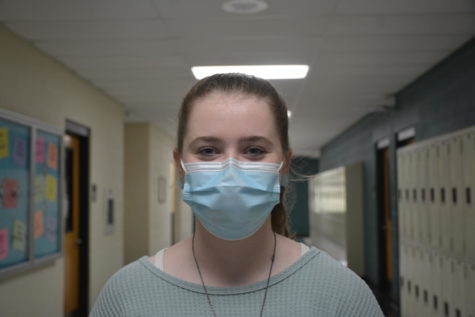 Nurse Andrea Urbanaski, who is currently in her first year working at Wando, has lived through the pandemic and seen the worst of COVID-19 including the impacts that it has had on the population of students and faculty alike. The controversy surrounding the enforcement of masks has been more prevalent than ever with such a high fluctuation in the number of positive cases, however with these numbers on the decline and guidance from the Center for Disease Control, the decision was well-advised and well-timed.
"I feel like they set a specific metric to be considered low risk, and to my knowledge that's what they based it on and followed through with it, so I think it's pretty appropriate," Urbanaski said.
Another challenge that presents itself with the majority of the population is the uncertainty of how the virus will change, and how it will be handled if and when it does. Being such an erratic virus, COVID-19 has become a large challenge to health professionals when it comes to predicting patterns for the future
 "I don't think you could expect it to definitely go away, I think it's a possibility. It really depends on what variant comes along," Urbanaski said. 
With the number of COVID-19 variants, such as Omicron, Delta, and the newly discovered Deltacron, which is a hybrid between Omicron and Delta, it is increasingly hard to determine the future for the pandemic and the virus itself. 
"I thought Omicron wasn't going to come, but it came, because that's when the vaccines were very widespread," Urbanaski said. 
The pandemic has brought upon uncertainty and unpredictability in the healthcare system and the general public, but with the highly informed decision of removing the mask mandates, there is optimism towards returning to the lives that people once had. 
DECA
DECA is an international business club that offers students the opportunity to showcase their skills that they have learned in their business related courses. While competing in regionals, state, and then national competition, students have the opportunity to win scholarships and money, all while furthering their business skills. 
Sharon Ansley, former Wando teacher, and current CAS teacher, has been one of the DECA advisors for the past 15 years and has traveled all over the country for DECA national competitions. However, before qualifying for nationals, students must take a 100-question test on their content. From there, the students can start competing."When we go to regionals or to state, they actually complete what's called a role-play competition," Ansley said. "The students are given a situation, a case scenario, where they have to come up with the solution to the problem and then present it to a judge." 
Despite the competition being judged on their skills, the students are also judged on how they present themselves. 
"Part of that competition is their whole person. From their head to toe, are they dressed professionally, do they communicate well, eye contact, their verbal skills, the whole package," Ansley said. 
"
Part of that competition is their whole person. From their head to toe, are they dressed professionally, do they communicate well, eye contact, their verbal skills, the whole package,"
— Sharon Ansley
Students compete in many different categories, all revolving around what they are interested in. There are about six different categories for students to choose from, and within that, sub-categories for their case scenarios and role play.  
"There are principal events that are first time DECA students…and then we also have a category of team events, and some of those are every aspect of marketing, sports and entertainment marketing, entrepreneurship, finance, business services," Ansley said. 
Students also have the chance of competing in written competitions such as making logos and presenting a business idea. 
The team recently competed in North Charleston for state competition, and had many students place for nationals in categories such as hospitality, quick service restaurant management, and more. These students will automatically go to national competition later this year to compete with over 20,000 other students from across the world. 
Despite state competitions being local, Ansley still wanted the students to have the experience that out of state schools would have. "We decided for the first time to actually go spend the night, stay at the hotel, even if it's in Charleston, so our students could experience everything, the opening ceremonies, closing ceremonies, and just the leadership activities too," Ansley said. 
Throughout Ansley's 15 plus years advising DECA, she still has bright plans for the future. When DECA faded out at Wando, she was able to bring it back up at the CAS, and now hopes to recreate a popular attraction at the CAS. 
"Our goal this year and the CAS is to open our version of the school store at Wando, and it'll be a student run store here that will be run and controlled by our DECA students," Ansley said. 
With this, DECA students will get hands-on experience in the business world, better improving their skills for competition. 
"My goal is…to just grow the membership, to be known more," Ansley said. "We want to be the school that's called over and over again at the awards ceremony."