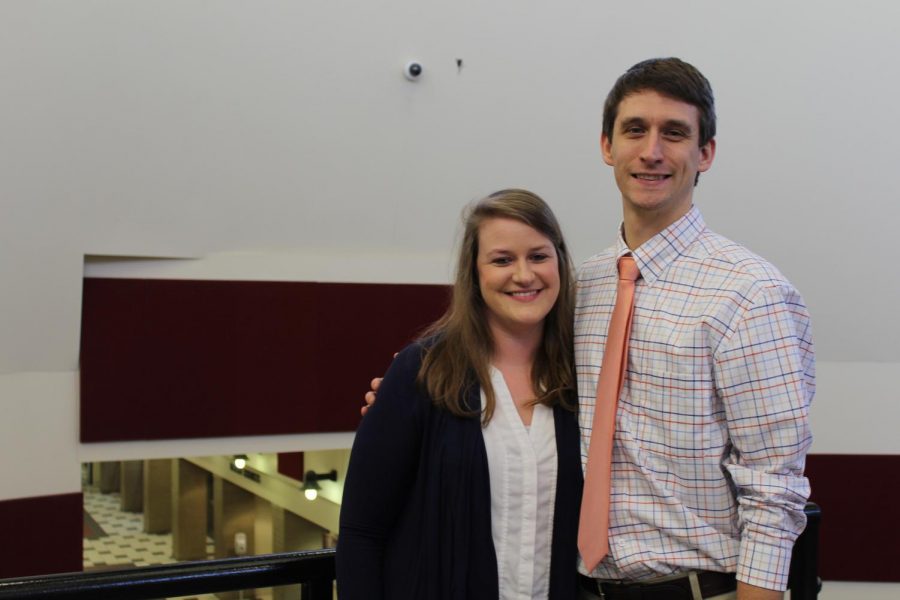 The Soxs
Nine years ago, she stood in the hallway looking at him in his goofy lab coat and goggles.
Two years later, she walked down the aisle staring into her future husband's eyes.. These two are Jason and DiAna Sox.
A field trip for Student Council was about to happen, and then-advisor Mrs. Sox resorted to emailing a teacher she'd seen in the halls. After he didn't respond multiple time, she decided to take a more aggressive approach. She walked to his office, tapped her foot and waited for him to arrive.
"I told him I needed an answer, and I guess he felt guilty for not responding so basically I suckered him into coming," Mrs. Sox said.
And on that very trip, they spent hours talking and discovering more about their co-worker, and a friendship developed. It was refreshing and new for them, and they soon realized that they had something worth going for.
"We found a lot in common with each other, and that sparked something that eventually turned into a relationship," Mr. Sox said.
While they were both co-sponsors for student Council, the kids there started to catch on but were nothing short of supportive.
"There are other couples here, so it's not like it's a huge deal. It's funny because the students usually don't imagine teachers having a life outside of the four classroom walls," Mr. Sox said. "It's almost like we are a part of an elite club or something."
As the relationship went on, he found her humor and wit something he couldn't live without, and decided to say the first "I love you." As irony would have it, she was the one who didn't respond this time.
"I was nervous!" Mrs. Sox laughed. "I had never been in a relationship that serious before, and I wanted to make sure everything would work out. But I knew right away there was something there and I did say it back eventually."
Soon enough, they were engaged.
"On our first real date together we went to Savannah, and there is a fountain there that we took pictures at," she said. "I guess then it became our spot for the years to come."
And as for the proposal, he brought her to that very fountain with the ring in his pocket and said pure words of romance: "Well, you've waited long enough.
"I do not have a romantic nature to me and I guess that was my way of wooing her. Maybe something nicer came out after but neither one of us remember," he said.
Despite the blunt introduction, a "yes" was spoken back to him, and in 2012, the couple became man and wife.
Now with two young kids, working at the same school gives the other a sense of calm due to similar schedules. Having the same job means they each understand what it's like to have to stay late to grade papers, and lets the other take care of the children.
"Some people think that it would be annoying to see your spouse all day, but we work in different departments, so I rarely see him," Mrs. Sox said. "We drive together and have lunch sometimes which is really nice to have, so I enjoy it."
Kids gave them a new perspective on each other and made them realize that all they really need is their family.
"Seeing her as a motherly figure made me fall in love with her in an additional way," Mr. Sox said. "Children are difficult but thankfully my strengths overlap her weaknesses and vice versa, which means we get to help each other grow as parents."