Buttons are being made and sold by Art Club
October 18, 2019
The Art Club has come out with its first activity of the year, Homecoming buttons.
At the bottom of the rotunda, Art Club members are selling small buttons made by other students for $1.
"Before homecoming we decided it would be cool if the students could wear something that the other kids at Wando put time, effort and creative energy into to show school spirit," said Haley Diesl, a member of the Art Club.
The buttons have all types of colorful Wando logos and homecoming themes. The student who made them were not all a part of the art club — many were just students throughout the school who wanted to spread school spirit.
"It is something I'm so proud of, all the pins we have been working on, but we do other activities too, like for Halloween," Art Club Vice President Hannah O'Brien said.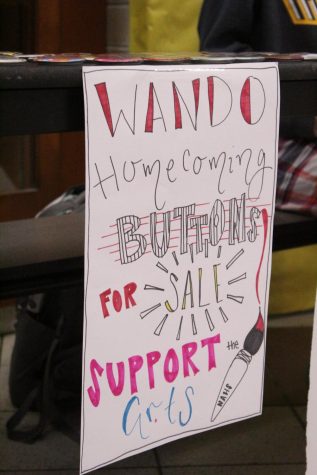 The club will be doing other activities throughout the year and anyone can join — even if you're not in an art class. Meetings take place every Thursday from 3:45p.m. to 5 p.m.