Making a future through makeup
February 4, 2020
Grace Farley
For junior Grace Farley, makeup had been a hobby for five years in the making. She began as simply a fan of YouTube makeup artists, and now she finds herself participating in cosplay and doing makeup looks of her own.
"I started doing makeup stuff in middle school because I was just bored and I like doing theater and all…" Farley said. "SFX always interests me and I liked horror movies and all the gore and stuff makeup that they would have to do." 
Farley's earliest inspirations were makeup artists she discovered on YouTube in middle school, motivating her to start trying the things she saw them performing on the internet, as well as her love for theater. 
"When I was in middle school [Nikkituroials] was where I learned everything from… just makeup tutorials anywhere and Broadway," Farley said. "If you saw my makeup in middle school, the eyeliner was just like a line across my face and I had one flat color, and now I can actually do things that are not a mess." 
Although she feels she learned much from just watching others, planning her looks is not something that often crosses her mind. Her impulsive creativity is what drives her.
"Most of the time I don't plan… it's like 'I like that thing let's do the thing!'" Farley said. 
Over the handful of years she's been practicing, Farley has been experimenting with different colors and pallets to create looks that come to her mind, using her creativity as her guide.
"The makeup look that I'm most proud of currently is this makeup look I did for the Sun, which is really — it's really warm-toned so it just makes you feel happy," she said. "Pretty much all the shadows I used are from my favorite makeup pallet… Shane Dawson and Jeffery Star."
The Mini Controversy pallet by Shane Dawson and Jeffery Star is just one of her many pallets and tools. Farley has amassed a large collection ranging from brands like Tarte to generic makeup found in Walmart and Target. 
"I have an addiction so I'm like a dragon hoarding my makeup pile," Farley said, "I have an entire closet of costumes and a huge drawer of makeup and lots of lots of mess on my floor from cosplays.. last I counted I had over 25 wigs."
Makeup has been a gateway to Farley going beyond and using her talents in areas such as costume design and cosplay.
"I started getting into it more cause of theater," Farley said, "but I got into initially because friends of mine did it, and I really like costume design. That's what I want to do for my career… and I started buying more things."
Farley shows off her cosplays, a combination of her makeup and costume design, at comic cons in South Carolina. 
"I am planning, if I finish all the things, I am planning to wear [Taako] to Captain's Con, which is a comic book expo/convention/thing that happens in Mount Pleasant every year," Farley said, "I went to that one last year and I also went to one called Banzai Con which is up in Columbia." 
Farley's current project for Captain's, a character called Taako, is one of her favorite projects, especially when it comes to showcasing her progress in the costume design department. 
"Right now [I'm] currently in the process as we are speaking of making a really big hat for this character that's really close to my heart called Taako… from a podcast called The Adventure Zone," Farley said. 
The hat has been made from random scraps of fabric she's acquired over the years, and she's hopeful to finish and showcase it since Taako's one of her favorite characters. 
"He's a funny guy, ya know? He's one of the main characters in the podcast… it's about dungeons and dragons. Taako is just like a stand out character from the beginning and he's very flamboyant and I like that," Farley said.
The experience, Farley said, is very fulfilling and it is fun to be able to express her creativity.
"Anytime someone recognizes the cosplay I'm in, I just get so excited and so giddy, and if someone asks me for a picture, I like freak out like 'out my god thank you so much'… it's people acknowledging that they like something you put a lot of work into," she said. 
Farley's goal is to have her hobby — both with makeup and costuming for characters — help her perfect her skills in order to go into costume design for theater. 
"Theatrical costume design is something I want to do as a career… and [makeup and costumes] have definitely gotten me through some tough places in my life…" she said. "It's like a kid playing dress up, it's fun to step out of reality for a while." 
Being able to express herself and her ideas through makeup and being able to apply her skills into something fun such as cosplay is Farley's catharsis as well as a helpful step into making her costume design dreams a reality.
Leave a Comment
Lindsey Hepper
She sits down, and begins to go through her collection of makeup. 
She makes sure to apply moisturizer before primer and foundation, ensuring her skin is protected from the oils in the products. 
It's then that she gets to the artistic portion, using the vibrant colors of her eyeshadow pallets to create a look, painting color onto her face with her brushes. 
Becoming a makeup artist is more than just brushes and pallets for junior Lindsey Hepper. It's a form of art. 
"It's like the same as like painting," Hepper said. "It's just like putting whatever you want on your face and really making whatever you want." 
Hepper began her journey in middle school, influenced by YouTubers and other social media influencers.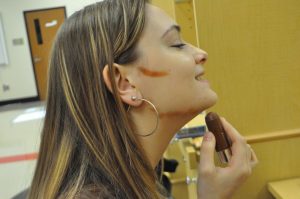 "I always watched YouTube stuff and everything… I just decided to do it to myself," she said. "I've always wanted to be a makeup YouTuber… I grew up watching YouTube and so I've always wanted to be an influencer."
Hepper's seen herself grow throughout her years of experience, learning from the people she grew up watching on the internet.
"When I was first starting out the hardest thing for me probably was eyeliner," Hepper said.
Contour is still an aspect Hepper needs to work on, she says, but she has seen improvement with her eyeliner and wants to gain more expertise when doing cut creases with eyeliner as one of her goals. 
Hepper joined Wando's Cosmetology program in order to work towards earning a license that would allow her to begin working professionally with makeup and become more well rounded in the different careers cosmetology offers her.
"I'm in Cosmetology, and Cosmetology is hair skin and nails," Hepper said. "With Cosmetology with me under my belt… I could go and get that degree and have my license and all that." 
Hepper says she wants to be able to understand the other aspects of cosmetology so that she has skills that will benefit her dream of becoming a makeup artist for film and provide her a backup career with the experience.
After all the experience she's gained through middle school, Hepper is most proud of her accomplishment in creating a look based off a sunset as it shows off her progress best.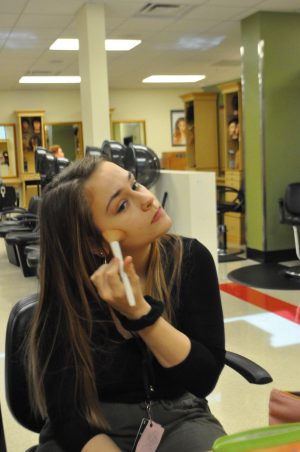 "My favorite eyeshadow look is like a sunset, and it's like orange and lots of reds, it's really pretty," Hepper said.
For Hepper, her mother has been one of the most influential people to her, inspiring her to pursue her dream and to keep practicing.
"She [my mom] is like my rock, I've been through so much with and she really understands me," Hepper said. "I want to be just like her."
Leave a Comment