Lindsey Hepper
She sits down, and begins to go through her collection of makeup. 
She makes sure to apply moisturizer before primer and foundation, ensuring her skin is protected from the oils in the products. 
It's then that she gets to the artistic portion, using the vibrant colors of her eyeshadow pallets to create a look, painting color onto her face with her brushes. 
Becoming a makeup artist is more than just brushes and pallets for junior Lindsey Hepper. It's a form of art. 
"It's like the same as like painting," Hepper said. "It's just like putting whatever you want on your face and really making whatever you want." 
Hepper began her journey in middle school, influenced by YouTubers and other social media influencers.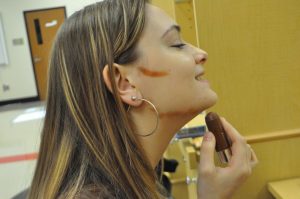 "I always watched YouTube stuff and everything… I just decided to do it to myself," she said. "I've always wanted to be a makeup YouTuber… I grew up watching YouTube and so I've always wanted to be an influencer."
Hepper's seen herself grow throughout her years of experience, learning from the people she grew up watching on the internet.
"When I was first starting out the hardest thing for me probably was eyeliner," Hepper said.
Contour is still an aspect Hepper needs to work on, she says, but she has seen improvement with her eyeliner and wants to gain more expertise when doing cut creases with eyeliner as one of her goals. 
Hepper joined Wando's Cosmetology program in order to work towards earning a license that would allow her to begin working professionally with makeup and become more well rounded in the different careers cosmetology offers her.
"I'm in Cosmetology, and Cosmetology is hair skin and nails," Hepper said. "With Cosmetology with me under my belt… I could go and get that degree and have my license and all that." 
Hepper says she wants to be able to understand the other aspects of cosmetology so that she has skills that will benefit her dream of becoming a makeup artist for film and provide her a backup career with the experience.
After all the experience she's gained through middle school, Hepper is most proud of her accomplishment in creating a look based off a sunset as it shows off her progress best.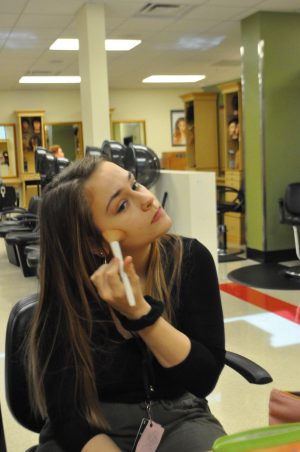 "My favorite eyeshadow look is like a sunset, and it's like orange and lots of reds, it's really pretty," Hepper said.
For Hepper, her mother has been one of the most influential people to her, inspiring her to pursue her dream and to keep practicing.
"She [my mom] is like my rock, I've been through so much with and she really understands me," Hepper said. "I want to be just like her."
Leave a Comment