Carrying on Culture
May 24, 2018
Storyteller finds mission of helping culture continue to flourish
She was driving home one day; a simple five mile drive.
But the thing is, she can't remember one detail about that drive.
Not one.
The only thing that was going through her mind during that drive was one word.
Gullah. Gullah. Gullah.
It was from that moment on that Sharon Cooper-Murray realized that she had a mission placed upon her.
A mission to educate herself and others about the Gullah culture and try to understand a way of life that was different than her own.
Cooper-Murray is now a storyteller known as The Gullah Lady in the Gullah community.
"The word Gullah just reverberated through my brain for those five miles and when I got home, I told my husband about what had happened and he said, 'Well, don't you think you know what that means?' and I said, "'Well yeah, I kinda think that this is some sort of mission that is to be placed upon me. But I'm not gonna do that.'…And he said, 'well, if that's supposed to be your mission, I'm just gonna tell you there's no way to get away from it.' And he was pretty much right," she said.
Cooper-Murray first came in contact with the Gullah culture when she came to the Charleston area on vacation over 30 years ago.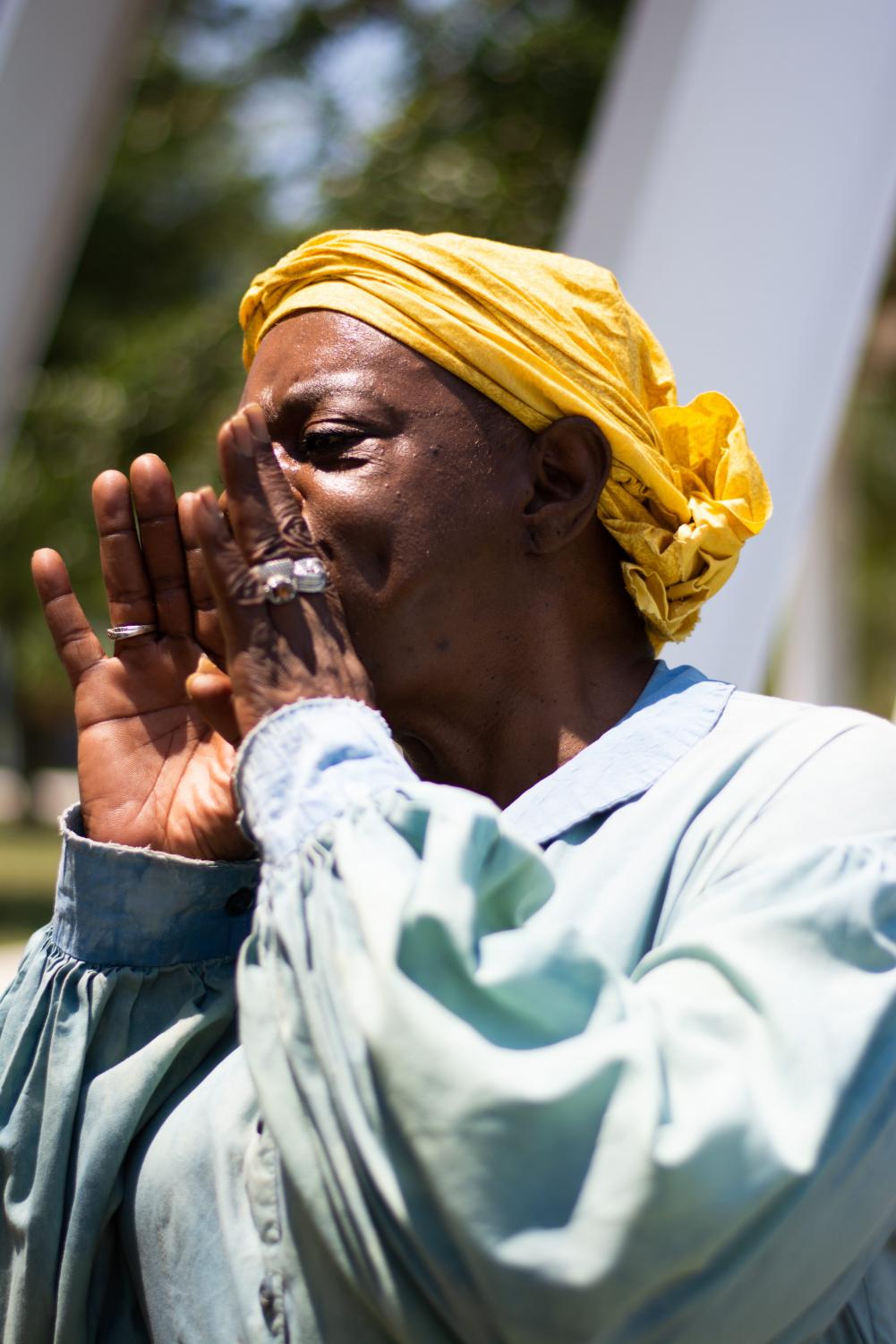 "When they (aunt and uncle) retired they moved to what was my uncle's original home which was on Wadmalaw, and they invited me to come visit," she said. "That visit was supposed to be a week, and I've been in this area for more than 30 years. It just turned into that I was so fascinated by the Gullah people and their language and their culture until it just became my life,"
She first thought that she was just going to learn about Gullah and then move on.
But as time passed, she realized that she was completely engulfed in the community and storytelling.
There was no getting away from her love of the culture.
"The more I did it and as the years started to creep by and the name of The Gullah Lady started to become known…and then one day it occurred to me that I would rather do this (Gullah storytelling) than anything else," she said.
But she did not intend to be called The Gullah Lady.
"I wasn't born in the Gullah culture, when I started to tell stories I tried to create a name for myself other than my name. But people started to walk up to me and they'd say "Are you The Gullah Lady?"…So the name that I had chosen that was going to be my story telling persona, the people didn't see it that way," she said. "So any people called me The Gullah Lady until finally I just accepted the name; and so the people named me,"
Cooper-Murray's life has been influenced by fate — from the beginning when she came to Charleston anticipating as week long stay, all the way to when the people of Charleston started to give her the name that is so well known across the Lowcountry today.
But she has made it clear throughout her career as The Gullah Lady that she is not Gullah but has adopted the culture and educated others on the history of Gullah and its importance in the community.
"I didn't become one of them (Gullah), I learned their language and I learned their social ways but I wasn't trying to become them," she said. "I was simply trying to understand and be able to interact with them because I saw them as great."
Cooper-Murray, in the process of understanding the Gullah culture, started to tell Gullah stories and has been able to travel the Lowcountry telling people stories that originated in the culture and stories that she has written herself.
When she tells her stories, Cooper-Murray transforms into a completely different person and has been able to affect other people in so many ways with these tales.
"I thought it was really good to be able to tell a plain little simple story and it help someone to change their thoughts about their life or themselves," she said.
The listeners aren't the only ones benefiting from learning about the Gullah culture. Cooper-Murray is finding that she has learned some valuable lessons in her quest for understanding and empathy.
"I didn't really understand enough about what culture really meant. So I just thought I was being me and I was going to stay being me. But I realized later that if you want to connect or interact with a group that's different than you, then first of all you need to understand something about what culture means to people," she said. "I think the first thing it (the Gullah culture) did was stop me from being so self absorbed…they helped me to broaden my ways of thinking because I learned the ways of their culture,"
Cooper-Murray is grateful for the new life Gullah has given her, and she hopes to be able to positively affect people's lives in the same way Gullah has changed hers.
"People told me when I got here (Charleston area) that if you drink the water, you'll never leave," she said. "And apparently that's what I did and I have never left."
Leave a Comment
Making magic out of sweetgrass
She goes out towards the intracoastal waterway with her brother and some others in need of more materials
They all go out into the marshes and start pulling at the bulrush and sweetgrass from their roots.
Sometimes they are out there for hours finding all the materials they need for their baskets until they have to carry everything back to their cars.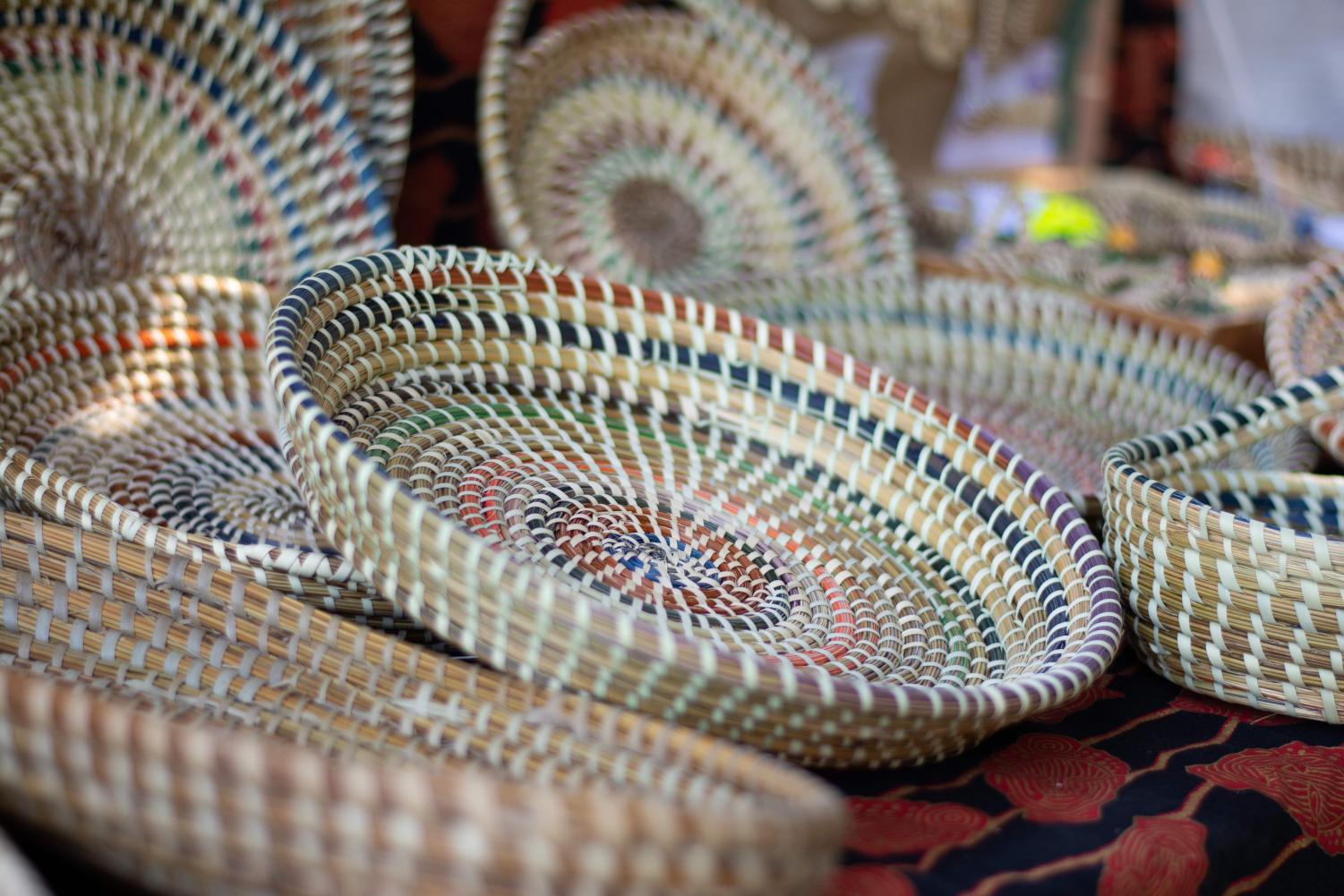 Then it's back to their stands to weave more baskets.
This is the life of Vera Manigault and many others in the Gullah sweetgrass basket weaving community.
"At age four and a half, I could start a basket and do a basket by myself," she said. "But I came up in a community where everybody did it in the summertime. My grandmother, my great grandaunt, my mother and all the kids."
At a young age, Manigault has been taught the art of sweetgrass basket making and has developed her own way of basket weaving.
"See everybody do it (make sweetgrass baskets) different, we use the same material but everybody do it different. I can identify my basket and everybody can identify each others basket," she said.
Manigault's style is so unique that her artwork has been featured across the Lowcountry. She uses different materials like palmetto thorn and dyes to color the baskets.
"I'm the only basket maker around here that know how to do the basket with the palmetto thorn. It's much stronger than the palmetto leaf basket…I figure it out and it take a lot of time doing that (making a basket out of palmetto thorn) and when you start scrapping it you can't lose your focus because if you do you're gonna cut it in half. You have to be focused." she said.
But with sweetgrass basket weaving, Manigault said there is something different about everybody's basket and the way they make baskets. It's what makes sweetgrass basket weaving so unique and difficult.
Almost like there are no two fingerprints that are the same, all sweetgrass basket makers have styles, sizes, colors and techniques they use that are specific to them.
"The style, you don't have no blueprint or nothing, you use your imagination…Everybody got something different," Manigault said. "You go to about 10 basket makers, you'll find something different on each one of them tables and baskets there."
She is an original Gullah and has lived in the Lowcountry her entire life, making her a "binyah" — someone who was born and raised in South Carolina.
Living here her entire life, Manigault has been able to educate others about the Gullah culture and its importance to the Lowcountry. She travels all over with her baskets and teaching people about them and how to make them.
"Lot of people appreciate that we still doing to art (sweetgrass basket making) and everything," she said, "and a lot of people appreciate the art because this basket has been around for so many years."
Manigault loves teaching others the 300-year-old art and showing people how intricate it is. But she doesn't show people every technique she uses in her process of sweetgrass basket making.
That is what sets her baskets apart from everyone elses.
Especially seeing other people's reactions to her art work and the artwork in the baskets of the people around her.
Being immersed in the Gullah culture and being an original Gullah, Manigault takes pride in her heritage and in where she came from and hopes to spread awareness of the culture and everything it stands for.
"If you born in South Carolina, you a binyah. If you born in New York or Italy or wherever, when you come here, I've been here," she said. "When you come here, I've been here. So you a cumyah and I'm a binyah."
Leave a Comment