Storyteller finds mission of helping culture continue to flourish
She was driving home one day; a simple five mile drive.
But the thing is, she can't remember one detail about that drive.
Not one.
The only thing that was going through her mind during that drive was one word.
Gullah. Gullah. Gullah.
It was from that moment on that Sharon Cooper-Murray realized that she had a mission placed upon her.
A mission to educate herself and others about the Gullah culture and try to understand a way of life that was different than her own.
Cooper-Murray is now a storyteller known as The Gullah Lady in the Gullah community.
"The word Gullah just reverberated through my brain for those five miles and when I got home, I told my husband about what had happened and he said, 'Well, don't you think you know what that means?' and I said, "'Well yeah, I kinda think that this is some sort of mission that is to be placed upon me. But I'm not gonna do that.'…And he said, 'well, if that's supposed to be your mission, I'm just gonna tell you there's no way to get away from it.' And he was pretty much right," she said.
Cooper-Murray first came in contact with the Gullah culture when she came to the Charleston area on vacation over 30 years ago.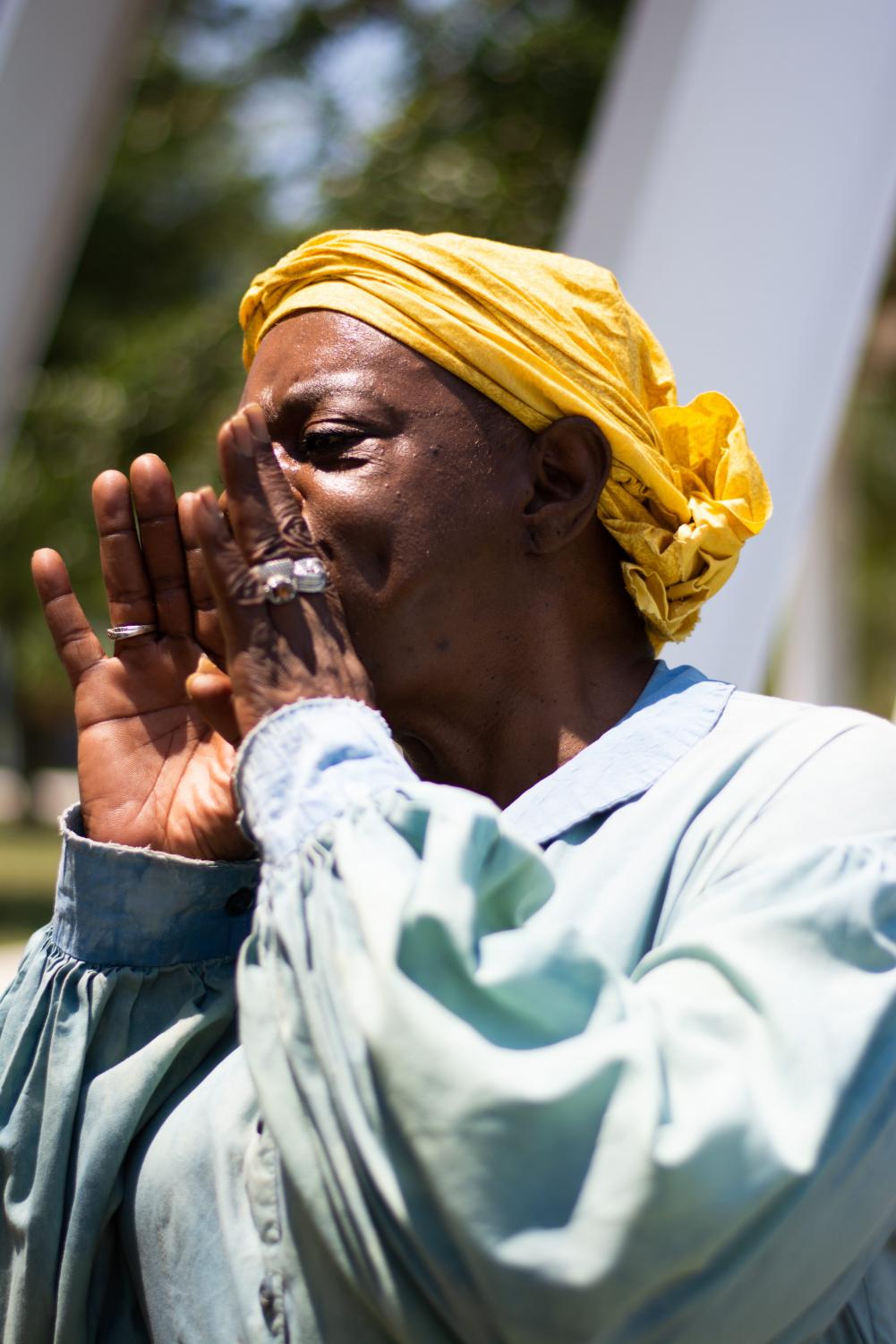 "When they (aunt and uncle) retired they moved to what was my uncle's original home which was on Wadmalaw, and they invited me to come visit," she said. "That visit was supposed to be a week, and I've been in this area for more than 30 years. It just turned into that I was so fascinated by the Gullah people and their language and their culture until it just became my life,"
She first thought that she was just going to learn about Gullah and then move on.
But as time passed, she realized that she was completely engulfed in the community and storytelling.
There was no getting away from her love of the culture.
"The more I did it and as the years started to creep by and the name of The Gullah Lady started to become known…and then one day it occurred to me that I would rather do this (Gullah storytelling) than anything else," she said.
But she did not intend to be called The Gullah Lady.
"I wasn't born in the Gullah culture, when I started to tell stories I tried to create a name for myself other than my name. But people started to walk up to me and they'd say "Are you The Gullah Lady?"…So the name that I had chosen that was going to be my story telling persona, the people didn't see it that way," she said. "So any people called me The Gullah Lady until finally I just accepted the name; and so the people named me,"
Cooper-Murray's life has been influenced by fate — from the beginning when she came to Charleston anticipating as week long stay, all the way to when the people of Charleston started to give her the name that is so well known across the Lowcountry today.
But she has made it clear throughout her career as The Gullah Lady that she is not Gullah but has adopted the culture and educated others on the history of Gullah and its importance in the community.
"I didn't become one of them (Gullah), I learned their language and I learned their social ways but I wasn't trying to become them," she said. "I was simply trying to understand and be able to interact with them because I saw them as great."
Cooper-Murray, in the process of understanding the Gullah culture, started to tell Gullah stories and has been able to travel the Lowcountry telling people stories that originated in the culture and stories that she has written herself.
When she tells her stories, Cooper-Murray transforms into a completely different person and has been able to affect other people in so many ways with these tales.
"I thought it was really good to be able to tell a plain little simple story and it help someone to change their thoughts about their life or themselves," she said.
The listeners aren't the only ones benefiting from learning about the Gullah culture. Cooper-Murray is finding that she has learned some valuable lessons in her quest for understanding and empathy.
"I didn't really understand enough about what culture really meant. So I just thought I was being me and I was going to stay being me. But I realized later that if you want to connect or interact with a group that's different than you, then first of all you need to understand something about what culture means to people," she said. "I think the first thing it (the Gullah culture) did was stop me from being so self absorbed…they helped me to broaden my ways of thinking because I learned the ways of their culture,"
Cooper-Murray is grateful for the new life Gullah has given her, and she hopes to be able to positively affect people's lives in the same way Gullah has changed hers.
"People told me when I got here (Charleston area) that if you drink the water, you'll never leave," she said. "And apparently that's what I did and I have never left."
Leave a Comment