Doug Liman Executes American Made Prefectly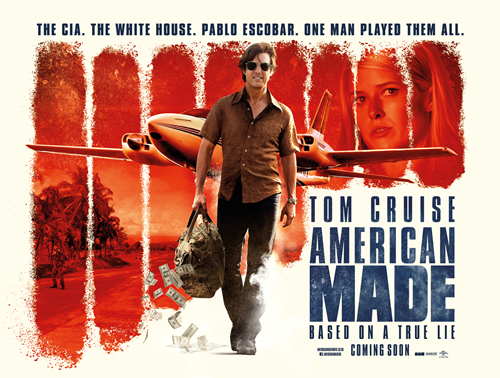 Trans World Airline's youngest pilot, Barry Seal (Tom Cruise), is recruited by the CIA to provide reconnaissance by flying around the world and taking pictures of enemy locations. After a short time, Seal finds himself becoming the biggest drug smuggler in American history, known as the Medellín Cartel, and almost bringing down the Reagan White House with the Iran Contra scandal. This suspenseful movie is based on a series of tapes that Seal left behind before his death, explaining what he went through and organizing them by year.
American Made stars Domhnall Gleeson, Sarah Wright, and Tom Cruise, who extravagantly plays the main role of Barry Seal. It was directed by Doug Liman, American film director and producer best known for Swingers, Go, The Bourne Identity, Mr. & Mrs. Smith, Jumper, Fair Game, and Edge of Tomorrow. Liman definitely did a good job by implementing many circumstances that will make the audience laugh, showing how a wife would react realistically, and still leaving room for suspense and even romance. American Made was released in theatres September 29, 2017 and is highly recommended.  
This movie exposes the shady side of the government in the 1980's by taking advantage of how easy it was to access footage during that time period. The beginning of the movie starts with some actual cuts from films made in the '80s.
I originally wanted to see the movie because I like Tom Cruise, which is most likely why the movie is so popular, considering Tom Cruise is one of the most popular celebrities in the movie industry. I've never disliked a movie with him in it, I can honestly say I was pleasantly surprised with the outcome. Although, I would not recommend children seeing this movie due to language, violence, and some nudity.