An oasis among a culture of mindless entertainment
In a seemingly endless wasteland of media, with everyone in their own personal smartphone bubble and the days of being social with strangers fading, Awendaw Green is an oasis.
A local, weekly, connective oasis.
More specifically, the barn jams at Awendaw Green, which are live concerts that take place at Awendaw Green every Wednesday. These weekly concerts have managed to capture a mixture of basic, down-to-earth, social interaction and incredible music with artists on every end of the spectrum in genre, age and experience.
Surprisingly, all of this takes place behind a grocery store in rural Awendaw every Wednesday night. This being the case, the professionalism of the event and the stunning aesthetics bring the same question in everyone's minds when they go to their first barn jam: How do they do this every Wednesday?
With ease, according to longtime owner Eddie White.
"I don't have to work at this because it's my passion… This is something I look forward to. It's a part of my life. It's a fabric of my life…," he said. "If you find that spark in your life, life is worth living."
"
This is something I look forward to. It's a part of my life. It's a fabric of my life…
— Eddie White
Having hosted the Barn Jams for 11 years, White is familiar with the look of surprise that people have when they first experience Awendaw Green. Rather than just another night or just another concert. White strives to make it an experience that can change lives.
"When you don't expect it, that's really the magic of the whole thing because it's the authenticity of interaction," he said. "It's nothing that has to be structured, but in our digital world where everybody is plugged in…it really makes to just boil it down to what's important, and that's the human interaction."
Turned away by countless venues in and around Charleston, young, upcoming artists are not just welcomed, but sometimes even featured in Wednesday night barn jams.
"[We] feature bands where some of them have won Grammys and some have never played before. We have a lot of young bands because if you don't have young bands, you'll never have old bands… We connect good people to good causes through music," White said. "I describe it as an inch of opportunity equals a yard of art."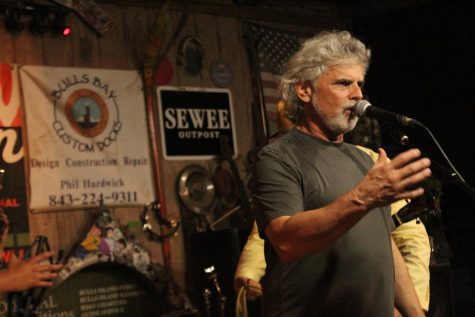 The barn jams at Awendaw Green are not advertised as intense raves or Coachella-like music festivals. Rather, they are an appreciation of music and community. White looks at his barn jams with optimism knowing his events will affect people.
"You can't really measure it, and that's the cool part. It's having an effect and everybody gets to interpret the effect themselves," he said. "This will change lives tonight. We don't really know how, and we don't need to know how because we're not trying to measure this. In our measured world, this doesn't need to be measured. It's the organic nature of bringing people together to have human interaction."
It's not just the owner and the audience that experiences the effects of Awendaw Green. Artists like Jeff and Rocky Rolfzen, a husband and wife duo that tour as the Lark and the Loon, are just some of the artists that make a stop in Awendaw on their national tours. Although they tour all over the country, Rocky explained why stopping in to perform at the Barn Jams is just a fun experience.
"Eddie, the staff, the sound engineers, the people who make pizza, the vendors, everyone's so friendly it's like the community really comes together to have an experience that supports the arts, the food and it's so pretty. It looks magical with all the lights and instruments hanging up. It's incredibly aesthetically, right on the money," Rocky said.
The Lark and the Loon have performed at Awendaw Green three times in the six years they've toured, and they attest to the difference in the atmosphere, attitude and overall treatment of artists in Awendaw.
"You can walk around, find a place to sit down and talk, you can bring your dog, or your family, or just be outside and enjoy a fire with music in the background… and they take really good care of us…Eddie is really good about connecting musicians with other musicians and venues… we can connect with other bands, and talk with them just hearing about their experience, so it's a comfortable place to be able to chat with our other peers." said Jeff and Rocky Rolfzen.
The Rolfzens also explain how the area is a community effort with many people putting in for the general good.
"I think there's a lot of love put in here by everyone who's here…they all just want to give something…It's a really great place to see music because not only can you actively participate as an audience member, but you can also passively participate." Jeff said.
Of the many people who frequent Awendaw Green, one in particular is Clay White, Eddie White's son and inspiration for creating the barn jams experience.
"My son who is here tonight [inspired me]. He used to play at Wando High School. He was a trumpet player… and we started meeting musicians, and I always liked music but never played myself and I started doing house shows and I met a lot of cool people, including the guys from Hootie and the Blowfish… Next thing you know we've been doing it for three or four years with hundreds of people coming," White said.
Like the Rolfzen's, Clay has toured as a musician so he has seen countless venues, and he explained what makes his father's venue different for the artists.
"It's a great place to play as a touring musician because I'm a touring musician… and if I found a place like this on the road… and didn't know what to expect, I would be like 'oh my gosh this is the coolest thing ever' because nobody ever gives this much hospitality," Clay said. "You get food and my dad will help you find a place to stay if you need it and there's lots of people actually ready to listen to the music. To me that's the coolest thing that it provides this refuge for touring bands."
A local as well as a travelling musician, Clay describes the barn jams' uniqueness that has been recognized by many in the area.
"For the community here it's awesome too because it provides like a weekly place to come and hang out with friends and it's family friendly… its a great place for everyone to hang out so it's got something for everyone… It's just an all around super wholesome, fun, nice, and really chill place to be," Clay said.
White has seen his concerts go from house parties to festivals to what they are today, and he still has the same personal connections with everyone who comes and the same dreams for the future.
"We have the ability to light this creative flame every Wednesday," White said. "And there's not a lot of places like this around, there needs to be more… This opens people's hearts to meet other people and hopefully when people especially kids see that you can do something like this, it will create more goodwill… and it will create more community. I don't really know how to explain it, I just know hyper-connective and it's very real and authentic."