An in-depth look at the new 116th Congress
The 116th congress is one of the most diverse congresses that the United States has ever seen. Millions of Americans came out to vote for the 435 House of Representative members and 33 senators up for election Nov. 16, 2018.
After many hours of vote tabulation and election results, the 116th congress emerged.
This congress unique divided government with a Democratic-led House of Representative and a Republican-led Senate. The House of Representatives is split between 235 Democrats, 199 Republicans and one contested seat located in the 9th District of North Carolina. The Senate is divided between 47 Democrats and 53 Republicans.
But on Jan. 3, the day the 116th was sworn in, the United States saw the true diversity that will be running the legislative branch. The 2018 Congress has a record breaking 125 women in the House and Senate, as well as 21 percent ethnically diverse representation.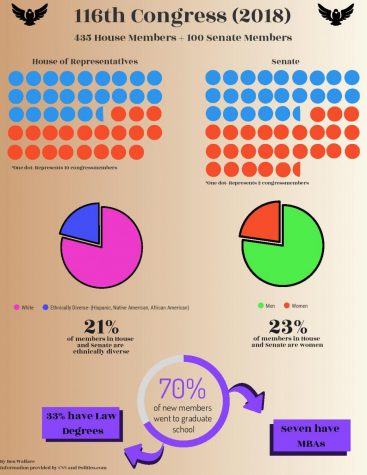 "This is the most diverse House of Representatives that we have ever had," said AP Government and Politics teacher Misty LeClerc.
This congressional session also features the first Native American women, from New Mexico and Kansas. Rashida Tlaib and Ilhan Omar are the first Muslim women to be elected to Congress. New York Democratic House of Representative Alexandria Ocasio-Cortez is the youngest woman to be elected to Congress.
Now despite the new found diversity in the 116th Congress, this divided government has the potential to be slower. "Divided government sends a message that we are not happy with the status quo, so I think things will be [halted]," said LeClerc.
Information provided by Politico and CNN.com