Coach Renes Gets Two Wins
Double win for Renes! Not only did Coach Lance Renes' team win another state championship, but he was also blessed with his newborn baby girl the day after. What started as another championship weekend ended up to be a memory to last a lifetime.
Even though baby Darby came five weeks early, she is healthy and doing well.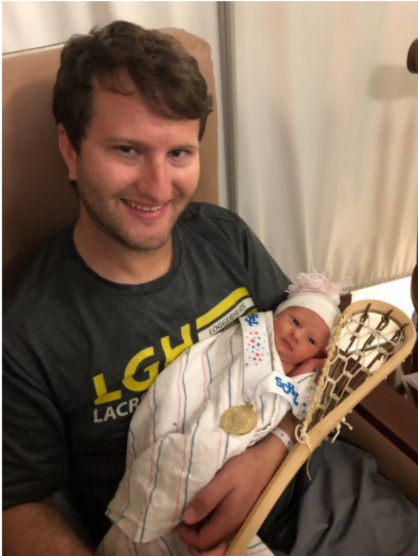 Along with his healthy baby was a successful lacrosse season for the boys. As expected, the team started out by trying to get to know each other and learn how to play as a solid team. According to Renes, what is within comes out on the field.
New players and students, the Fasanaro twins, joined the team.
"For me as a new player and student at Wando, the team made me feel like I had already been around the guys I met my entire life," said Landon, a sophomore. "They welcomed Nathan and I, and we already felt like a family by the time pre-season workouts were over. Since the team was already anticipating our arrival due to our highlight films, they really gave us confidence as the newest members of the family. By the time the first few weeks of practice had gone by, the team had gained the chemistry needed for our season's success."
It didn't take long for the team to find their path to success. It took a lot of hard work, time and dedication, but they did it in due time.
After eight years of coaching, Renes said this is the best championship he has gotten to coach.
"The team played with a lot of confidence in the second half of the season, and I believe they also realized when they played fired up and played with passion, their performance increased," Renes said. "Over the years, I would say that every Wando lacrosse team that played with intensity and passion experienced success. Thus this team carried out that tradition."
During the last few seconds of the game, the ball was thrown out of bounds. The clock stopped, and the game was not officially over. Unaware of the situation, the Wando boys ran onto the field in excitement. Sticks were thrown in the air, helmets came off and on the way out, the boys dumped the cooler of water onto Coach Renes. Even though this was an awkward moment to say the least, Renes found it a bit humorous.
"I was not too mad at them for running onto the field 1.5 seconds early. The ball went out of bounds on the other side of the field with 1.5 seconds on the clock and the sideline did not see that. When I turned around to stop them, they were in the process of dumping the water from the jug on me, so I didn't have a chance to get a word in," he said. "That was the funniest part. Then, I had to go on the field and get everyone back on the sideline."
This was a funny moment for the audience in the stands. It was unintentional, yet something to remember. All together, it was a great game. Each player did their part with drive, passion, and finished with the big win.
Wando lacrosse has kept up the streak of winning consecutive championships and Renes plans on keeping it. Since faceoff star, Andrew Hamilton, will be graduating this year, this will be a position that has to be filled in order to start each draw efficiently. Other than that, Renes hopes to improve the defense because the players are were so young this year, and it will be up to them to protect the goal and get the ball back next year to replace the players graduating.
With this in mind, Renes plans on utilizing the time the team will have during offseason to learn and grow as a team and get ready to win another state championship.
After all the excitement from the game, Renes woke up to an even bigger prize: his new daughter, Darby Rose Renes.
"On Sunday I woke up and was satisfied with the outcome of the season. I didn't have much time to process the game because as we woke up, my wife notified me she might be having contractions. Then contractions occurred intermittently so we called the doctor and were instructed to go to the hospital. When we arrived we were told that we would have to stay the night to monitor my wife. Then two hours later, my wife was evaluated and we were told the baby was arriving today," Renes said. "At that point, reality and total acceptance of the situation occurred because the official due date was June 3, so having a baby five weeks early was also frightening.
"Our first child came on her due date and everything was textbook, so this situation was very surprising and gave me anxiety. At 2:50 p.m., Darby Rose Renes entered the world and we were overwhelmed with happiness and joy that she was delivered without any complications. However, since Darby came five weeks early, her lungs were not fully developed so she was transferred to St. Francis in West Ashley so she could be treated in a level 2 nursery," he continued. "Again, there was not much time to process any emotions because at that point I was following Darby's ambulance and my wife was later transferred to the same hospital. Once Darby was in the NICU at St. Francis, my anxiety declined because I knew she was in good hands. I stayed by Darby's side and eventually my wife arrived. At the end of the day I was exhausted and overstimulated with unprocessed emotions and I was thankful that everything was okay at that point, so that gave me peace and mind."
Thankfully, Renes was blessed with a healthy baby girl and he couldn't be happier. Even though the timing was unexpected, everything went smoothly overall. Over the next few months, Renes will be planning new strategies that will lead to another win and spending time with Darby.