Drilling down the coast
When she walks on the beach, Lori Wilson swirls her toes in the wet sand, turns over shell after shell in the search for perfection, and looks out over the pristine, Carolina ocean. She worries.
Drill baby drill.
But is that what the Lowcountry wants? Is it what Dewees Island Head Naturalist Wilson wants?
President Donald Trump signed an executive order on April 27, 2017 authorizing offshore drilling off the Atlantic Coast. Numerous states reacted negatively, and the administration exempted Florida from exploration. South Carolina and its Attorney General Alan Wilson Jan 7 joined a federal lawsuit aiming to half oil exploration off the Atlantic coast.
Response in Charleston was swift and negative for the most part. Democratic Joe Cunningham was elected to a U.S. House seat after opposing the drilling.
David Quick, a retired journalist from the Post and Courier turned environmental activist, has a very negative view on offshore drilling.
"It's unfortunate that this president feels like he owes his base something to bring fossil fuels back," Quick said. "It's an energy system we need to transition out of. We obviously can't give it up overnight."
Quick said drilling the Atlantic is unnecessary, especially with the low oil prices of late. He believes drilling could actually harm the economy if an oil spill happened, since South Carolina's proximity to the Gulf Stream could cause any potential spill to spread through the North Atlantic.
"It just puts everything at risk… [drilling affects] businesses, environmentalists, pretty much everybody along the coast. It's a fight we shouldn't have to fight. It's not anything that we need, oil prices are super low right now. Gas is extremely inexpensive. So it's not like even from an economic standpoint it's a good thing," Quick said. "In fact, it's a bad economic thing to have oil prices be so low, because the financial industry actually needs a little bit more balance too when it comes to oil prices. The stock market likes a fairly healthy oil price."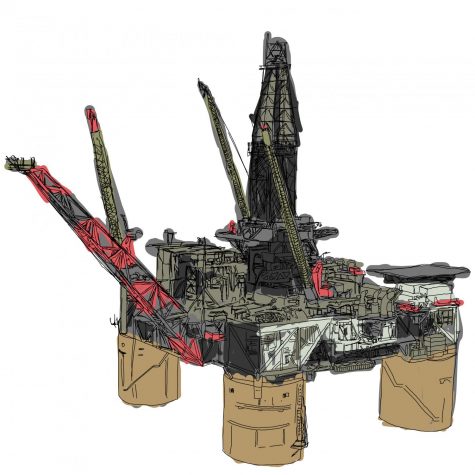 Quick is an advocate for clean energy sources like solar, and explained oil is not just what people think of; it is also the plastics out in the ocean."If the planet burns up, all the other social issues are done. It won't matter about gun control, or abortion, or civil rights. This is the one issue that we all have in common, rich, poor, all races, all religions," said Quick. "It's the one thing that we have that's truly ours, this incredible planet… and we're really making fast work of destroying it."
Wilson, Dewees Island's head naturalist, also is against permitting the testing and drilling in the state.
"The other biggest concern is a spill. Imagine if a rig was offshore from Charleston and it leaked like what happened down in the gulf," Wilson said, "and we just had oil washing up the beach, the impacts on other wildlife, migrating birds, wading birds, shellfishing, fishing, oyster beds."
Wilson said the environmental effects of a spill in the Atlantic are undoubtedly frightening. Offshore drilling must be preceded by intense seismic testing in order to find concentrations of oil beneath the seabed.
If everything goes as plan, what does South Carolina stand to gain? In a report to the American Petroleum Institute, Quest Offshore pitched the economic benefits of opening up the Atlantic Shelf for drilling: "By 2035, [Atlantic] offshore oil and natural gas development could produce an incremental 1.3 million barrels of oil equivalent per day (MMboe/d), generate nearly 280,000 jobs, contribute up to $23.5 billion per year to the U.S. economy, and generate $51 billion in cumulative government revenue."
According to the report, not only would opening offshore drilling on the Atlantic coast benefit the economy of today, but also the economy of tomorrow. They say the program would create jobs, bolster the economy of the state and region, and provide long lasting investment opportunities in the state.
But again, what are the strings attached?
Peg Howell is one of the founders and spokesperson of Stop Offshore Drilling in the Atlantic (SODA). SODA is a volunteer-run and nonpartisan organization based in northern South Carolina. Howell earned her degree in Petroleum Engineering and was the first woman to drill wells in the Gulf.
"I come at this, and [SODA] come at this not just as a matter of opinion, but as a matter of well-informed research and personal experience with the oil and gas industry in the Gulf of Mexico," Howell said.
Howell said there are two processes that must occur before drilling in the Atlantic is possible. First, the seismic airgun surveys prior to drilling, which must be approved by The Bureau of Ocean Energy Management (BOEM).
"While the government is shut down, BOEM should not have been working on the permits, but it was disclosed that in fact the president allowed those workers to go back and work on those permits," Howell said.
Federal Judge Richard Gergel ruled Jan. 18 that Trump was not allowed to send those employees back, and no more work has been done on the permits. Gergel also said that more judgements had to be made on the situation before BOEM could resume work on those permits.
"We do not support seismic airgun surveys in the Atlantic… we oppose drilling and they have been demonstrated to cause extreme harm to marine life, from marine mammals down to zooplankton," Howell said. "If there was a way to collect the data without harming marine life, that would be a different matter. While it's demonstrated that marine life is harmed, and that impacts our coastal fisheries, it's a bad economic decision, it's a bad biological decision."
Second, according to Howell, is the potential leasing of areas offshore of the Atlantic Coast and opening those areas for oil and gas drilling. BOEM will announce if the whole coast will be open, or if there will be areas that are removed. Those leases could be opened and initiated by 2020.
"If there is another Deepwater Horizon in the Atlantic, it would devastating to our coastline. Why that's important is not only the environmental consideration but the economic consideration. Our coastline grew up differently than the Gulf of Mexico. Our coastline is largely focused on tourism. Tourism in South Carolina currently generates on the order of $20 billion of revenue a year," she said. "One spill would significantly impair our economy. Seventy-one percent of the state's tax revenue comes from the coast area… the whole state of South Carolina would be harmed.It's a really bad economic decision."
According to NOAA, there have been 44 notable oils spills, spills exceeding 420,000 gallons of oil, in US waters since the time of the infamous Santa Barbara blowout in 1969. The most memorable for many in today's generation is the Gulf Deepwater Horizon blowout, which occured in 2010.
The spill had immense environmental impacts and economic repercussions for the Gulf region. According to a 2015 NRDC article, the region lost $247 million that year alone in commercial fisheries, and up to as much $22.7 billion in lost tourism to date. Environmentally, the disaster cost the region almost a million birds, and there were huge effects on dolphin populations and strandings that are still impacting these animals.
"Why younger people should especially be concerned about this is that this is an irreversible decision. When oil and gas companies get leases,if they find commercial oil and gas to produce," Howell said, "they own those leases forever… this is your future. If this opens up, you will not be able to stop it… we call it a forever decision."
Quick also wants to involve young people in opposition to drilling and environmental conservation. He wants passionate students to rally, to contact their representatives and to be active members of the environmental conversation. "Speak up, be front and center, influence future candidates, beat future candidates, influence their parents."