Five Feet Apart is a pleasant surprise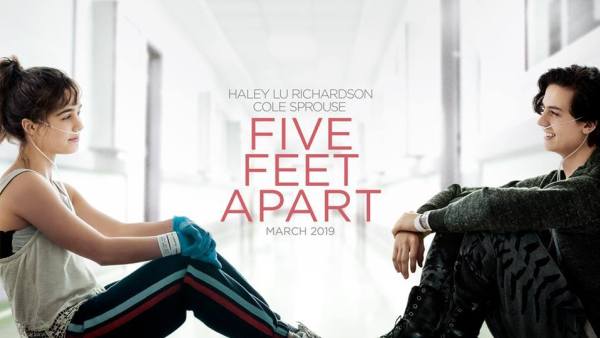 I went into the Cinebarre this past Sunday expecting the worst out of the latest teen romance movie Five Feet Apart. Although I fell in love with director Justin Baldoni the minute I saw him as Rafael in Jane the Virgin, I thought that the storyline of the movie would be too much like other terminal romance movies like The Fault in Our Stars or Me Before You.
For the first time in my life, I was glad to be proven wrong.
Originally written by Rachael Lippincott, Five Feet Apart tells the story of two teens, Stella and Will, who meet in a hospital and fall in love. The problem is, they both have cystic fibrosis and must remain six feet apart. Otherwise, cross infection can take place and can be deadly.
Stella (portrayed by Haley Lu Richardson) is introduced as not only someone suffering from cystic fibrosis, but also from severe obsessive compulsive disorder. She is constantly organizing her medicine and makes sure to take everything when she needs to. Stella finds comfort whenever she visits the NICU and watches newborns from outside the window, which is later where she first meets our other main character, Will.
Will (portrayed by Cole Sprouse), unlike Stella, is a big risk taker. He, along with his hospital room, are a mess. Will is not much of an optimist but enjoys drawings and makes several tiny comics throughout the movie. He comes across as somewhat of a jerk in the beginning, which I found a little mainstream. But hey, someone always does in most teen romance movies, right?
Speaking of Sprouse, I would have to say that I was pleasantly surprised with his acting after seeing the latest "I'm a weirdo" meme of him in Riverdale. I was expecting to roast him hard, but even though his acting skills are not the best, he definitely took me by surprise and was not as bad as I had imagined. However, Richardson's acting blew Sprouse's out of the water. Although she was in Split and The Edge of Seventeen, I would say that this is Richardson's major breakthrough role and hopefully after this her career as an actress will only continue to be impressive.
I also had no idea that Moises Arias, also known as Rico from Hannah Montana, would be taking on the role as Poe in the movie. Even though the movie mainly revolved around Richardson and Sprouse's characters, he was a crucial part as well as not only Stella's best friend but also their wingman. I enjoyed every second that Poe was on screen and thought he was the light of the trio, whether he was doing something funny or being there for his friends.
Something that made me really appreciate Stella and Will's story was the message of the movie. What both Stella and viewers learn from the events in the movie is that you should cherish every second with someone because you never know what could happen.
That being said, if you want a really good cryfest, Five Feet Apart is a great movie option whether you go see it now or wait until it is on DVD. Definitely give it a chance like I did because even if you are as anti-Cole Sprouse as I am, it is totally worth it.