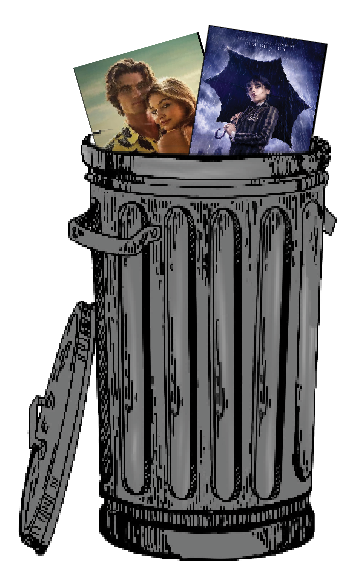 Netflix was one of my very favorite after school activities. Even though I always wasted a half hour scrolling to find the perfect thing to watch, it took me so long because there were so many good choices.
Now it takes me forever because all the choices suck. Has Netflix content, specifically the originals, always been this bad? I could have sworn "A Series of Unfortunate Events" had a CGI budget above $50 and thicker plotlines than the same pervert gluing on a different wig every 3 episodes.
I guess Netflix originals used to be decent. I used to think "Stranger Things" was the coolest most original piece of media ever when I was in 4th grade. As the years went by and they kept taking longer to release their seasons, I realized that every single plotline, character, and visual aspect was stolen from some other famous 80s movie. As the fandom grew more and more embarrassing
to associate with, I realized that the show actually wasn't even that good. The first two seasons I still think are pretty fun, and the budget for all Netflix originals is obviously all
used on this show, but I feel like it's time for it to die with the rest of the 80s.
The writing is cringey and repetitive, the characters grow more annoying with every episode, and why wouldn't they?
These actors that were once cute kids with missing teeth are now fully grown adults and still wearing their bowl cuts and Star Wars t-shirts. Ick. Also, their little-introducing-a-character-and-killing-them-off bit is so old and predictable. "Oh look at me! I'm a horribly misunderstood but lovable character, and just as the characters learn to love and understand me I have to get killed
off by the double decker shadow spider demon!" Shut up.
Tim Burton made a pitiful attempt to connect with the younger generation and made Wednesday. He doesn't understand this generation at all and literally everyone was perfectly fine with that.
The writers tried way too hard to make every character overly quirky to the point where everyone was just annoying and wouldn't shut up. The way multiple guys were obsessed with Wednesday when she showed absolutely zero interest in either of them and just constantly shrugged them off REALLY irritated me. There's actually no way someone who walked around wearing checkered sweater vests acting like every other person in the world was splitting one brain cell was that attractive. It's Bella Swan with her bad posture and bowling shirt all overagain.
This growing pandemic of sucky writing among the Netflix Originals makes me worry for the future of the shows that are actually still good. I actually really enjoy Outer Banks. Yes, the actors playing high school kids are all around 30, but what's the point of teen dramas if they don't make adolescents hate themselves at least a little bit? That anxiety-inducing game of cat and mouse between the tainted rich guy and the troubled broke kids, plus his daughter (she is going through a phase, it's fine) is always a good time for me. The first season is great, and the second season is really good, too. The third season was good, although now we're into worrisome territory with season four and Netflix writers' chronic inability to keep a storyline properly progressive. I'll be interested to see what they cough out for us next, since the third season ended with the "kids" finally becoming filthy rich.
Don't worry though! I'm sure they won't become tainted and greedy at all. Not like that evil old rich guy (dad). Yuck!