New love discovered across the globe
A family yearns to adopt a little girl from China. It's a 10-year wait. Pages and pages of paperwork. Interviews. And always the lingering question: are we ever going to receive a child?
And a lonely child — found on the cold, stone steps of a government building with a cleft lip and palate — a birth condition where there is an opening in both the lip and in the roof of the mouth.
And as of July 2018, their lives intertwined.
"It was probably one of the most emotional experiences of my life," said Rita Meyers as she spread out files from the adoption of her 2-year-old daughter, Addison, known as Addy.
Mrs. Meyers pulls Addy's hair back into a small pony tail as she tells of her trip to China to meet Addy for the first time. Addy galloped between the kitchen and the den, waving the brush around and signing for a snack.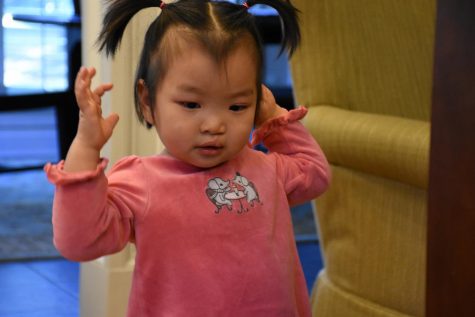 The Meyers family — made up of the parents, two teens who attend Wando and an eight-year-old boy — had waited for years to have Addy join the family. When they received the word that Addy was theirs, the family traveled to Beijing.
Then, Rita and Josh, a junior, traveled to the Henan Province of rural China to meet Addy.
"You travel to the province where the orphanage is located, into the capital city of that province which is Zhengzhou," Mrs. Meyers said. "And then you're in that city for about one day, and when you wake up the next morning, you go to some government building. Then you wait there until the orphanages bring the children in, and the children come from different orphanages."
Addy was carried in by a nanny. Mrs. Meyers said their first connection was a shared love of sweets.
"Because she was younger — she was 18 months old — she had probably never in her life had a lollipop," Mrs. Meyers said. "So because I had a lollipop… she seemed to do really well."
With her new brother Josh, the connection was instantaneous — unexpected even. Especially since she had a few men in her life until that point.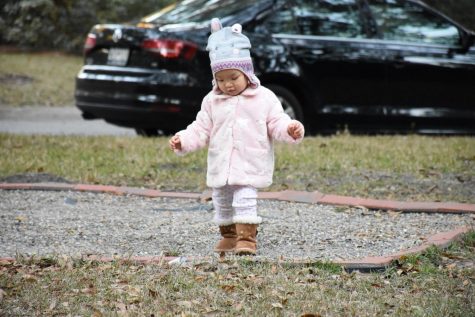 "I was really surprised," Josh said. "I was expecting her to be really, really shy. And we had been told that don't be upset because your kids are probably going to go straight for mom and it's going to take a really long time for her to get used to everybody else. But then, for us she immediately came to me for some reason."
Addy's relations with Josh is desirable to the rest of the family and mysterious in how an American teenage boy was able to connect with a toddler from China.
"I think the reason she connected with me so much is because a lot of times my mom would get tired of carrying her. Then my mom would take a break, I would hold her and be there when she wakes up from naps," Josh said. "That was the very first few days we had her."
After spending the first few days in the capital city, the three were able to visit where Addy spent the first year and a half of her life.
"Not many people get to travel to the orphanage," Mrs. Meyers said, "so we were very honored that we were able to travel."
At Addy's orphanage, Mrs. Meyers recalled the dullness of its atmosphere, the frail state of the children and how the electricity was — once again — not working. Seeing the adversities of her daughter's orphanage resonated with her.
"Going to the orphanage, all I did was cry all day," she said. "Just to know that they were there and just knowing the abundance that we have here, the abundance of food, the abundance of heat, blankets on our bed, pillows to put our head on."
"Just to know that a child has to grow up like that makes you want to do more," she continued. "It's like what? You are going to give me this beautiful child to bring home to be in my house every day, to make me smile, to make her brothers smile, what a gift that is."
Back in Beijing the rest of the family was eager to meet their new baby sister and daughter.
"Of course it was exciting," Jeff Meyers said. "Before we received, our child there was a little bit of anticipation, and concern and worry about whether or not the child's going to accept us right but as it turns out, she actually bonded really quickly with one of our older boys Josh."
For the rest of the trip, the Meyers finalized adoption paperwork and helped Addy become familiar with life as part of their family.
"She was still getting accustomed to a completely different environment," Mr. Meyers said. "I'm sure she was a little bit overwhelmed when five new people were looking at her. [And] we were staying in a hotel, but the food, and the noises, and the smells was a lot for Addy to take in. So she wouldn't sleep all that well, and she'd wake up, and she'd cry, and be concerned… That was difficult, and we all didn't sleep all that much, but it was all exciting and fun and we made it work."
For some of the Meyers' boys, building a relationship with Addy had its slow beginnings but was overcome with earning her trust.
"Myself and other members of my family we could play with her and she was receptive to that, but if she was upset or angry or afraid, she wanted either my wife or Josh," Mr. Meyers said. "It took several weeks…[but] the transition has gone extremely well. She certainly is comfortable with anyone else and just like any other little toddler."
When the adoptive family travelled back to the United States with Addison, their attention shifted from strengthening family bonds to her medical need — a repaired palate.
"Her medical need — besides needing a lot of attention — she was born with a cleft lip and a cleft palate," Rita Meyers said. "So her lip was split when she was born, and she had a hole in the roof of her mouth. When she was nine months old, her lip was repaired in China. When we got her, she still had the hole in the roof of her mouth."
In September — a month after being home — Addison underwent surgery to close up her palate. But that was not even the hardest part. For Addy, the recovery period was frustrating.
"I think it was harder for her because she was older. You know, most 12 month olds are still just drinking a bottle, while she was eating food," Mrs. Meyers said. "So it was really hard to feed her after the surgery and to make sure she stayed hydrated because … she didn't want to take anything. We had a lot of sleepless nights. But we got through it, and now all she wants to do is eat."
Even with the struggle of having a healing cleft palate — Addy is resilient.
"Addison still can't talk very well because of her condition," Mr. Meyers said. "She's just now learning how to form words. She only has maybe one or two words that she says, but we are getting there."
In the meantime, Mrs. Meyers taught her daughter a bit of sign language so she is able to communicate words like outside, car and food. And like any normal two-year-old, the latter is being expressed the most.
Aside from her healing palate and delayed speech, Addison Meyers lives her life as any other toddler would — in a constant state of curiosity.
"She is very curious," Mr. Meyers said. "She likes to open up every possible cupboard in the house and pull out whatever is in there. Now she's really just a normal little 2 year old running around and she seems to be just a normal part of the family."
The family effort to raise Addy has bonded them closer together.
"Not like it [the family] was weak before, but it [her adoption] just brought everyone together because every five seconds it's always about her like where'd she go, get her snack," Josh said. "Even though those sound negative … like it's stressful, it's definitely brought everyone together."
The Meyers began there adoption experience with the hope to give a less fortunate child a fair chance at life. Now, after adopting Addison, they intend to do more in the future.
"I hope to do something more I just haven't quite figured out what that more is," Mrs. Meyers said. " I think there is something more and I think that is how we live full lives — to know there is something more worth doing that's above ourselves."